Cinema Advertising Demonstrates the Value of a Receptive Audience
December 8, 2016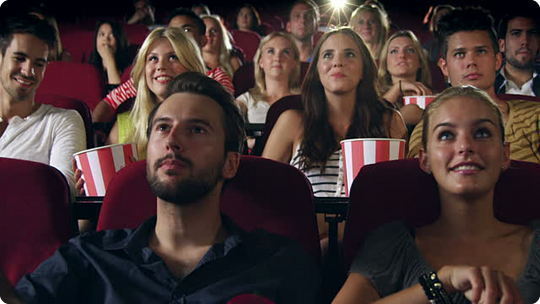 As yet another year draws to a close, sadly, the furor over ad blocking continues.
The rise of ad blocking has proven what many people have long known: too much clutter reduces ad effectiveness by making people less receptive to advertising in general. We've all witnessed this happen with TV – the more clutter there is, the less bang ads get for its TV buck.
Thinking digital? Well, unfortunately digital channels are now feeling the pinch too. Today, millions of people around the world are opting to install ad-blockers that allow them to surf ad-free. Attempts to ensure ads are seen – by making them more intrusive, simply push people to fight technology with technology. So instead of continuing down this slippery slope, advertisers should be asking themselves what the world would be like with less clutter.
What's the medium least explored but capable of delivering a lot more advertising effectiveness?
Are you forgetting the cinema medium?
Yes, there is hope after all! Cinemas offer advertisers a receptive audience who pay to watch a movie from start to finish, with little or no distractions from what is being shown on the BIG screen.
A new study named Building Box-Office Brands by Millward Brown (commissioned by Digital Cinema Media – UK) explores the role of cinema in today's European cross media landscape, and demonstrates the power of cinema's uncluttered media environment.
It was found that cinema was one of the hardest hitting channels, vying with magazines for the biggest return on investment.
Here are five key takeaways from the Millward Brown study:
1. Cinema Makes Brands Memorable 
Cinema, Magazines and TV are the strongest contributors of Saliency (awareness) per person reached. Having strong Saliency means consumers are more likely to recall brands when activated by an idea relating to retailer or category choice. That, in turn, drives sales volume.
2. Cinema Creates A Brand Love Story
Cinemas make consumers fall in love with brands. No media channel is better at building Brand Love. It's also the most efficient, delivering 5.4% media ROI for every £1m invested. Love makes brands swell rapidly in value: consumers are far more likely to pay a premium for what they truly love.
3. Cinema Generates Brand Difference
Cinema is the number one place to create Brand Difference, delivering the biggest contribution per person reached, and with almost 5x more efficiency than online videos. Brands that are seen as 'Different' increase brand value, attract new customers, and command a price premium and stronger loyalty.
4. Cinema Turns Audiences Into Customers
Cinema moves people. Cinema and Magazines are the most successful media at driving 'consideration' for brands. Cinema also has 20x the media ROI for efficiency vs. TV. Consideration helps create customers and is a key brand metric at the furthest point of the purchase funnel.
5. Cinema Wins Influential Fans For Brands
Cinema, Magazines and Online Videos are the most efficient media at driving brand recommendation. Word of mouth – particularly in today's socially networked world, creates brand advocates.
Is the above pertinent to the UAE cinema industry? The answer: yes, yes and yes!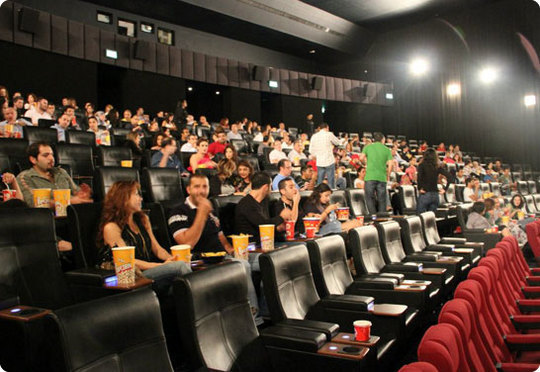 Movie-going is a habit in the UAE – the result of three influences:
1. Superior Blockbuster Line-Ups
In 2014 and 2015 we witnessed a number of blockbuster releases, with some literally breaking box-office. 2015's Furious 7 (ran for 15 weeks) had a cumulative box office admission of $10.8 million, followed by Jurassic World (ran for 15 weeks) which amassed $7.8 million. Spectre (still in its 5th week) has already collected $6.6 million to date. 2016 indicates a strong line-up of blockbusters and is anticipated to be far bigger and better than previous years. And as we all know, there is no better place than the big screen when watching the release of a new blockbuster.
2. Increasing Number of Multiplexes Across the UAE
Middle Eastern box offices have enjoyed double-digit annual growth in recent years, owing in many cases to the expanding network of cinemas that have been developed across the Middle East. 2015 alone saw VOX Cinemas open new complexes at Nation Galleria in Abu Dhabi, and Burjuman, Wafi Cineplex and Shindagha in Dubai. The result being, more and more people can enjoy going to a movie in their area.
3. Improved Cinema Experience
Leading Cinema operators in the UAE – including VOX Cinemas, have heavily invested in catering to a wider audience by enhancing the cinema going experience – whether it is comfort, indulgence, or state of the art visual/sound the customer is in pursuit of. Additionally, VOX has included all of the latest international cinema technologies such as 4DX, and IMAX (with laser technology) – a concept relatively new to the UAE.
Now tell us, what's not to like about the cinema medium?
Rather than demanding for more intrusive ad formats, maybe advertisers should consider less cluttered environments.
Cinema advertising may not reach a huge audience by the standards of TV. But it offers a quality of exposure that is hard to find elsewhere. With cinemagoers being more relaxed and receptive, and therefore more likely to recall the advertising itself and the brand for which it's for, cinema advertising is sure to work more effectively. Interested in including cinema in next year's advertising mix? Feel free to contact one of our team members.
Sources: Millward Brown, DMC UK