Make Cinema An Integral Part of Your Media Plan
December 8, 2016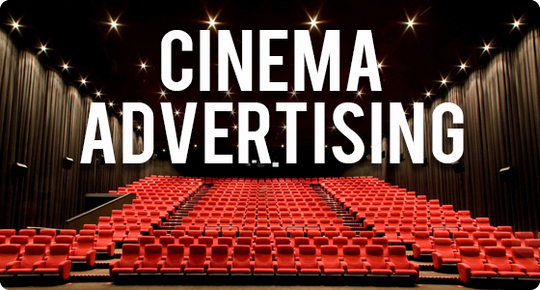 Cinema advertising might be just the ticket to reach a diversified audience – the mature and younger early adopters, with your local media mix.
In today's technology-saturated culture of smartphones, tablets, DVRs and online streaming channels, the ability to selectively choose entertainment at one's fingertips that suits their schedule – without annoyance of advertising, poses multiple problems for marketers in the UAE and across the globe.
Frustrated of not being able to reach your target audience?
Cinema advertising helps you reach a fully attentive and engaged audience who has paid money to see your message on the big screen. Could it get any easier?
So, why add cinema advertising to your marketing mix?
There are 3 key factors driving the new era of cinema – that have continued to be prominent in 2016 and will continue to grow in the years ahead:
1. Investment in Infrastructure
Middle Eastern box offices have enjoyed double-digit annual growth in recent years, owing in many cases to the expanding network of cinemas that have been developed across the Middle East.
The cinema footprint in the UAE continues to grow with operators delivering more purpose built multiplexes and redeveloped locations with exciting cinema experiences for cinemagoers.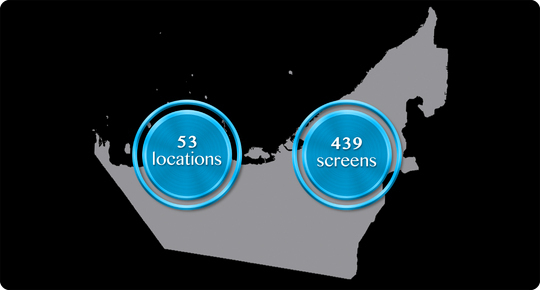 MVM's circuit expansion and redevelopment projects in 2016 (to date):
VOX Cinemas – Galleria Rooftop (March 2016)
Purpose built 1 screen cinema with a seating capacity of 110
Offers outdoor movie nights under the stars on Galleria Mall's rooftop on Al Wasl Road in Jumeirah
Only open during winter months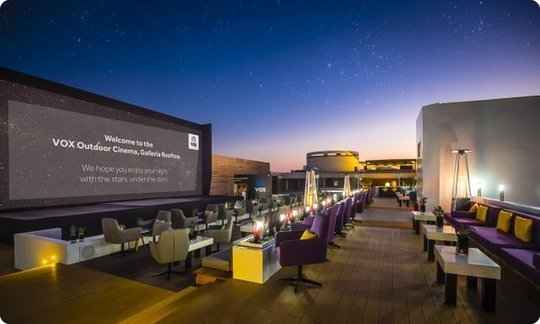 Reel Cinemas – City Walk (March 2016)
10 screen multiplex with a seating capacity of 850
Features 3 Platinum Suites that can be accessed through private lounges
City Walk marks the fourth cinema multiplex offered by Emaar Entertainment in Dubai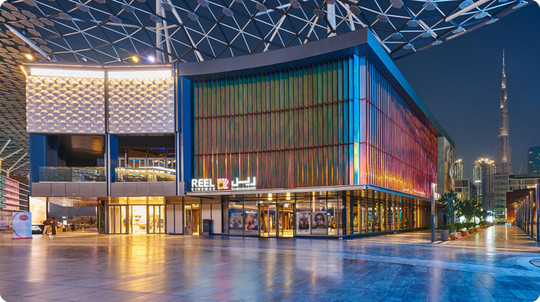 Oscar Cinemas – Barari Outlet Mall (July 2016)
4 screen cinema located in Al Ain with a seating capacity of 654
Barari Outlet Mall marks the sixth cinema offered by Oscar Cinema LLC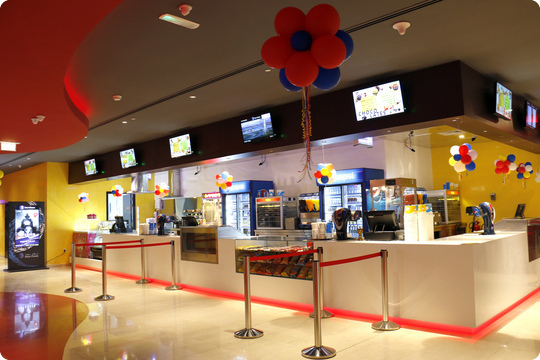 VOX Cinemas – Nation Towers Galleria (May 2016)
Converted 4 Gold Class cinemas to Theatre by Rhodes
VOX Cinemas – Yas Mall (May 2016)
Converted 3 Gold Class cinemas to Theatre by Rhodes
VOX Cinemas – City Centre Deira (May 2016)
The all-new VOX at City Centre Deira comprises of 20 screen and is now home to:• 1 x (MEGA) Max cinema – The largest screen in MENA
• 4 x Gold Class cinemas
• 1 x 4DX cinema
• 1 x Kids cinema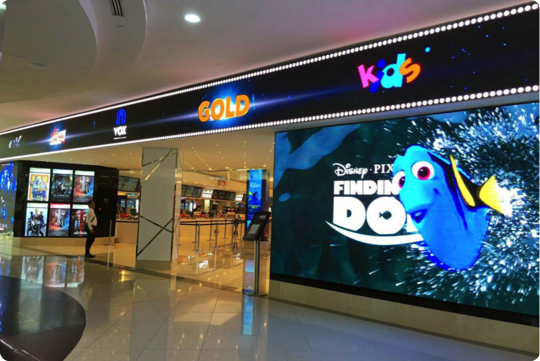 VOX Cinemas – Fujairah City Centre (May 2016)
Converted 1 VOX Plus cinema to a Gold Class cinema
VOX Cinemas – Ajman City Centre (July 2016)
Added 3 more screens bring it's screen count to 9 with a seating capacity of 1473
Converted one of it's existing screens to a VOX kids cinema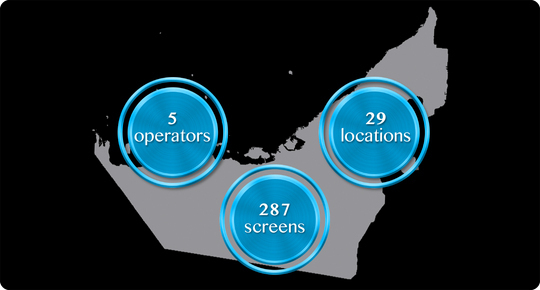 2. Investment in Content
Back in 1991, Terminator 2 made headlines for being the first movie to cost $100 million to produce, making it the most expensive film ever by a fairly large margin. Today, T2 doesn't even crack a list of the Top 200 most expensive movies ever made. That's right! Since T2's release, more than 200 movies have been made with reported budgets well worth of its 100 million dollars.
Look at 2016 alone. Hollywood is forecasted to have spent an estimated $2B in producing 2016's Q2 major blockbuster releases.
2016 is also the biggest year on record for superheroes movies…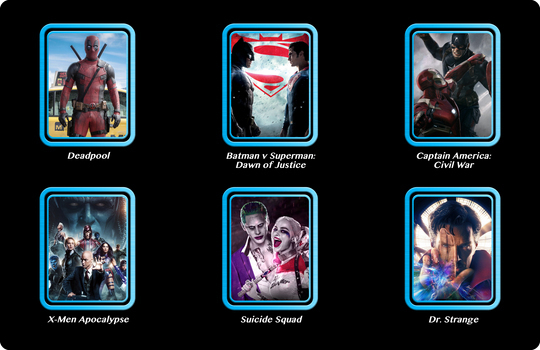 ..and films based on video games.

It was said that 2015 was a record-breaking year at the box office, however 2016 is proving to be no different, and a lot more in expected from 2017.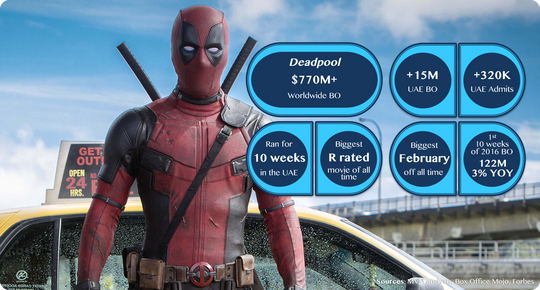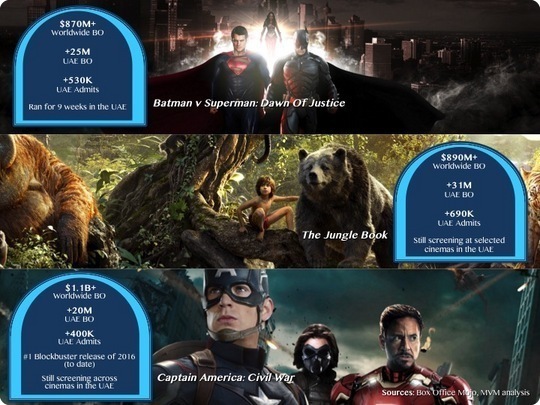 Films you may know of releasing in Q3 of 2016 – expected to make it BIG at UAE box office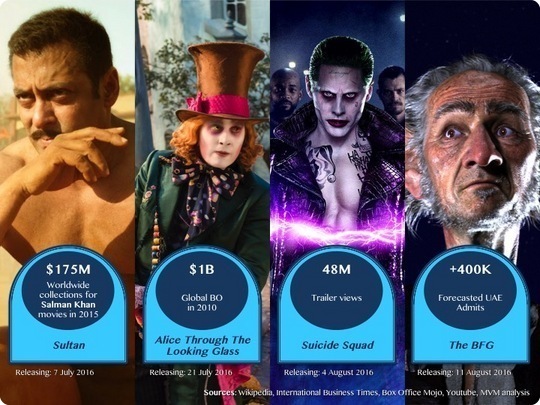 3. Cinema Remains An Important Local Media Touch-point
Combining the power of cinema with other formats of advertising ensures greater campaign effectiveness. And with the number of blockbusters releasing on a more frequent basis, cinema on-screen advertising has given brands an unparalleled opportunity to be as creative as the films that follow them.
Over the years, a number of brands have taken the leap to free themselves from the confines of advertising and explored the possibility of aligning their brand with a creative cinema execution. The result? Greater brand impact!
Top two integrated marketing campaigns of 2016 (to date) that included cinema:
Jeep – Product Placement in Batman v Superman: Dawn of Justice (March 2016)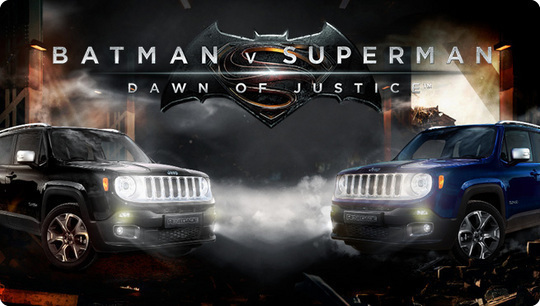 Remember that scene from Batman v Superman: Dawn of Justice where Bruce Wayne (played by Ben Affleck) gets behind the wheel of the Jeep Renegade and is seen driving towards the destruction and nimbly navigating his way through the mayhem?
FCA US LLC and Warner Bros. Pictures joined forces for a one-of-a-kind co-branded partnership that included branded TV and cinema spots featuring the Jeep and Dodge brands, plus social/digital extensions that created powerful consumer engagement leading up to the official launch of Batman v Superman: Dawn of Justice.
MVM featured onscreen advertising spots for the commercial across our circuit of cinemas – integrating the same before each Batman v Superman: Dawn of Justice session.
Additionally, as part of the campaign, MVM offered an online banner for Jeep on the Reel Cinemas website, which when clicked on drove traffic to the BATTLE OF THE RENEGADES website – a thrilling interactive online experience where the viewer drives the story.
Nestle – 4DX Cinema Advertising (March 2016)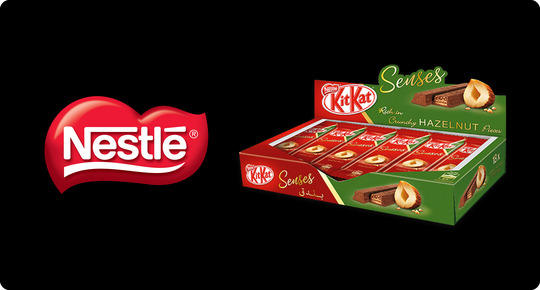 For brands launching a product with a new flavour or taste, 4D cinema technology can help 'pack a punch' with the feature of 'smell', and that's exactly what Nestle KitKat capitalized on when launching its new line of KitKat senses (hazelnut wafer bars).
Nestle screened a 2D commercial with a 'nutty twist' – complemented by a scent of rich, mouth-watering hazelnut. The campaign – coordinated by MVM and VOX Cinemas, screened at VOX Cinemas Deira City Centre, Mirdif City Centre and YAS Mall (Abu Dhabi).
Other advertising mediums utilized for the launch included: Radio, YouTube, Social Media and an activation in partnership with UBER.
Cinema ensures consistent total audience delivery across all periods.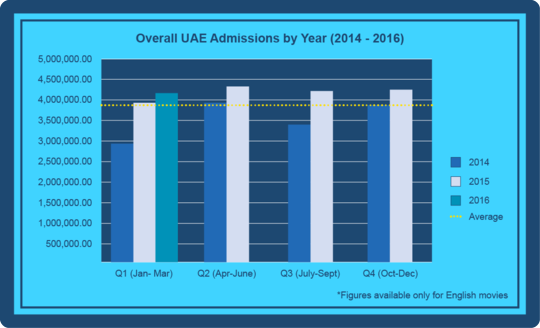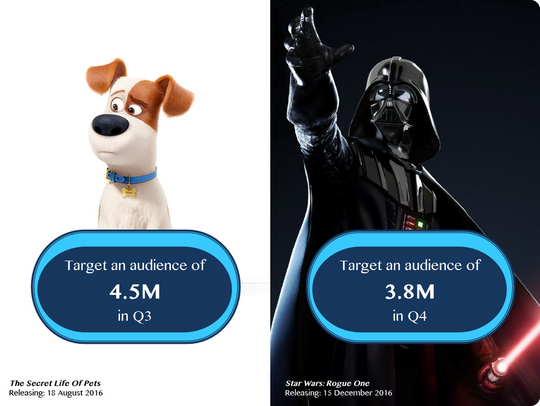 The medium truly delivers an ultimate environment for advertisers – distraction free environment with high ad recall, and a captive audience who cannot fast-forward or block ads.
Additionally, the value of integrated campaigns utilizing both on screen and off screen messaging has the potential to double, or even triple the impact a brand can make on moviegoers.
Embrace the value proposition of cinema advertising and make it an integral part of your media plan today! Contact a member of our sales team for more information on how you could align your brand with an upcoming blockbuster.