Barco Escape offers viewers a panoramic view – with a setup of two additional screens on either side of the main display, offering 270 degrees of cinematic action. It is one of the most intriguing cinema experiences of the present day.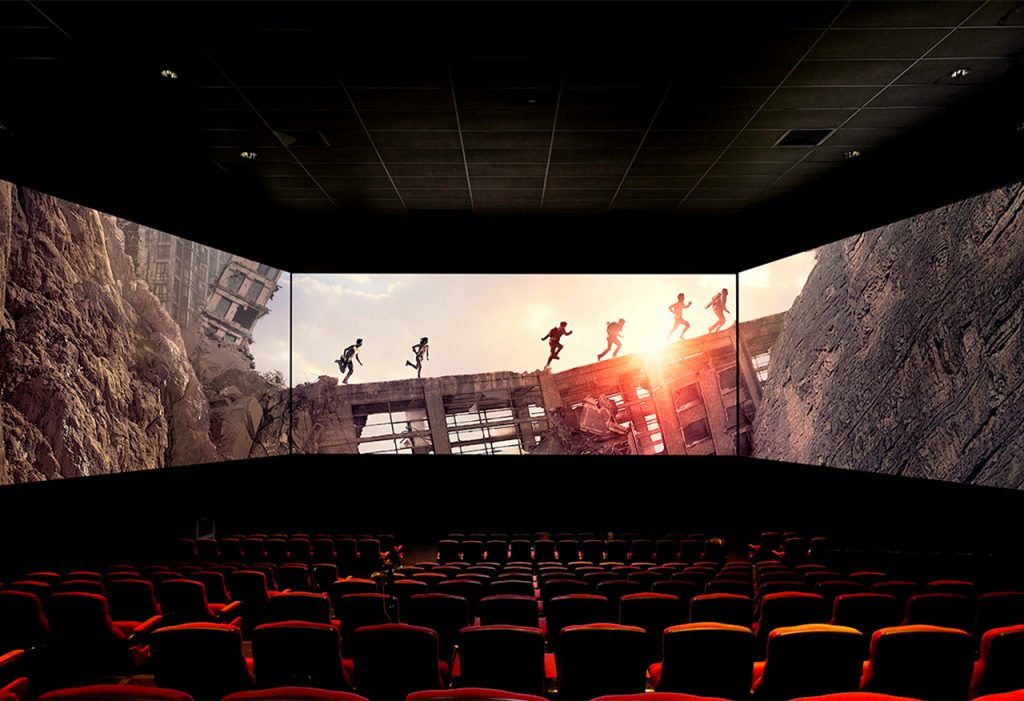 Cinema has come a long way since the introduction of the Laterna Magica (Magic Lantern) in the 17th Century, Silent Films in the 18th Century, Sound films in the 19th Century, to the presently adored 3D, 4D and IMAX experiences.
In addition to the large screens offering 3D, 4D and IMAX movie experiences, cinema has also welcomed the compelling new concept – Barco Escape. With its premiere in 2014 alongside 20th Century Fox's blockbuster movie, 'Maze Runner: The Scorch Trials', Barco Escape received rave reviews from moviegoers, as well as critics who relish the concept of a more in-depth cinema experience.
Barco Escape has been working hand in hand with top studios & filmmakers to create projects that will offer audiences an unmatched immersive viewing experience solely available in cinema. The most recent breakthrough has been the five-year, annual multi-title deal with 20th Century Fox – with 2 titles releasing in 2017.
Other deals include:
6 Below, staring Josh Harnett – First full length Hollywood feature shot natively for Escape, directed by Scott Waugh (of Act of Valor, Need for Speed), releases Nov/Dec 2016
Cross Creek Pictures (Black Swan, Everest, Black Mass, Rush) 2017 Barco Escape Title
Fundamental Films signed for at least 2 Escape titles, 2016/2017
2 title deal with Jerry Bruckheimer
6 titles announced by Mind's Eye Productions at Cannes Film Festival. 1st title The Recall scheduled for release in 2016
With an impressive and growing content pipeline, Barco Escape is primed for success.
Barco Escape was introduced in the Middle East by Reel Cinemas – owned and operated by EMAAR Entertainment. After the successful integration with Star Trek Beyond in July 2016, Barco Escape at Reel Cinemas – The Dubai Mall will look forward to 6 Below – which will be the first full length Hollywood feature shot 100% in the Escape format.
Sources: Barco Escape, Gulf News