Ads with a Pinch of Christmas Magic 2016
January 23, 2017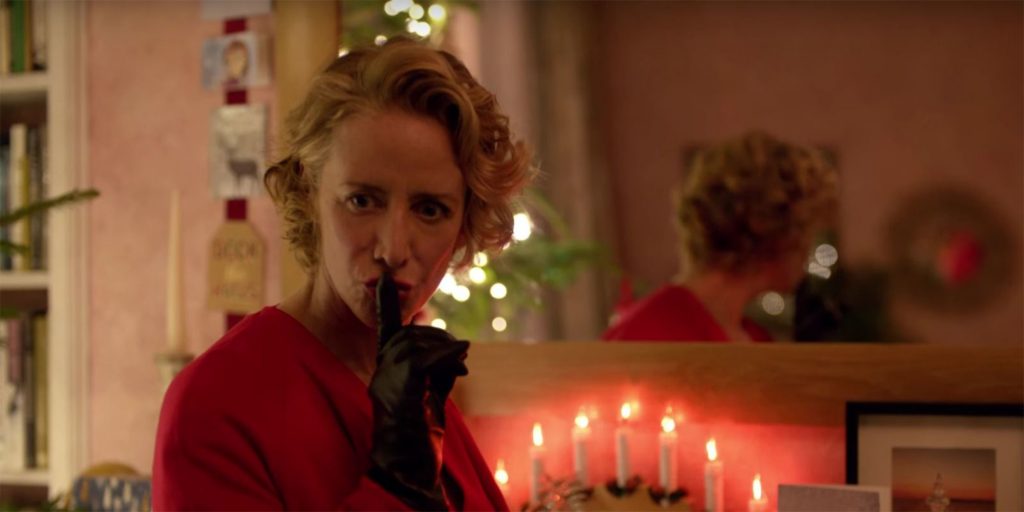 As the battle for the most popular Christmas advert continues – an Ad war that has cost companies in the UK around £5.6bn, as they compete for their campaigns to be the most effective at pulling on the heartstrings – we are already witnessing an unprecedented number of heart-warming, tear-jerkingand nostalgic advertisements, all competing for the number one spot.
In previous years, John Lewis Christmas ads have always been the most anticipated. But will this year's ad – featuring 'Buster' the furry and adorable Boxer, be on the way to top your list over the festive season?
With high street stores and supermarkets doing their best to stand out amongst the crowd, we'll let you to be the judge!
Featured below are five Christmas ads presently creating quite a buzz on social media. We've also provided a link to watch more Christmas ad of this year that deserves an honorable mention. So, grab a box of tissues, and here we go:
John Lewis – #BusterTheBoxer
Taking a deep dive into the John Lewis Christmas ad for 2016, the story starts on a heartwarming front as it begins with a little girl, Bridget, who opens the video excitedly bouncing on her bed on Christmas Eve. She then wakes up on Christmas morning to find a trampoline in her back garden.
Her loving father – in snowy conditions, assembled the trampoline the night before. As he sits inside watching television with his wife, two foxes – Otto and Olivia – begin bouncing gaily on the trampoline. They are soon joined by Betsy the badger, Hallie the hedgehog and Sid the squirrel.
All the while, the family's boxer, Buster, gazes enviously.
Then, early the next morning, as a wide-eyed Bridget runs to climb on to her trampoline, Buster beats her to it, bouncing merrily to the tune of 'One Day I'll Fly Away' and that's when mom and dad discover that her dog Buster has suddenly developed a passion for bouncing, too.
The ad got 16.7 Million views in its first 7 days, making it the most watched Christmas ad on YouTube over the past 30 days.
Sainsburys – The Greatest Gift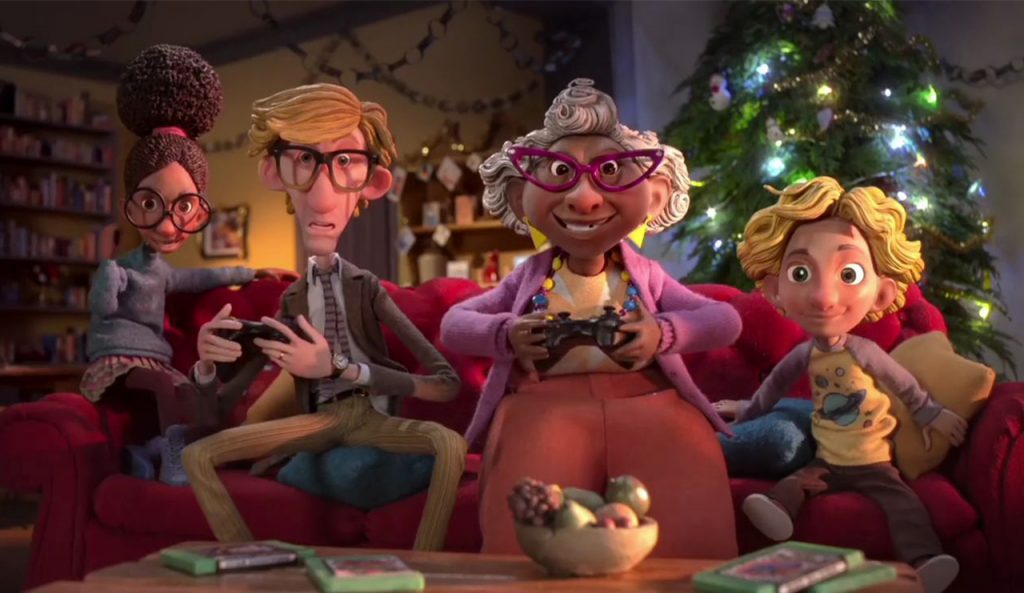 Directed by the award-winning British Director – Sam Fell, the stop frame animation ad tells the story of a hard-working and devoted dad named Dave, who realizes that the greatest gift that he can give to his family, friends, and colleagues this Christmas is his time.
The musical advert narrates Dave's story through an original song, 'The Greatest Gift for Christmas is Me', composed by Flight of the Conchords' Bret McKenzie, and sung by none other than late night chat show king host James Corden.
The ad opens with Dave a bit overwhelmed in the animated town of Bisby before he discovers a gingerbread man decorated just like him one night. And instead of eating it, he has a brainwave.
At the toy factory where he works, Dave creates a series of replica versions of himself in various forms – tapping monkey and toy planes, among others – and sends them to all the places he should be, leaving him free to spend Christmas with the family.
In second place with 6.8 Million views in 7 days 'Sainsbury's – The Greatest Gift' presents a joyous Christmas musical.
Marks and Spencer – Christmas with Love from Mrs. Claus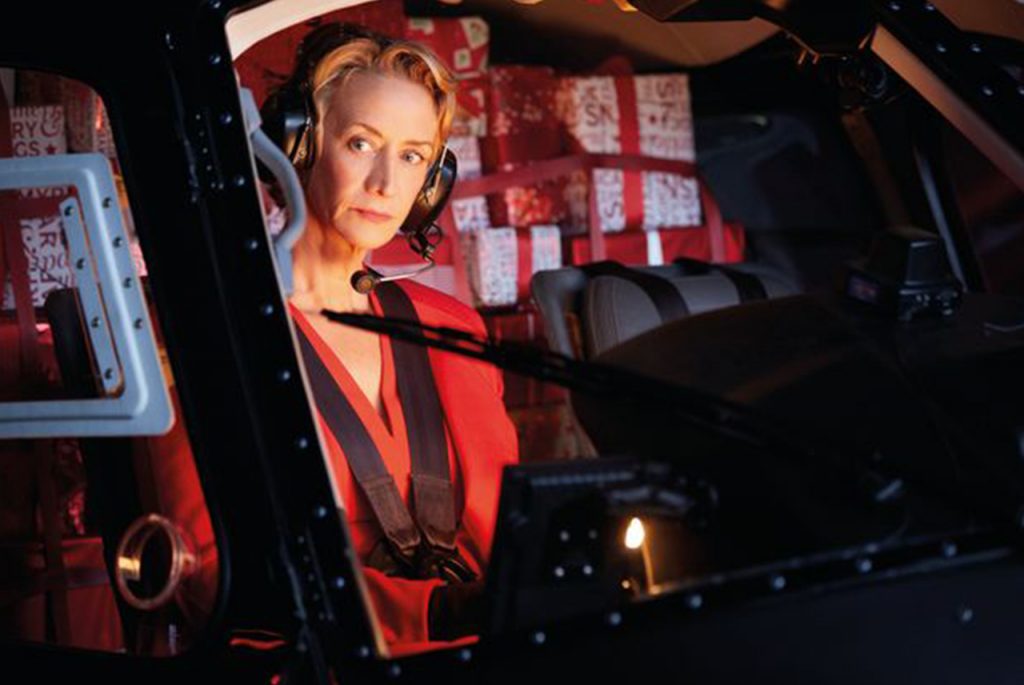 This year, retailer Marks and Spencer joins the race to 'win' at Christmas advertising, by focusing on a character typically silent throughout history – Mrs. Claus.
The commercial is helmed by Oscar-winning director Tom Hooper ('The King's Speech' and 'Les Miserable'), and stars acclaimed stage and screen actress Janet McTeer as Mrs. Claus – who's apparently content with being the perfect stay-at-home wife to Santa.
We first encounter her looking stylish but cozy in her chunky knit sweater and slippers, as she hands him his hot tea and warns him not to eat too many mince pies on his journey.
But after waving goodbye to her husband as he ventures into the snow to deliver presents around the world, Mrs. Claus embarks on a special project, helping six year-old Jake send his sister a thoughtful present. Having changed into a power suit and leather gloves, she sets out in style, piloting a really cool red helicopter. Naturally, she's back before Santa, who finds her curled up on the sofa reading a book titled 'Fifty Shades of Red'
"How was your night?" he asks. "Quiet," she replies. Quite definitely the power behind the throne.
In third place with 4.2 Million views in 7 days, 'M&S 2016 Christmas Ad: Christmas with love from Mrs. Claus' is truly a spectacle with a modern twist on the much-loved character Mrs. Claus as this new Christmas icon debuts with style.
Waitrose – #HomeForChristmas
A robin's epic journey home sends a strong message in Waitrose's adorable new Christmas advert.
The 90 second ad, which aired for the first time in November 2016, reflects the real-life migration of a young Scandinavian robin on an eventful, and at times, dangerous journey across mountains and seas.
The tiny bird battles bad weather and escapes being a bigger bird's festive feast, to make it back to a garden in the UK where he spends every Christmas.
When he finally reaches his winter home, the robin is reunited with his feathered companion to enjoy a festive treat – a Waitrose mince pie – left for him by a young girl, who has eagerly awaited his annual return.
After seeing the birds tucking into the mince pie, the young girl joins her own family at the table.
With approximately 2.6 Million views in 7 days; the 'Home For Christmas' ad sends a strong message about connecting with loved ones during the festive period.
Argos – Christmas Yetis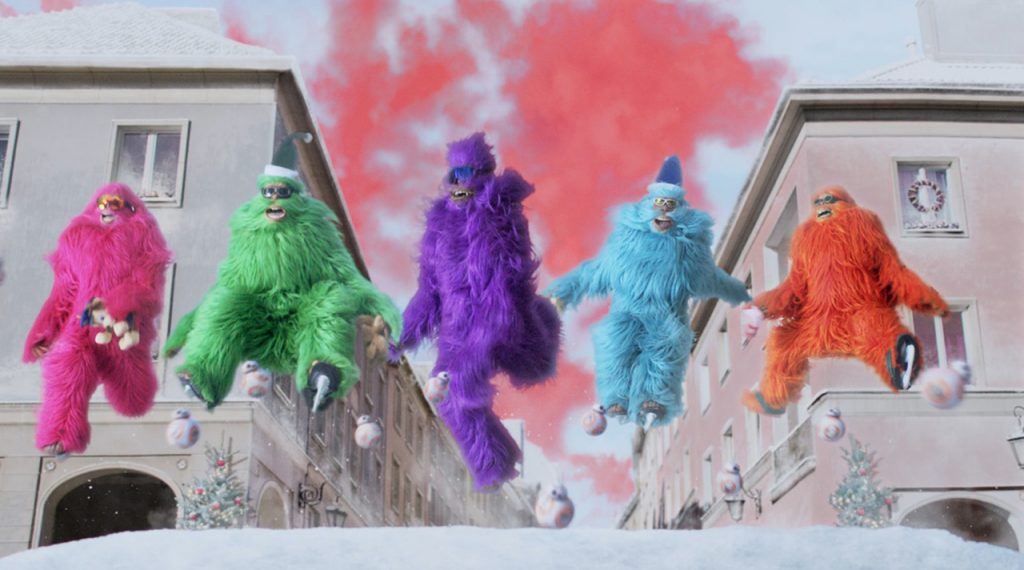 Fun loving and friendly, larger-than-life, quick as a flash and loveable Yetis colorfully bring to life the role that Argos hopes to play during Christmas for families nationwide.
With approximately 2.6 Million views in 30 days, the 'The Argos Christmas Yetis' ad features five fun, furry and fast yetis. The ad promotes the British catalogue retailer's Fast Track Same Day delivery and in-store collection.
Click here for a comprehensive list of this year's Christmas ads.
Sources: Telegraph, Mirror, Tubularinsights, DigitalSpy