'Rangoon' Trailer Storms The Internet With Over 13 Million Views
February 6, 2017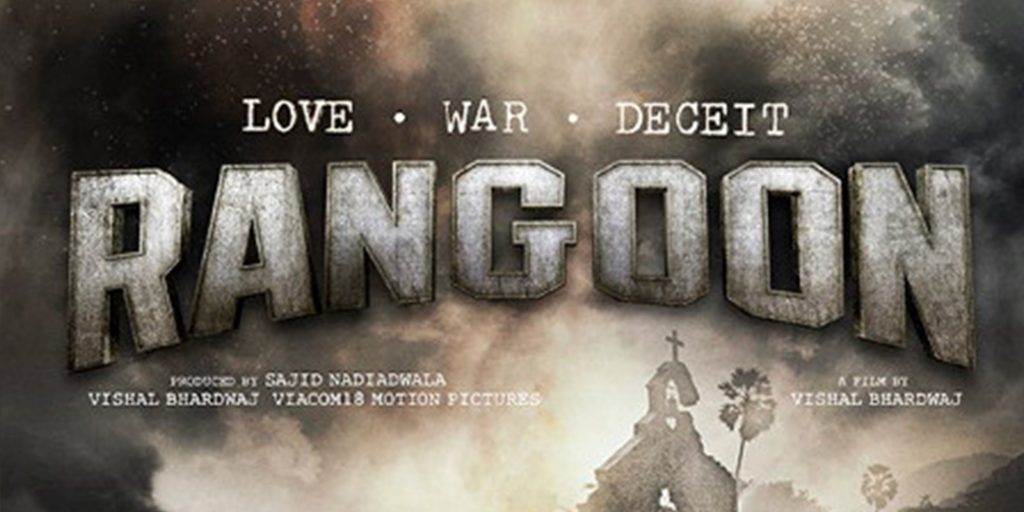 There's no denying the popularity of Bollywood movies in the UAE.
The appeal of Bollywood is no longer limited to Indians alone. UAE's long-lasting love affair with Bollywood is the result of:
The continuous supply of Bollywood blockbusters across the UAE
A large and growing cinema audience comprising of both Indian and Arabic-speaking Bollywood fans across the UAE
And to continue this romantic relationship between the UAE and one of the largest film industries in the world is the latest trailer of 'Rangoon' – one of Bollywood's anticipated blockbusters of 2017.
'Rangoon' is an upcoming drama film starring 3 top Bollywood actors in lead roles: Kangana Ranaut (Film Fare Best Actress – 2014), Shahid Kapoor (Udta Punjab) and Saif Ali Khan (Phantom).
The Film is set during World War II (1939-1945) and supposedly portrays the life and times of Mary Ann Evans (AKA Fearless Nadia) – Bollywood's first original stunt-woman still remembered for her fiery role in the movie 'Hunterwali'.
'Rangoon' is an intense 'love triangle' between an actress, her mentor and a soldier. The period drama on Love, War and Deceit, with its stellar cast, promises to deliver a spectacular battle of love, with sizzling chemistry between actors – working together for the first time.
The movie trailer which released on 6th January 2017 has garnered much attention, receiving appreciation from the film industry, fans and critics. Within a few weeks of its release, the movie trailer has over 13 million YouTube views – catching the internet by storm.
Directed by Vishal Bhardwaj (Indian National Award-winning filmmaker) – under the banners of 'Nadiadwala Grandson Entertainment' and 'Viacom 18 Motion Pictures', 'Rangoon' is set to release across cinemas in the UAE on 23rd February 2017.
Don't miss out on aligning your brand with 'Rangoon' – guaranteed to usher in large Asian andArabic audiences.
Click here for a comprehensive list of other anticipated Bollywood movies releasing in 2017.
Contact a member of our Sales Team for more information on advertising opportunities.
Sources: DNAIndia, GulfNews