2017's Top 10 Super Bowl Ads and New Trailer Releases
February 15, 2017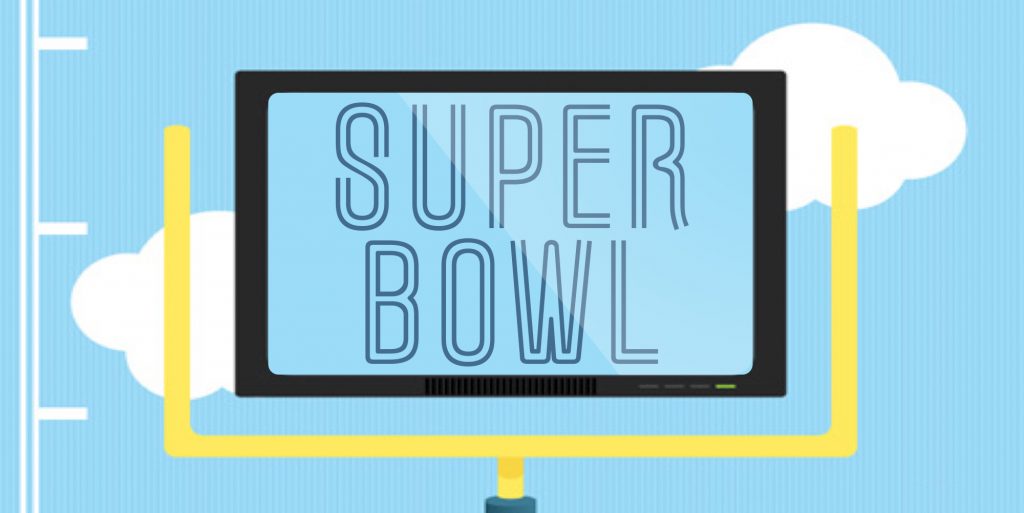 The Super Bowl season has always been exciting both on and off field, with a history of some of the most creative advertisements and exciting movie trailers being showcased. Living up to its legacy, 2017's season kicked off with a riveting array of attention grabbing advertisements.
Super Bowl Sunday is when we (the audience) get to see how creative people can be in 30 to 60 seconds. It's interesting to note that the cost of a Super Bowl ad this year was about US$5 million. Add the cost of production and all marketing activities required to spur viewership far past the airwaves, and you start to imagine the pressure on creative directors to get the commercial RIGHT!
This year's ads were not considerably different to those of previous years – ads that make you laugh, those that make you think and entertain or surprise. Yet, a couple of ads stood out this year. Some of the most incredible advertisements in 2017 were delivered by BIG brands such as Intel, Skittles, Ford, Mercedes, Audi and Buick – each snagging the audience's attention in some way or another.
Here's a list of the Top 10 Super Bowl Ads as voted by USA Today's Ad Meter panel:
1. Kia's 'Hero's Journey'
At the top of the list is 'Hero's Journey' starring Melissa McCarthy, an advertisement for Kia Niro. The automobile brand has won this honor for the first time and it is indeed well deserved. The ad's comedic take sees Melissa McCarthy set off of missions to save the planet. Unfortunately, she finds out the hard way that it's not easy to be an eco-warrior. Luckily, she drives the 2017 Kia Niro – an eco-model with over 40MPG, which means she can save the planet without hurting herself.
2. Honda's 'Yearbooks'
Some of Super Bowl's best advertisements have known to star celebrities to deliver an even greater message. Honda celebrates the people who chase their dreams with reckless abandon and the amazing things that happen when their dreams come true. For Honda, following their dream lead to vehicles such as the all-new Honda CR-V – a 20 year dream come true. The ad features big names such as Tina Fey, Viola Davis, Jimmy Kimmel and even Stan Lee and urge audiences to move forward with the all-new Honda CR-V.
3. Audi's 'Daughter'
This year was bigger than just feel-good messages and big names. The Super Bowl screen saw worthy messages being delivered through commercials such as Audi's 'Daughter' – delivering a resounding message on gender-equality. This is a story of a young girl competing in a downhill cart race in her hometown. As the fearless daughter weaves her way through a field of competitors, her father contemplates whether his daughter's worth will be measured by her gender through a series of provocative questions. It is a reminder that progress doesn't belong to any one group. Progress is for everyone. No wonder it was ranked number five on the top ten most shared commercials of this year!
4. Budweiser's 'Born the Hard Way'
The commercial that saw the most number of shares was that of 'The King of Beers'. Coming in at number four is Budweiser's commercial showcasing the story of Budweiser's founder and his ambitious journey to America in pursuit of his dream – to brew the King of Beers. The creative genius behind this spot is that it enables a poignant message to be brilliantly delivered within a minute.
5. Tide's 'Bradshaw Stain'
With the tagline 'No stain deserves fame', Tide delivers a hilarious commercial starring former major league footballer Terry Bradshaw. The content of this spot, with its light-hearted humor and use of a familiar NFL face, was clearly meant to target those who actually watch the big game, for the game.
6. Mr. Clean's 'Cleaner of Your Dreams'
Using mascots to personify brands help advertisers connect with relevant audiences. Procter and Gamble's 'Mr. Clean' personifies itself with a rugged mascot and simply states – 'You gotta love a man who cleans'. The 30-second commercial's simple creativity gained it 226 million shares during game time.
7. Buick's 'Pee Wee'
Living up to its reputation for cheeky commercials, Buick does not disappoint this year. The luxury automobiles' brand brings together two unlikely stars – footballer Cam Newton and Australian supermodel Miranda Kerr, for a light-hearted spot you simply cannot help but grin at.
8. NFL's 'Super Bowl Baby Legends'
Every year, the National Football League itself releases brilliant spots reminding us that 'Football is family'. Past Super Bowl legends inspired the making of his adorable 30-second spot which sees babies dressed up as past Super Bowl inspirations, asking us the question – Who will be the inspiration this year?
9. Ford's 'Go Further'
Ford's brand-centric advertisement comes in at number nine. Taking a comic stance on the little hurdles each of us faces in our daily lives, Ford's 'feel-good' spot encourages us to find new ways to 'Go further with Ford'. The commercial also scores points for its use of relevant background score, playing Nina Simone's 'I Wish I Knew How' to ease an important point in our hearts with humor and cheek.
10. NFL's 'Inside These Lines'
Last but far from the very least is NFL's inspiring spot on unity. Although the commercial focuses on how football brings together people from different backgrounds to achieve bigger ambitions, the underlying message is clear – America is a united nation regardless of where all its citizens come from.
Other note-worthy advertisements include that of Wix, a power-packed commercial starring Gal Gadot (Wonder Woman) and Jason Statham and Bai's cheeky spot, starring Justin Timberlake and Christopher Walken. Pop sensation Justin Beiber also made his Super Bowl commercial debut with T-Mobile's groovy spot.
Most top advertisements included a concise message – being delivered through simplicity. These messages were both relevant and inspiring. The transformation of the advertising industry from 'product-oriented' to 'people-oriented' can be easily seen in these top commercials.
Super Bowl however is incomplete without the trailers that set the screen on fire. Sneak peeks of mega blockbusters reignited our anticipation for these upcoming features:
'Logan', the last installation of the Wolverine series, launched a new action-packed trailer. The closely followed mega blockbuster releases on March 2 across cinemas in the UAE.
The trailer for 'Guardians of the Galaxy: Vol.2' gave audiences a new look into the much-awaited blockbuster. The sequel to 2014's action comedy will hit cinemas across the UAE on May 4.
The longest of all spots belonged to the Ryan Reynolds and Jake Gyllenhaal starrer 'Life', a sci-fi thriller releasing March 23 across cinemas in the UAE.
Disney's 'Pirates of the Caribbean: Dead Men Tell No Tales' also released a trailer for a movie the franchise simply cannot wait for. This eagerly awaited Johnny Depp movie hits cinemas across the UAE on May 25.
Dwayne Johnson and Zac Efron will star in the greatly anticipated 'Baywatch', an action comedy based on the TV Series of the same name. The trailer for the movie, also starring Bollywood actress Priyanka Chopra, was also released at Super Bowl 2017. The movie hits cinemas across the UAE on May 25.
And of course there were many more such as 'Transformers: The Last King', 'Ghost in the Shell', 'The Fate of the Furious' and more.
Check out the rest at our Trailer Park
Sources: Forbes, AdWeek, YouTube