'Phillauri' – A Spirited and Romantic Bollywood Blockbuster
February 28, 2017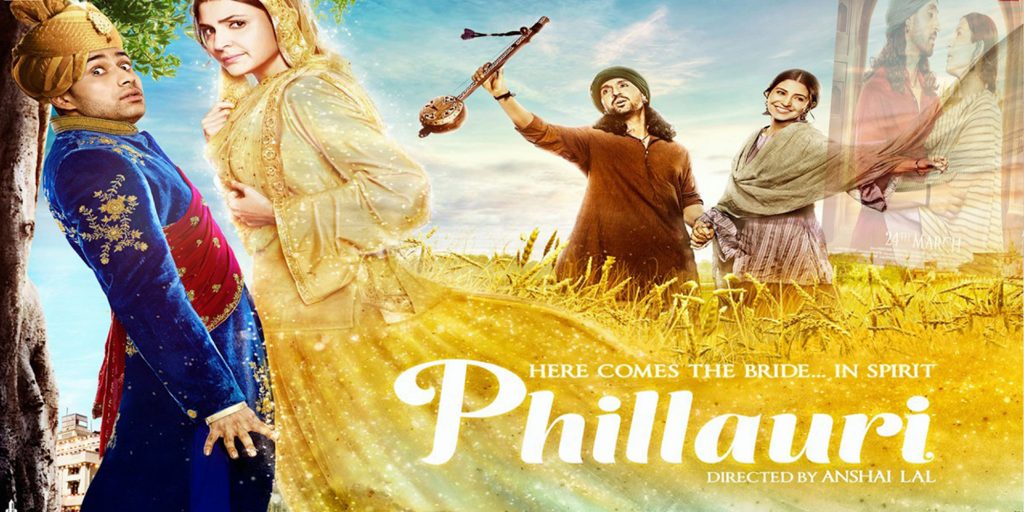 Bollywood has always been revolutionary, year after year, with filmmakers challenging themselves to bring out the most unique story lines and offbeat concepts to the cinema audience. Bollywood movies have seen a great response across the UAE in 2016 – impressing audiences (Asian as well as UAE nationals) for its new approach, and surpassing box-office collections in comparison to some anticipated Hollywood blockbusters.
Being a promising year ahead – with many blockbusters lined up from the Indian film industry, we take a look at the much-anticipated upcoming movie – 'Phillauri' (releasing across cinemas in the UAE on March 30).
A fun filled family movie – packed with comedy, romance and a bit of tragedy, 'Phillauri' is certain to be one of the blockbusters to come from Bollywood this year. The movie plot reveals a friendly ghost of Punjab from the olden days (Anushka Sharma), whose love story with her lover (Diljit Doshan) unfolds on the backdrop of a present day Punjabi wedding of a manglik groom – person believed to be inauspicious for marriage (Suraj Sharma).
The above briefly summarizes the plot of the movie as understood from the trailer – currently trending on social media. But, what makes 'Phillauri' a promising Blockbuster? Here are some of the highlights of the movie.
Young and Innovative Production Company
Clean Slate Films is a production company that was started by the Sharma siblings – Anushka Sharma and Karnesh Sharma. The company was created with the single-minded intention of producing movies that the siblings believed audiences would love and accept, along with creating a starting platform for new talents.
Their first home production, 'NH10', was a huge success – as it braved the social conditions of women in the Indian states of Haryana and Punjab. The venture registered into the hearts of audience and critics as the movie grossed overall earnings of US$ 4.9 million against a production cost of US$ 1.9 million.
Anushka Sharma – Along with the success of her home production movie – 'NH10', she was also recognized and awarded as the 'Best Actress' in 2016. She has been part of many Bollywood blockbusters such as 'PK' (worldwide collection of US$ 110 million), 'Sultan' (worldwide collection of US$ 88.28 million) and 'Ae Dil Hai Mushkil' (worldwide collection of US$ 35.6 million), which has been well received by cinema audience in the UAE.
Diljit Doshan – Presently one of the most sort out names in the Indian cinema industry with many titles given by his global fans, including 'Punjab's most beloved and successful entrant to Bollywood', recording artist and superstar of Punjabi cinema, and the recent winner of 'Filmfare's Best Debut (Male)' award – for his superlative performance in the gritty, social realist drama, 'Udta Punjab' (worldwide collection of US$ 14.95 million).
Suraj Sharma – An International artist and the winner of 'British Academy of Film and Television Arts' (AKA BAFTA), nominated for the 'Empire and Critics Choice Movie Award' and winner of the 'MTV Movie Award'. His previous Hollywood successes include 'Life of Pi' (worldwide collection of US$ 609 million and ran for 15 weeks in the UAE over 2012 and the start of 2013 with an approximate admission of 250,000) and 'Million Dollar Arm' (worldwide collection of US$ 38.2 million).
Anshai Lal – He has previously worked as an assistant director alongside prominent and well-established directors for box-office Blockbusters such as 'Chak De! India' (worldwide collection of US$ 40 million) and 'Dostana' (worldwide collection of US$ 15 million).
The movie trailer was launched on February 6th 2017 and has created buzz across India and other countries – with the trailer generating over 14 million views and unanimous adulation.
With all the right ingredients in place – an innovative production company, amazing cast, energetic debutant director and a trending trailer, 'Phillauri' seems to be on the right path – heading towards becoming one of Bollywood's top blockbuster releases this year.
In view of the anticipation and excitement amongst cinemagoers, 'Phillauri' is guaranteed to usher in a large number of Asian audience to cinemas across the UAE, along with an equally competitive number of Bollywood-loving UAE nationals.
Missed out on advertising alongside previous Bollywood blockbusters? Don't miss out on Phillauri.
Contact a member of our Sales Team for more information on cinema advertising opportunities.
Sources: Bollyspice, BollyKings, IMDb