UAE Young Lions Print Competition 2017
March 27, 2017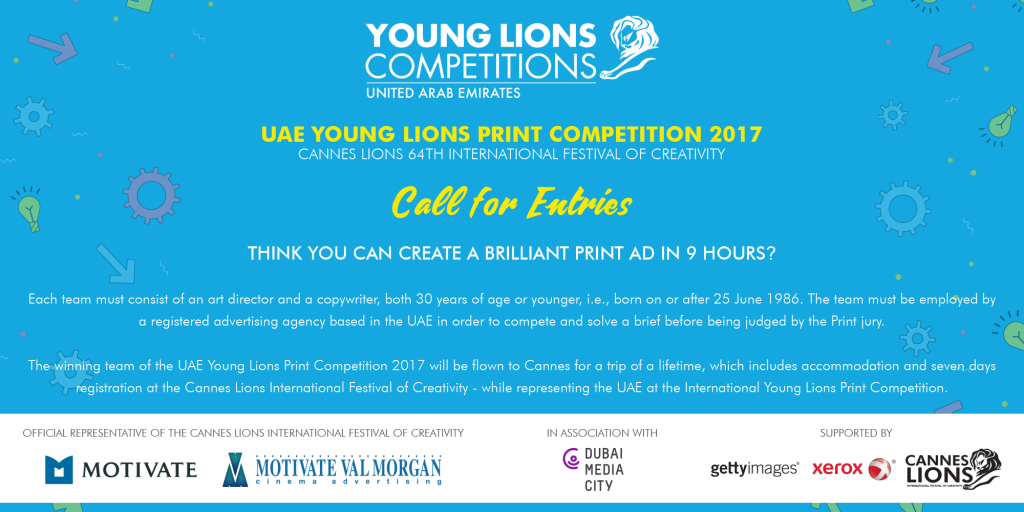 Registration Deadline: Sunday 23rd April 2017 | Fee (per team): 4,000 AED
Competition Date: Saturday 29th April 2017 | Time: 9am to 6pm
Venue: Motivate Offices, Media One Hotel, Dubai Media City
Awards Ceremony: 1st May 2017 | Time: 5:00pm – 7:00PM
Venue: CNN Building, Dubai Media City
Please Note: Both team members must be 30 years of age or younger, i.e., born on or after 25th June 1986
Click here to download the registration form to participate in this year's UAE Young Lions Print Competition.
Please Note: Email registration forms to [email protected] along with passport copies by Sunday 23rd April 2017. On receipt of the completed registration form, an invoice for the 4,000 AED registration fee will follow.
Watch the UAE Young Lions Competition Promo Video 2017:
Don't forget to follow the UAE Young Lions Print Competition 2017 Facebook Event Page for the latest updates.