3 More Days to Go for This Year's UAE Young Lions Print Competition
April 25, 2017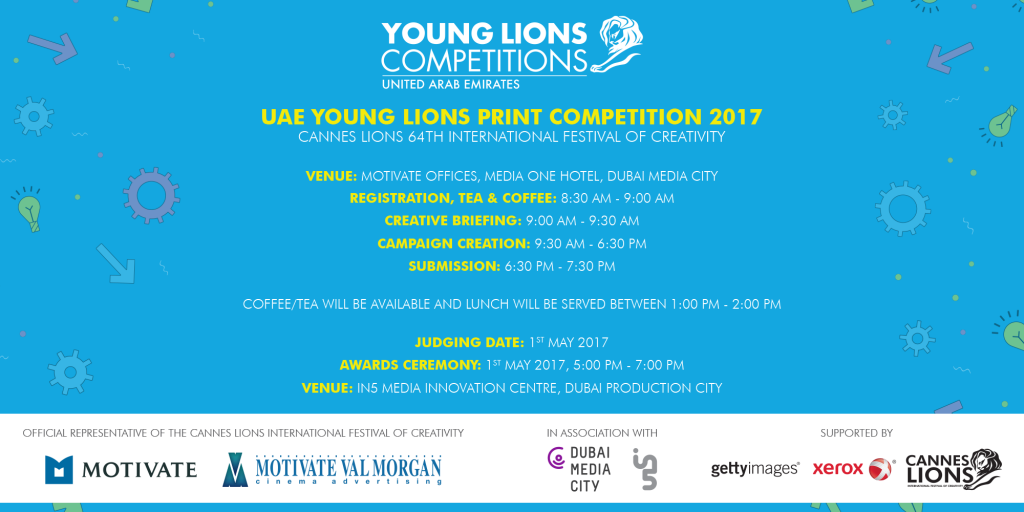 The most anticipated event for young creative in the UAE – 30 years of age or younger, is just around the corner.
This year's UAE Young Lions Print Competition will be hosted by Motivate and Motivate Val Morgan – the official representative of the Cannes Lions International Festival of Creativity in the UAE, in association with Dubai Media City and supported by Getty Images and Xerox.
15 teams (comprising of a copywriter and art director) from creative agencies based in the UAE will participate in this year's competition, which will be held on Saturday 29th April 2017 from 9am to 7pm at Motivate Offices – Media One Hotel, Dubai Media City.
Participating teams will have 9 hours to read through a brief from a Charity/NGO based in the UAE – who will be revealed on the day of the competition, strategize and execute 2 Print ads. The creation of 2 Print ads give teams two attempts at impressing the judges in order to win this year's UAE Young Lions Print Competition.
Judging and Awards Ceremony will take place on Monday 1st May 2017 from 5pm to 7pm at in5 Media Innovation Centre in Dubai Production City.
The GOLD winning team will be flown to Cannes on an all-expense paid trip to represent the UAE at the International Young Lions Print Competition.
Thank you to all creative agencies that registered this year. We look forward to a great competition ahead – Good luck to all participants!
Please Note: Participants will receive an email from us on Wednesday 26th April 2017 – outlining event details.