'Baahubali 2' Continues to Break Barriers Across the World
May 7, 2017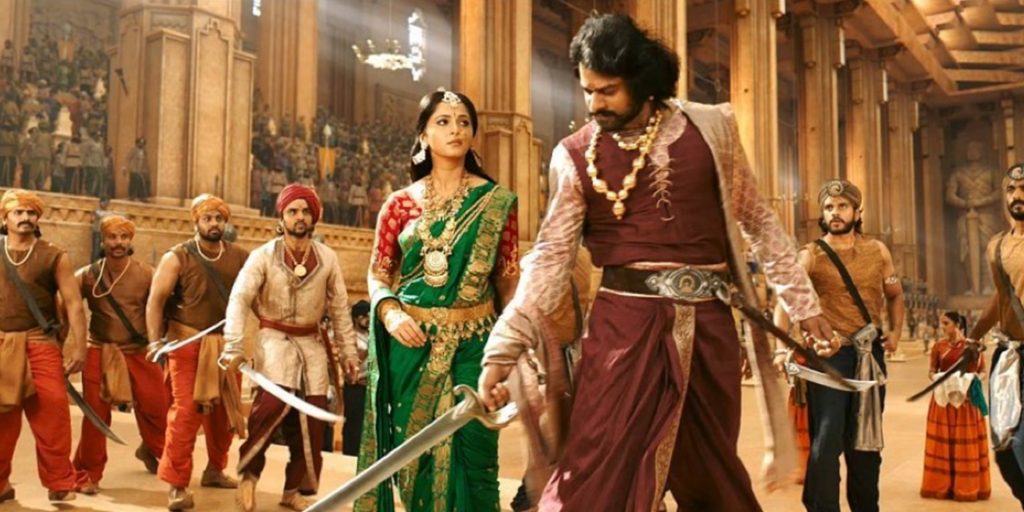 The fantasy epic is breaking worldwide box office records, and is now the highest grossing Indian movie release.
If you've been to the movies recently you might have glimpsed an unfamiliar name (to some) alongside the latest from Tom Hanks (The Circle), Chris Pratt (Guardians of the Galaxy Vol. 2), Charlie Hunnam (The Lost City of Z), Disney's Belle (Beauty And The Beast), and Scarlett Johansson as Major (Ghost In The Shell).
Unlike any Indian film you've ever seen, 'Baahubali 2' is a rousing piece of fantasy fiction set in an ancient kingdom – with extravagant locations. The battle sequences are convincingly bloody and the special effects are so ambitious. There are muscled heroes, winsome heroines and plenty of dance numbers – all hallmarks of Bollywood. It is also important to note that the movie is the most expensive Indian film to ever be made – with a production budget of $40 million USD.
Nevertheless, Baahubali isn't a product of the mainstream, Hindi-language film industry based in the coastal city of Mumbai. Instead, it was produced in the southern metropolis of Hyderabad, which has its own massive movie industry in the Telugu language.
Few vernacular films have transcended their regional origins to become hits across Indian – a land of 1.3 billion people, with sharp regional language and cultural differences.
When the original Baahubali was released in India, it was dubbed into Hindi with a cast unknown to most Indians. Yet the franchise has managed to unite a fragmented Indian movie-going population in India and overseas.
Director's S. S. Rajamouli's Baahubali franchise has more in common with ensemble epics like '300' or 'Lord of the Rings' films. Crew members have said that one reason the sequel has succeeded is because much of its reported production budget – lavish by Indian standards- was pumped into special effects and not stars.
The sword-and-armour epic 'Baahubali 2: The Conclusion' doesn't exactly have Hollywood's pedigree. Nevertheless, it debuted in the US as the third top box-office draw, making nearly $13 million (Dh47.7 million) – outdoing Hank's 'The Circle', despite playing in barely 400 theatres. In the US – where Telugu films draw hard-core fans among the southern Indian diaspora for one or two days, 'Baahubali 2' continued to draw viewers to both the original and Hindi versions – many paying top dollars for IMAX screenings.
In Australia, the movie is presently the biggest Bollywood opening of all time with $1.4 million – double the previous title-holder (Aamir Khan's 'Dangal').
The movie released across cinemas in the UAE in four languages – Tamil, Hindi, Telugu and Malayalam. In the first week of release, 'Baahubali 2' secured the 1st (Tamil), 2nd (Hindi) and 5th (Telugu) spot on UAE's Top 10 Movies Chart. In the 2nd week of release, the movie continued to sit high up on UAE's Top 10 Movies Chart – securing the 2nd (Tamil), 3rd (Hindi), 6th (Malayalam) and 7th (Telugu) spot.
Motivate Val Morgan had a number of advertisers following 'Baahubali 2: The Conclusion' – targeting Asian audiences, across UAE cinema locations of VOX Cinemas, Oscar Cinemas, Reel Cinemas and Cine Royal Cinema:
Mars GCC (15 sec. ad)
RAK Bank (30 sec. ad)
Royal Furniture-Kenz (30 sec. ad)
Bhima Jewellers (30 sec. ad)
The Baby Shop (60 sec. ad)
Medeor 24×7 Hospital (30 sec. ad)
Cocoona Aesthetic Transformation Centre (15 sec. ad)
Star TV (30 sec. ad)
Umm al-Quwain Free Zone (30 sec. ad)
Tajmeel Dental Centre (15 sec. ad)
Aster Pharmacy (60 sec. ad)
Danube (30 sec. ad)
Allianz FMCG Holdings (30 sec. ad)
Is your target audience Asian audiences? Missed out on advertising alongside 'Baahubali 2'?
Contact a member of our Sales Team for more information on upcoming Asian language movie releases.
Sources: Gulf news, Val Morgan Australia, MVM Campaign Stats.