VOX Cinemas Opens at The Avenues – Bahrain
December 4, 2017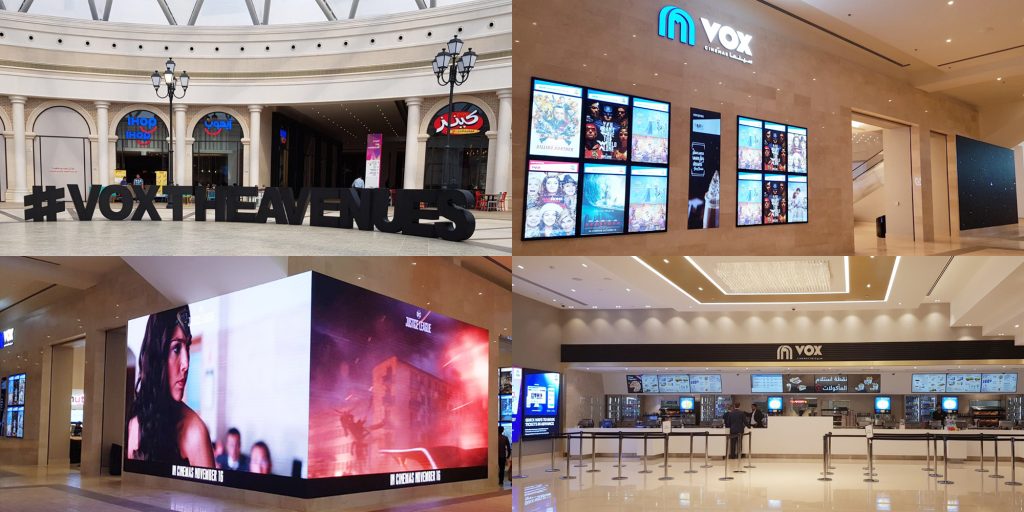 VOX Cinemas, a unit of leading retail and leisure pioneer Majid Al Futtaim, opened its first independent venture in Bahrain at the newly-launched The Avenues mall on 28 November 2017 – offering cinemagoers a new and improved cinemagoing experience. This comes within weeks of the launch of its joint venture with Bahrain Cinema Company, VOX Cineco at City Centre Bahrain.
The Avenues mall – which opened of its doors for visitors two weeks ago, has already become the must visit destination in the Bahrain.
It is the first commercial and entertainment mall of its kind in the Kingdom, with a unique seafront location extending 1.5 km. It is strategically located in the heart of Manama, adjacent to King Faisal Road. The development brings a new concept to the Kingdom – with a design inspired by The Avenues mall in Kuwait – giving visitors an outdoor feeling while remaining indoors, protected from the heat by a transparent ceiling.

The newly opened cineplex boasts 10 screens with a total seating capacity of 929 and includes a MAX screen (the largest screen with ultra-comfortable seating) and three Theatre by Rhodes screens (the first-of-its-kind in Bahrain) – a concept which is the brainchild of Michelin Star celebrity chef Gary Rhodes.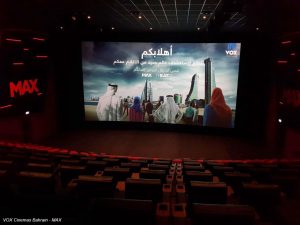 Majid Al Futtaim is set to pump Dh1.2 billion ($326 million) into the Middle East entertainment market as part of its massive expansion plans. The company has set a target of opening more than 600 screens over the next one and a half years across seven countries in the region – UAE, Bahrain, Oman, Kuwait, Qatar, Egypt and Lebanon.
"The investment will involve a series of acquisitions, organic expansions and a commitment to data-driven exceptional customer experience," remarked Michelle Walsh – Chief Operating Officer for VOX Cinemas.
With fully digital screens, VOX Cinemas (Latin word for voice) will be offering cinemagoers in Bahrain more movie releases, daily movie sessions, flexible timings and an exclusive cinema dining experience by Theatre by Rhodes, she stated.
Aimed at the high-end customers, the tickets for Theatre by Rhodes are priced at BD16 ($42), while the MAX VIP tickets will cost BD5 and MAX Regular tickets BD4.
With this new launch, VOX Cinemas has refined every aspect of the cinema-going experience in the region to make it more engaging, fun and hassle-free – from the ease of ticket purchase to innovative seating alternatives, and more delicious food and beverage offerings.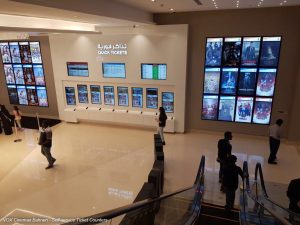 VOX MAX, she stated, is a mega-screen concept which was first launched by VOX Cinemas in the UAE in 2011, and since then it has become one of the most popular movie-going experiences for cinemagoers today.
"We present movies the way directors intended them to be watched – on huge screens, with crisp, digital imagery supported by surround sound technology and comfortable seating," explained Walsh.
"Our aim is to create great moments for everyone every day, through offering innovative cinematic experiences and exceptional customer services and dining inside a theatre is one of them," she added.
Additionally, VOX Cinemas will be soon launching a new loyalty programme – VOX Rewards in order to make the cinemagoing experience more special.
"It will reward loyal cinemagoers by providing them complimentary tickets, food and beverages, as well as a range of special offers and movie updates," said Walsh.
The cinema chain is also planning for partnerships with leading credit card companies and banks. "We have already struck a deal with Visa and we are in talks with other companies as well," she added.
According to Walsh, future plans for Bahrain include the launch of the 4DX cinema concept which will take movie buffs into a world of their own where they can touch, smell, feel and live every moment of their chosen movie attraction.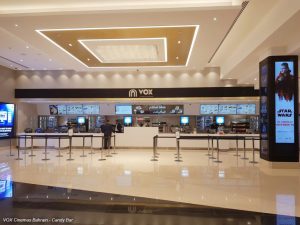 Traditional cinema fare also takes on a new twist at VOX Cinemas Bahrain, with the candy bar featuring a restaurant-style menu that includes crepes, sandwiches, French fries, salads, gourmet popcorn, muffins and beverages such as coffee and fresh juices, she added.
As the exclusive cinema advertising partner of VOX Cinemas, Motivate Val Morgan congratulates VOX on the launch of their new cineplex in Bahrain and proudly welcomes VOX Cinemas – The Avenues to our circuit.
Contact our Account Manager in Bahrain for information on cinema advertising opportunities at VOX Cinemas .
Source: Trade Arabic and Malta Wind