Reel Cinemas Signs Al Ghurair Centre
March 26, 2018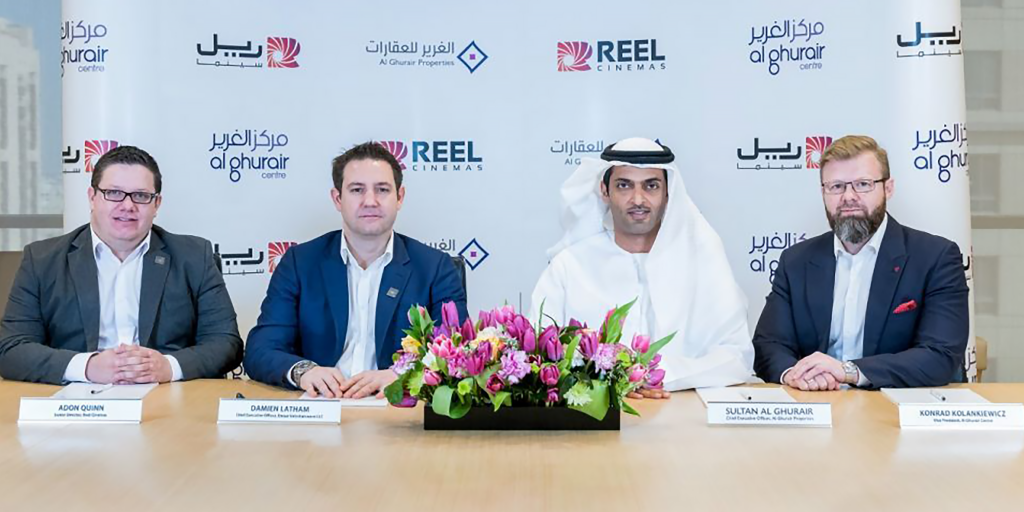 Al Ghurair Centre – Middle East's first shopping centre and Dubai's oldest mall, has signed an agreement with Emaar Entertainment, to operate a new 18-screen Reel Cinemas megaplex.
Spread across 75,000 sqft, the cinema will be housed in a dedicated wing, set across two floors, with a link bridge to the mall. The new project will result in a total of 1,800 seats across 18 screens, offering Platinum Movie Suites, Dine-In Cinema and Dolby Cinemas.
The cinema is set to open its doors to the public in the fourth quarter of 2018 and is part of Al Ghurair Centre's revitalisation plan.
Sultan Al Ghurair, CEO of Al Ghurair Properties said: "We are excited to announce the recent signing that confirms our partnership with Emaar Entertainment. This announcement marks the first of several key strategies and developments for the forward-thinking and community driven vision for Al Ghurair Centre and as such, represents the first step in our new revitalisation strategy."
Damien Latham, CEO of Emaar Entertainment, added: "The agreement to operate Reel Cinemas at this premier mall underpins the distinctive value that we bring to movie-goers and to the shopping malls where we are located."
Al Ghurair Centre has been renovating its offerings extensively in the last few years. In 2013, it announced plans to invest Dhs2bn to almost double its retail space with an addition of up to 130 new stores. The next year, it revealed plans to invest an additional Dhs60m for further renovations to the mall.
Motivate Val Morgan is the official cinema advertising partner of Reel Cinemas, offering on-screen and off-screen cinema advertising opportunities at The Dubai Mall and Dubai Marina Mall – and soon to have Jebel Ali Club as part of our cinema circuit.
Sources: Arabian Business and Gulf Business