UAE Young Lions Digital Competition 2018
March 26, 2018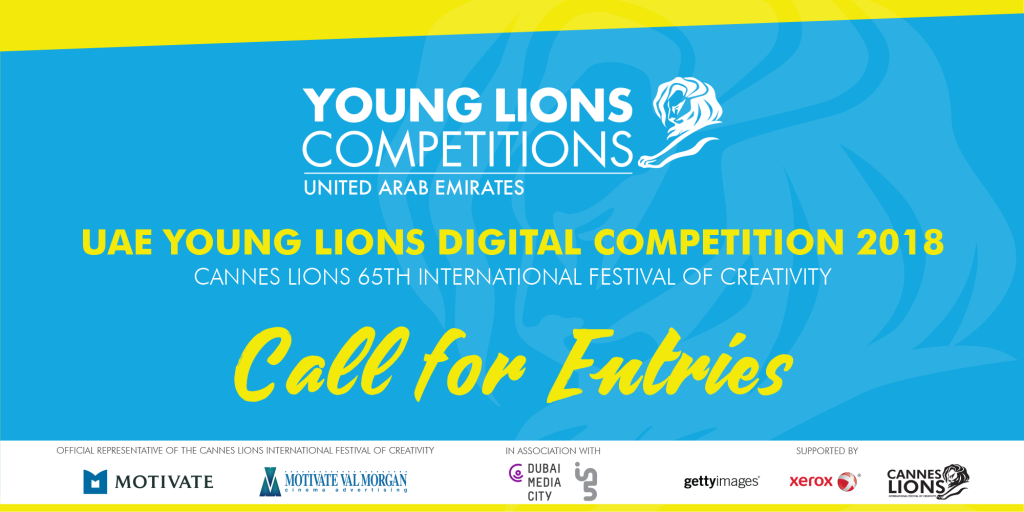 If you got what it takes, don't miss out on participating in this year's UAE Young Lions Digital Competition!
Requirements
Each team must consist of an art director and a copywriter, both 30 years of age or younger, i.e., born on or after 23 June 1987.
A team can be from a registered advertising agency, freelancers or from a creative team from the client side – all based in the UAE.
What's in it for the GOLD Winning Team?
The team will be flown to Cannes for a trip of a lifetime – which includes air fare, accommodation, food expenses and 5 days registration at the Cannes Lions Festival.
The team will represent the UAE at the International Young Lions Digital Competition 2018.
Registration Details
Registration Deadline: Sunday 15th April 2018
Fee (per team): 4,000 AED (not inclusive of VAT)
Download the Registration Form
Please Note: Email registration forms to [email protected] along with passport copies by Sunday 15th April 2018.
Competition Details
Date: Saturday 21st April 2018
Time: 9am to 7pm
Venue: Motivate Offices, Media One Hotel, Dubai Media City
Awards Ceremony Details
Date: 23rd April 2018
Time: 5:00pm – 7:00PM
Venue: in5 Media Innovation Centre, Dubai Production City
Here's a Glimpse of the UAE Young Lions Cyber Competition 2016:
Please note: the Cyber category has been renamed as Digital in 2018 
Here's an interview with the winners of the UAE Young Lions Cyber Competition 2016:
This year's competition will be hosted by Motivate and Motivate Val Morgan – the official representative of the Cannes Lions International Festival of Creativity in the UAE, held in association with Dubai Media City and sponsored by Getty Images and Xerox.
Register now!