Pop Culture Stars Shine at MEFCC 2018
April 9, 2018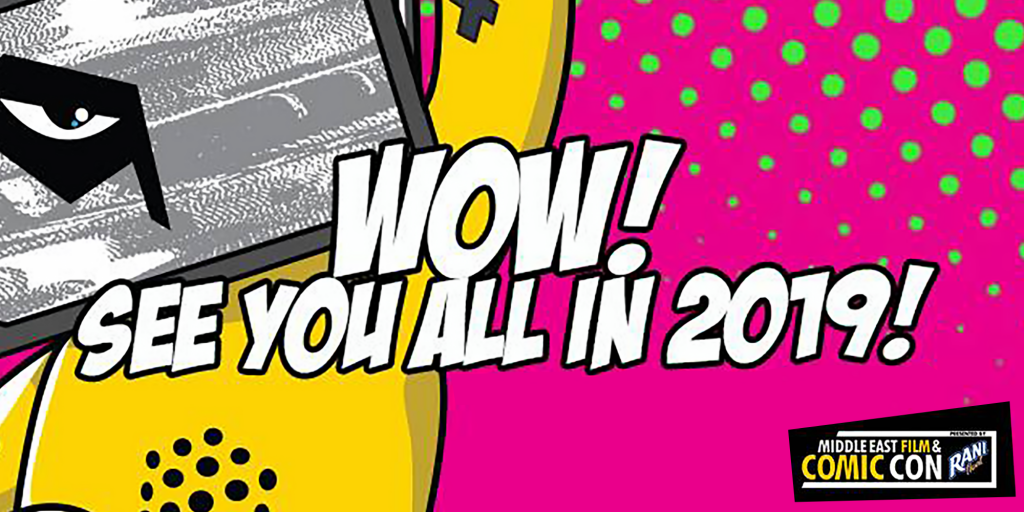 Middle East Film & Comic Con, commonly referred to as MEFCC, is a speculative fiction convention held annually in Dubai, United Arab Emirates in the month of April. The first edition was held in 2012, and ever since MEFCC has grown to become the one-stop-shop and the largest pop culture festival in the region!
Initially featuring comic books, science fiction/fantasy and film/television, MEFCC has now become a regional pop-culture centerpiece that curates almost all forms of popular arts and pop culture elements, including horror, animation, anime, manga, toys, collectible card games, video games, web comics, and fantasy novels. It also focuses on regionally created content such as Xero Error, Freej, FOBcity, Gold Ring, The Sons of Two Suns, etc.
Over its 6-year history, MEFCC has hosted some of the biggest celebrities in the world of pop-culture, including Jason Momoa, John Rhys-Davies, Gillian Anderson, William Shatner, Nikolaj Coster-Waldau, Anthony Mackie and Liam Cunningham.
The 2018 edition of MEFCC took place from the 5th – 7th April 2018 at Dubai World Trade Center. This edition featured guests such as Ezra Miller (who played the speedster Flash in the 2017 superhero blockbuster Justice League), Kristian Nairn (who played Hodor in Game of Thrones) and Karl Urban (who has acted as Dredd and Skurge in Thor: Ragnarok). Cosplayer Alodia Gosiengfiao and voice-over trio Robbie Daymond, Ray Chase and Max Mittleman joined the panel as well, along with Jason David Frank (better known as the Green Power Ranger).
The panel discussed various topics including actors', upcoming projects, what it's like to keep secrets offset, empowerment and how CGI has come a long way.
When asked about whether his upcoming solo film The Flash (expected to release in 2020) would be adapted from the comic books, Miller remained coy. "It probably won't be panel for panel," he said.
For Nairn, who plays Hodor on Game of Thrones, acting against inanimate objects is all in a day's work. According to him, Game of Thrones' direwolves were initially portrayed by actual dogs, but in later seasons, were switched out for tennis balls on sticks or "a producer inside of a green sack, like an amoeba. It stretches your imagination."
Miller, who starred as the fastest man alive in last year's DC ensemble flick Justice League, recalled "enormous swathes of green cloth as far as you can see" on set. "I find it very fun to project images with my imagination. But that's just me," he said.
The cast of Lost in Space, whose series will release on Netflix on April 13, were asked about the changing landscape of geek culture in the wake of the #MeToo movement, which aims to fight back against sexual harassment in Hollywood. Mina Sundwall, who plays Penny Robinson, said it felt important to include organic moments of empowerment on their show that felt natural and normal, rather than forced.
Check out the highlights from Day 1 and Day 2 below:
Day 1
Day 2
Sources: Gulf News, MEFCC, YouTube