'Ocean's 8' – The Ultimate Female Centric Cinema Event of 2018
June 11, 2018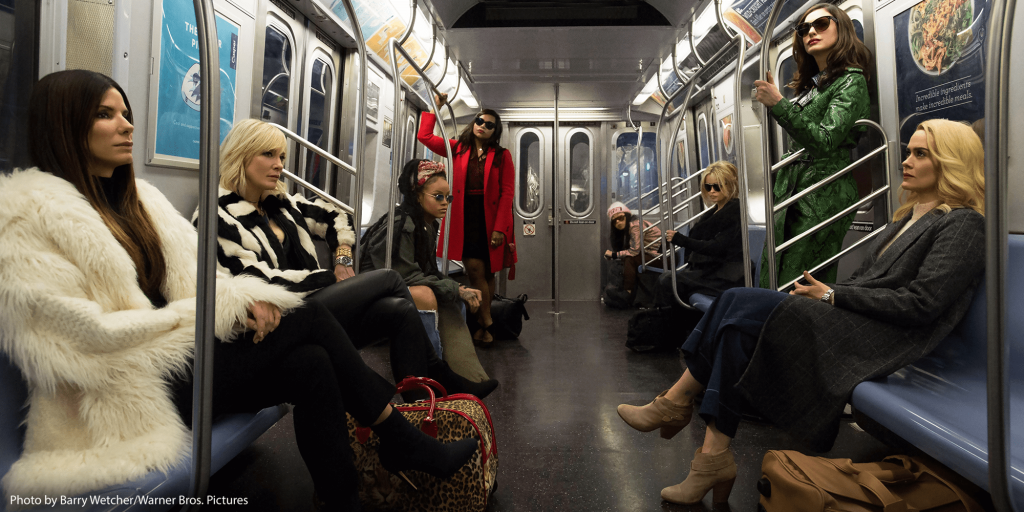 The forthcoming female-led installment in the Ocean's franchise, will arrive in cinema on 21st June 2018 with a stiletto-stomping bang!
Ocean's 8 – the spinoff to the Ocean's Eleven trilogy directed by Steven Soderbergh, will put eight women at the helm of the heist thriller.
Directed by Gary Ross and featuring a stellar cast (which includes a number of award winners) such as Sandra Bullock, Cate Blanchett, Anne Hathaway, Mindy Kaling, Sara Paulson, Helena Bonham Carter, Rihanna and Awkwafina, the film will be the ultimate female-centric cinema event of the year.
Movie Plot:
Debbie Ocean (Sandra Bullock), younger sister of the late Danny Ocean, spends five years, eight months and twelve days in prison planning a heist. Convincing her partner-in-crime and friend Lou (Cate Blanchett) to take part in her heist, Debbie proceeds to recruit jewellery maker Amita (Mindy Kaling) profiteer Tammy (Sarah Paulson) street hustler Constance (Awkwafina), computer cracker Leslie a.k.a. Nine Ball (Rihanna) and fashion designer Rose Weil (Helena Bonham Carter). In a flashback, it is revealed that Debbie's ex-lover, Claude Becker (Richard Armitage) had involved her in a fraud scheme and then testified against her, sending her to prison. As payback, Debbie chooses Becker to be the scapegoat for the plot to steal the Toussaint, a $150 million necklace, at New York City's star-studded annual Met Gala.
Using celebrity actress Daphne Kluger (Anne Hathaway) as an unwitting mule, the crew successfully substitutes a fake necklace prepared by Tammy for the real necklace, and sells the diamonds in small portions through various intermediaries. It is revealed that Daphne had caught on to the plot and became a willing accomplice out of a need for female friendship. She successfully plants evidence in Becker's residence to set him up as a suspect in insurance investigator John Frazier's (James Corden)fraud probe. Free from suspicion, Debbie and Lou disclose to the crew that they had stolen more items than just the necklace during the commotion at the Met museum. The remaining proceeds are used to increase everyone's share of the take, leading to a montage of each crew member living their best life. Debbie visits her brother's grave and drinks an olive martini, claiming he would have loved the heist.
Trailer:
For brands wanting to target female audiences, here's your best opportunity!
Advertise alongside this bold, funny and joyous crime comedy – guaranteed to usher in large female audiences, releasing across cinemas on Thursday 21st June 2018.
Contact a member of our Sales Team to book a campaign today!