New Cinema Locations Serviced by Motivate Val Morgan
July 2, 2018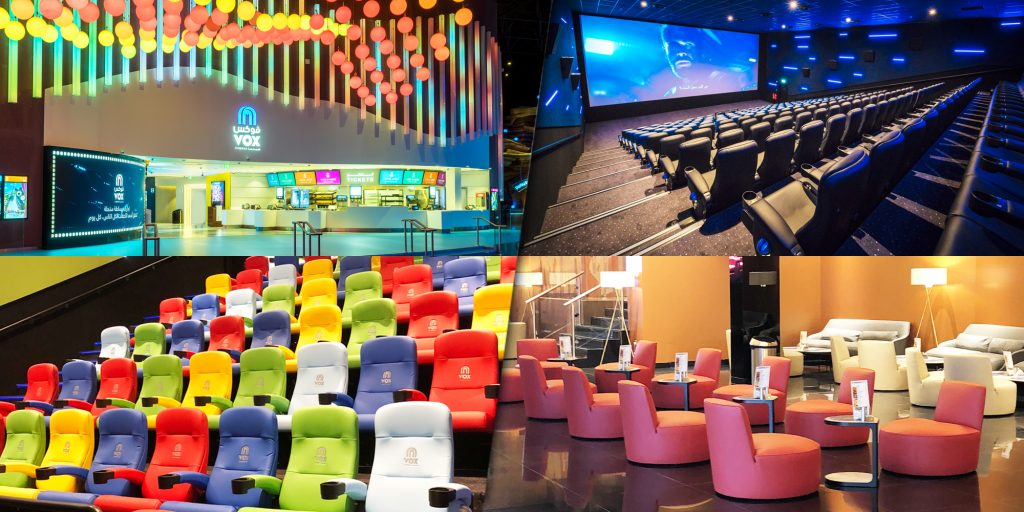 Motivate Val Morgan recently acquired new cinema locations across Saudi Arabia, Kuwait and UAE.
Operational Cinema Locations:
1.VOX Cinemas | Riyadh Park Mall | Saudi Arabia

VOX Cinemas launched at Riyadh Park Mall in May 2018. The cinema features 4 screens with a total seating capacity of 330 seats, and includes an IMAX and Kids screen.
2.VOX Cinemas | The Avenues | Kuwait

VOX Cinemas launched at The Avenues Kuwait in May 2018. The cinema is the biggest in Kuwait with 17 screens and 1645 seats. The cinema includes 4 Theatre by Rhodes screens, 2 MAX screens and 2 Kids screens.
3.VOX Cinemas | City Centre Sharjah | UAE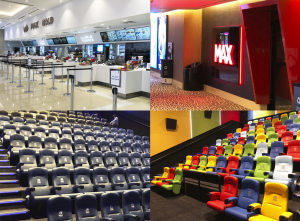 VOX Cinemas launched at City Centre Sharjah on 14th June 2018. The cinema is home to 12 screens with a total seating capacity of 1268 seats, and includes 1 Max screen, 2 Kids screens and 2 Gold by Rhodes screens.
4.Cinemacity | 06 Mall Sharjah | UAE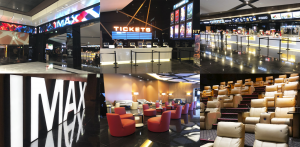 Cinemacity launched its brand-new cinema at 06 Mall in Sharjah on April 10th 2018. The cinema has 8 screens with a total seating capacity of 1293 seats.
The cinema is home to UAE's biggest IMAX screen to date (366 seats), which also includes an exclusive VIP lounge for IMAX ticket holders. The IMAX cinemas also offers three different classes of seating – Deluxe Class leather wrapped seats, Club Class seats with semi reclining chairs as well as extra legroom, and the luxurious full reclining VIP Star Class seats that come with in-theater service.
The cinema also features 2 Star Theaters (Gold Class theaters) with a private lounge.
Motivate Val Morgan presently services 6 cinema operators (VOX Cinemas, Reel Cinemas, Oscar Cinema, Cine Royal Cinema, Roxy Cinemas and Cinemacity) across 51 cinema locations in 8 countries (UAE, Oman, Lebanon, Egypt, Qatar, Bahrain, Kuwait and Saudi Arabia). We have a total of 471 screens and 59686 seats as part of our cinema network.
Cinema Locations Coming Soon:
1.VOX Cinemas | Aloft City Centre Deira | UAE
Movie lovers, be prepared to be transported into the world of film at Aloft City Centre Deira, Dubai – offering the regions first movie themed suites alongside a VOX Cinemas OUTDOOR screen with 40 seats.
Bringing a fresh vibe to Deira, Aloft City Centre is now open, but the OUTDOOR cinema is scheduled to open soon.
2.Reel Cinemas | Rove Downtown | UAE
Reel Cinemas will further expand its local footprint with a brand-new concept – the first hotel-cinema – located in Rove Downtown, the contemporary midscale hotel in Downtown Dubai. The hotel-cinema will add to the convenience of hotel guests, catering to the needs of contemporary travellers and urban residents.
Scheduled to launch in Q3 2018, the boutique Reel Cinemas – Rove Downtown will feature 1 screen with approximately 49 seats, and will include state-of-the-art audiovisual technologies.
3.Reel Cinemas | The Springs Souq | UAE
The Springs Souk, a development by Emaar is now open in the heart of the Springs community.
The new retail and leisure destination is made up of around 100 shops and restaurants split across two levels. Inside, you'll also find a large Carrefour Market, family clinic and a gym.
Reel Cinemas is set to open a cinema at the mall. Details of the number of screens and seating capacity are still to be confirmed.
Stay tuned for more updates on the 3 cinema locations opening soon!
Sources: Arabian Business, City Centre Deira, Reel Cinemas and What's On