Audi and Hyundai Welcome the Women of KSA to the Driver's Seat
July 16, 2018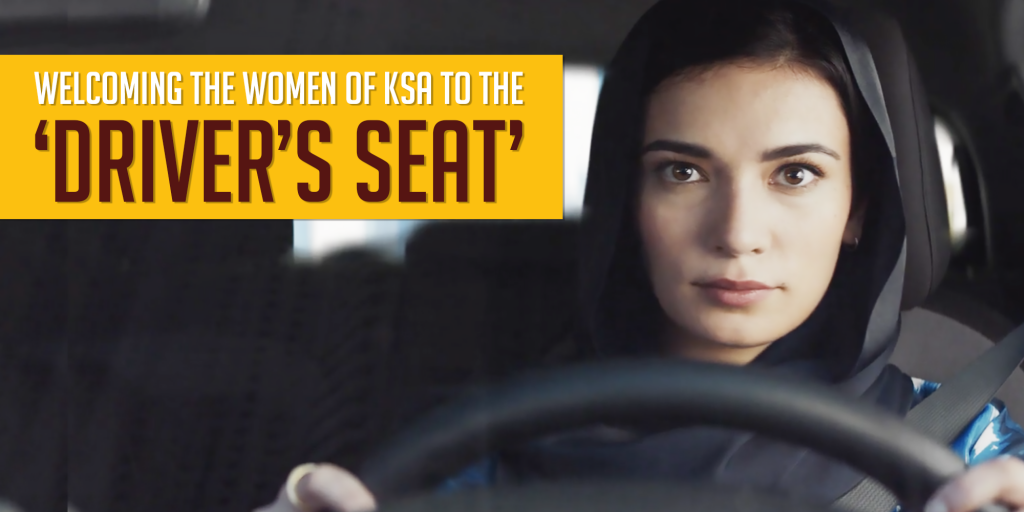 It is probably no exaggeration to say the past year has been the most momentous year in the Kingdom of Saudi Arabia's history with the announcement of a wide range of social reforms – boosting entertainment and allowing women to drive, to take effect in 2018.
In December 2017, Saudi Arabia lifted a 35-year ban on commercial theaters as part of the country's 2030 vision (stamped by Saudi Crown Prince Mohammed bin Salman) to modernize and move the country forward. Four months after, in April 2018 we witnessed the launch of Saudi Arabia's first cinema in over three decades (operated by AMC Entertainment), which was followed by the launch of a 4 screen VOX Cinemas at Riyadh Park Mall – featuring an IMAX screen, 2 VOX Kids screens and 1 VIP screen.
As the official cinema advertising partner of VOX Cinemas, Motivate Val Morgan received an overwhelming response from advertisers within hours of the cinema chain launching in the Kingdom. The first advertisers to book on-screen ads through Motivate Val Morgan were Hotels Combined, Chevrolet, GMC, Emirates Airlines, Homecentre and Cartier, to name a few.
On 24th June 2018 followed the end of a decades-long ban on women driving – enabling women (18 years of age and older) to apply for a driver's license.
For the vast majority of women in the kingdom, the move allowing them to drive represents a new dawn, offering greater freedom of mobility, access to wider job opportunities, and the reclamation of rights.

Timing their cinema campaigns with the lifting of the ban on women driving in Saudi Arabia were Audi and Hyundai.
Audi
To mark the monumental day in history, in which woman in Saudi Arabia got into the driver's seat for the first time ever, Audi created this gripping and inspirational video.
Audi booked a 1-week on-screen campaign to play on all screens of VOX Cinemas – Riyadh Park Mall from 28th June to 4th July 2018.
Hyundai
Hyundai's #whatsnext campaign is a message from people all over the world, welcoming the women of Saudi Arabia behind the wheel.
Hyundai booked a 6-week on-screen campaign to play on all screens of VOX Cinemas – Riyadh Park Mall from 5th July  to 15th August 2018.
An amalgamation where a once banned and re-established medium, screens an advertisement welcoming a deeply symbolic move to put women back in the driver's seat!
Have a tactical campaign you would like to execute on cinema screens in Saudi Arabia?
Contact a member of our sales team for more information.
Sources: Al Arabia (English), Gulf News, Gulf Business and YouTube (YallaMotor)