Everything We Know About Mission: Impossible – Fallout
July 16, 2018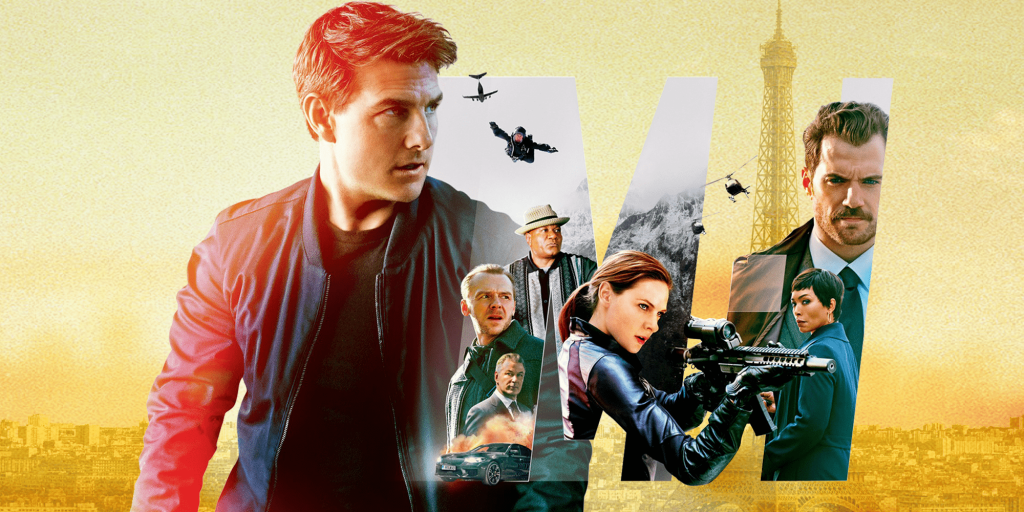 The Mission: Impossible franchise is the fine wine of action series – it only gets better with age.
It's been over two decades since we first saw Ethan Hunt (Tom Cruise) drop down into the CIA headquarters in Langley, Virginia, and each of the five Mission: Impossible films has brought something entirely new and exciting to the table.
May it be an awesome new stunt or a crazy new villain, each and every installment in this long-running spy series has carved out a niche for itself and added to the overall Mission: Impossible narrative.
On that note, our hopes are currently sky high that Mission: Impossible 6 – officially titled Mission: Impossible – Fallout, can recapture the unique balance of style and substance when it finally hits cinemas on Thursday 26th July 2018.
Here's everything we know about Mission: Impossible — Fallout so far:
The Plot
The series maintains a very loose sense of continuity between films, so it's generally pretty difficult to tell where the franchise will go from one entry to the next.
Ethan Hunt and his various teams have prevented nuclear winters, the release of deadly viruses, the funding of secret wars, and even taken down mysterious doomsday devices. Clearly, nothing is off the table for this franchise
However, with the release of the official title came a plot synopsis that does give us a lot more to go on. Apparently, Mission: Impossible – Fallout will involve a "race against time" after a "mission gone wrong," and director Christopher McQuarrie recently revealed that the subtitle has a dual meaning. Not only will the threat of nuclear terrorism be a focus of the sixth installment in the franchise, but Ethan will also be dealing with "the fallout of all his good intentions," with the plot being driven by "the end result of choices that Ethan Hunt has made in his life."
The Director
Mission: Impossible – Fallout is going to take the espionage franchise into uncharted territory with its particular choice for director. Chris McQuarrie (the man behind Mission: Impossible — Rogue Nation) has stepped behind the camera for the sixth installment of the series, thus making him the first filmmaker to direct more than one Mission: Impossible film. McQuarrie is a longtime collaborator with Tom Cruise (having also worked on Jack Reacher, as well as The Mummy and Edge of Tomorrow), so it's pretty clear that these two have a very strong rapport and a very comfortable working relationship. Their recent projects have currently put them on a seriously impressive hot streak, so there's no reason not to assume that the sixth Mission: Impossible movie will continue that tradition.
Tom Cruise as Ethan Hunt
Throughout two decades, five directors, and a wide variety of stories, one thing has remained consistent within the Mission: Impossible franchise: Tom Cruise and his always reliable portrayal of super spy Ethan Hunt. Despite the fact that he's one of the biggest action stars in Hollywood (not to mention one of the last real "movie stars") Mission: Impossible is Cruise's only real franchise that he has regularly returned to over the course of his career. Sure, he has returned to the role of Jack Reacher for Jack Reacher: Never Go Back, but Ethan Hunt is the franchise role that Tom Cruise will always be known for.
That said, despite the consistency, we should note that Cruise's take on Ethan has changed to match the style of the director that he has worked under. In Brian De Palma's original Mission: Impossible he had an everyman quality to him, in John Woo's Mission: Impossible 2 he was a gun-toting action hero, in J.J. Abrams' Mission: Impossible 3 he was basically a superhero, and in Brad Bird's Mission: Impossible – Ghost Protocol he was more of a bumbling, comedic character. Under the guidance of Chris McQuarrie, Cruise seems to have consolidated all of those versions of Ethan into a single character, and as such our hope remains high that we will see the endlessly badass and equally charming Ethan from Mission: Impossible – Rogue Nation in the next film.
The Rest of the Cast
A lot of familiar folks will co-star alongside Tom Cruise in Mission: Impossible – Fallout. Among the returning faces will be Rebecca Ferguson as Ilsa Faust, Ving Rhames as Luther Stickell (who is the only other actor besides Cruise to appear in all of these movies), Simon Pegg as Benji Dunn, Alec Baldwin as Alan Hunley and Sean Harris as Solomon Lane. With the exception of Lane, all of these individuals are Ethan's allies in one way or another, so bringing them back makes sense. As for Mr. Lane, the former head of The Syndicate, he was last seen in Mission: impossible – Rogue Nation being taken into IMF custody, so it will be interesting to see how he is involved in the sixth movie, be it as an antagonist again (the likelier possibility) or being coerced into assisting the main agents.
One notable absentee from the group is Jeremy Renner, who played William Brandt in Mission Impossible – Ghost Protocol and Mission: Impossible – Rogue Nation. No reason was given for why Renner will not be part of the Mission: Impossible – Fallout cast, but since he is currently wielding the bow and arrow again as Hawkeye in the back-to-back Avengers: Infinity War and Avengers 4 shoot, one can surmise that his Marvel duties got in the way. Assuming that Renner isn't able to sneak away to secretly cameo in Mission: Impossible – Fallout, hopefully the movie will address what happened to Brandt, whether he was killed in the line of duty, transferred elsewhere or some other reason.
Joining the franchise are newcomers Henry Cavill, Angela Bassett, and Vanessa Kirby.
Film Shooting
The film was shot in London, Paris and New Zealand.
The climax sequence of Tom Cruise's Mission: Impossible – Fallout is set in Kashmir, but was  recreated in New Zealand.
"We wanted to shoot in Paris and we knew that we are based in London, so something needs to happen there. And we knew we wanted a helicopter chase sequence. The only country which would let us do it was New Zealand and we wanted something which was more political complex than New Zealand. It didn't feel like something politically dangerous would be happening in New Zealand and we looked at places which had some similarities to New Zealand, and that is why we picked Kashmir," said director Christopher McQuarrie.
Crazy Stunts
It's well known that Tom Cruise loves to do his own stunts in movies, no matter how dangerous they are.
During production on Mission: Impossible – Fallout in mid-August 2017, Cruise broke his ankle while performing a stunt that required him to jump between buildings. While it was thought for a while that his injury would lead to the release date getting pushed back, that didn't happen at the time. Cruise was able to take several weeks off to heal, and director Christopher McQuarrie used the down time in filming to get to work on editing the movie so there would be less of that to do after production finally wraps.
Seven weeks after his injury, Cruise was back at work on the movie, and in January of 2018 he was already filming stunts again.
Paramount Pictures shared a featurette from Mission: Impossible – Fallout starring Tom Cruise where he completes a 'High-Altitude Low Open' skydive jump. Cruise is apparently the first actor to ever perform such a stunt on camera.
The two-and-a-half-minute video offers both an explanation of the maneuver, as well as the rehearsals the actor went through in order to prepare himself for the dangerous feat. You'll also be able to check out the helmet the crew had to design especially for this stunt, which was described as both a prop and a lifesaving device.  "No one thought it would require over 100 jumps to get the scene," noted director Christopher McQuarrie.
Toward the end of the video, you'll actually be able to watch Cruise perform his jump from a plane hovering at a height of 25,000 feet. He then opens his chute once he's less than 2,000 feet above the ground. Getting the shot was a challenge in and of itself, as lighting was key — there was only a three-minute window every day available to the crew.
"I can't wait for an audience to see this," says Cruise in the video, and honestly, neither can we!
The helicopter stunt behind-the-scenes video released by Paramount offers a fascinating peek at Cruise learning how to fly a helicopter in order to film one of the movie's key sequences — one that has Ethan Hunt performing some complicated maneuvers high in the sky.
Cruise's commitment to realism in the stunt scenes for the Mission: Impossible movies is a long-standing tradition, and clearly that hasn't changed with Mission: Impossible – Fallout. The camera rig built for Cruise's helicopter is particularly noteworthy, as it isn't often that filmmakers want to capture what's going on inside the cockpit (which is usually occupied by stunt pilots) just as much as what's happening outside of it.
The movies was also shot in IMAX 3D, which is fitting for a movie that contains so much action and thrills, and will certain make the crazy sequence Tom Cruise has been practicing for over a year look even more insane.
Movie Rating
Although the Mission: Impossible franchise has changed and evolved considerably since the first installment in the franchise hit theaters back in 1996, the rating has remained consistent. Mission: Impossible has pretty much always been a franchise that has relied on the tried and true PG-13 rating, and we do not see that changing anytime soon. The rationale makes plenty of sense, as PG-13 allows the Mission: Impossible films to utilize quite a bit of brutality and violent content, while still casting a wide enough net to draw in the largest possible demographic for audiences.
The movie rating in the Middle East is still to be confirmed. However, based on the fact that Mission: Impossible – Rogue Nation released in the UAE with a rating PG-15, It's safe to presume that the sixth installment of the franchise will release with a similar rating.
A Trailer You Can't Refuse
Mission: Impossible — Fallout got its first full trailer February 4, 2018, with Paramount releasing the preview after a series of teases and sneak peeks in the days leading up to its debut.
Along with introducing many of the new additions to the Mission: Impossible franchise and the film's returning characters for this chapter, the trailer for Mission: Impossible – Fallout also offers an early look at some of the death-defying stunts that will fill the latest installment of the series.
Mission: Impossible has blossomed into the best modern-day action franchise, and unlike most franchises, Mission: Impossible has generally improved with each subsequent entry.
The total production budget for the first five Mission Impossible movies (up to Rogue Nation) adds up to $645,000,00, and the Worldwide Box Office earnings adds up to $2,800,369,451 – MI1 (1996) $457,697,994, MI2 (2000) $549,588,516 , MI3 (2006) $397,501,348, MI4 (2011) $694,713,230 and MI5 (2015) $700,868,363.
In the UAE, Mission: Impossible – Rogue Nation (2015) ran for 14 weeks and did approximately 525K admissions, while Missions: Impossible – Ghost Protocol (2011) ran for 21 weeks and did approximately 651K admissions.
Mission: Impossible – Rogue Nation was No. 4 in UAE's Top 10 Movies of 2015 and Mission: Impossible – Ghost Protocol was No. 1 in UAE's Top 10 Movies of 2011.
It's interesting to note that because Mission: Impossible – Ghost Protocol released in December 2011, it ran for just 2 weeks in 2011 and was the No.1 movie in the UAE for 2011, and ran for a further 19 weeks in 2012 and was No. 12 in UAE's Top 20 Movies of 2012.
Mission: Impossible – Fallout releases on Thursday 26th July 2018 (Wednesday 25th July 2018 in Egypt) and is guaranteed to usher in large audiences.
Don't miss out on advertising your brand alongside this MEGA Blockbuster!
Contact a member of our sales team for more information on cinema advertising opportunities alongside Mission: Impossible – Fallout in UAE, Oman, Lebanon, Egypt, Qatar, Bahrain, Kuwait and Saudi Arabia.
Sources: CinemaBlend, Digital Trends, YouTube (Paramount Pictures), NDTV and Slashfilm