VOX Cinemas City Centre Mirdif Launches 10 New Screens
July 16, 2018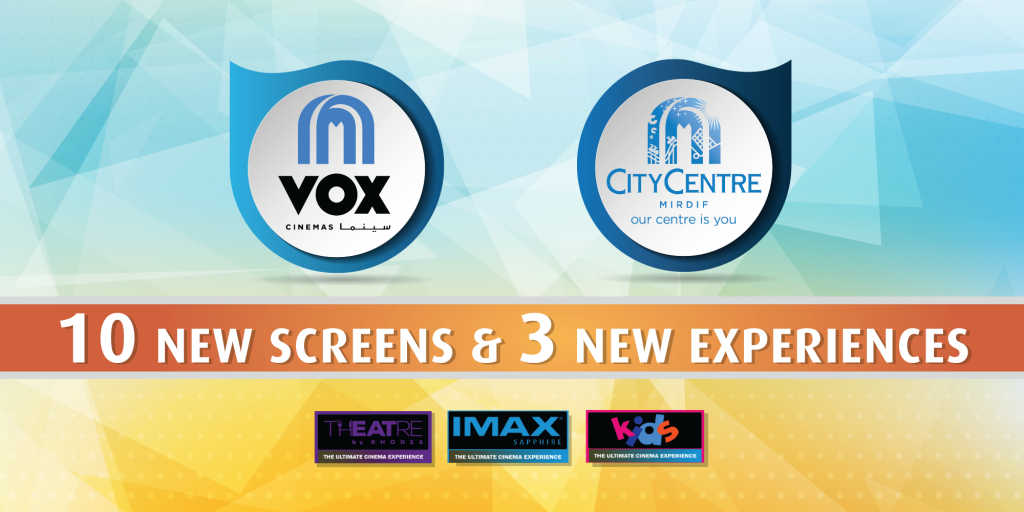 On June 8th 2018, VOX Cinemas – City Centre Mirdif launched 10 new screens – bringing its screen count to 20 screens and seating capacity to 2573 seats.
The cinema now includes 10 regular screens, 2 VOX MAX screens, 4 THEATRE by Rhodes screens, an IMAX Sapphire screen, a 4DX screen and 2 VOX Kids screens.
The expansion of  VOX Cinemas – City Centre Mirdif is part of Majid Al Futtaim's AED 335 million enhancement project at the mall which also includes:
Improved mall access with new pedestrian walkways and family drop off area
Increased safety measures with speed control and enhanced visibility
1,000 new parking spaces on a new upper deck (500 new parking spaces in first phase)
An upgraded and relocated prayer room in the central area of the mall
Mohamed Al Jasmi, Senior Mall Manager of City Centre Mirdif – Majid Al Futtaim said, "We are pleased to release phase one of City Centre Mirdif's AED335 million enhancement project which will add value to the mall's existing world-class facilities. We are committed to delivering an unparalleled shopping experience as the needs and expectations of our customers evolve and look forward to introducing the new VOX Cinemas complex and mall prayer rooms next year."
The redevelopment of existing assets such as City Centre Mirdif is a key element of Majid Al Futtaim's overall UAE strategy announced in June 2016: to open 10 new City Centre destinations, 28 cinemas, 40 Carrefour supermarkets and a 740,000 sqm community, by the end of 2020.
Sources: City Centre Mirdif (Press Release) and VOX Cinemas