Looking Back at San Diego Comic Con 2018
July 30, 2018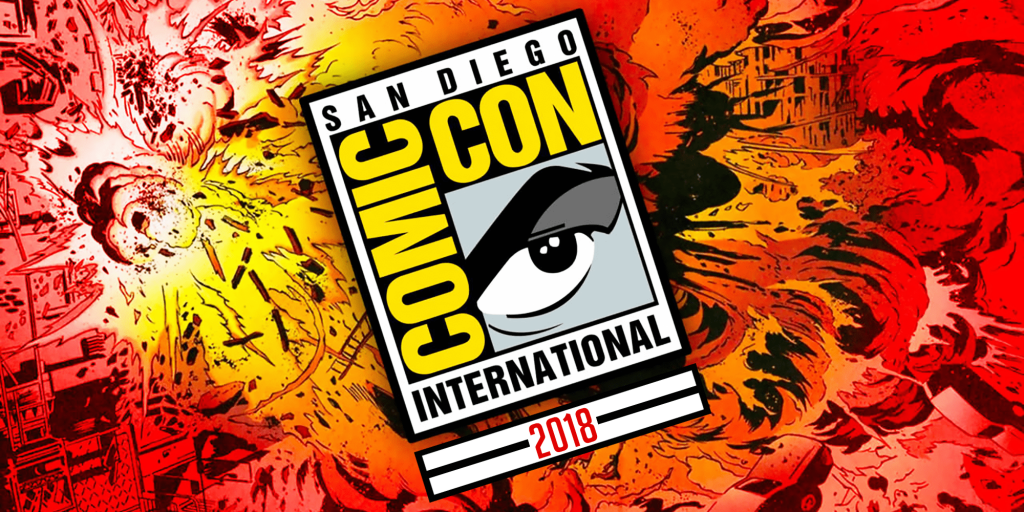 San Diego Comic Con 2018 is over, but there was more than enough exciting news and amazing trailers to keep us going until next year.
Missed out on following the latest updates from this year's Comic Con? Don't stress! From the first look at the Aquaman movie and pictures of Wonder Woman 2, to the official trailer of The Fantastic Beasts: The Crimes of Grindelwald and Glass, we've got you covered!
Aquaman
Fans have been longing for a glimpse into the world of Arthur Curry, a young lad who grows up to be the king of Atlantis, and James Wan has dished up a preview that's left everyone gagging for more. Make no mistake: this is not your standard comic book movie fare!
The Lucky attendees at this year's Comic Con got a glimpse at a slapdash cut of the Aquaman trailer, and now, the rest of the world has been gifted the finished product – which is absolutely glorious!
What makes the trailer so exciting is that everyone involved looks like they're having a blast! Jason Momoa – hands down, was born to play this role with his devil-may-care attitude, wry one-liners and willingness to dive head first into the ocean, and Amber Heard totally rocks the redhead female lead role of Lady Mera!
The trailer also gives fans a glimpse of Nicole Kidman as Aquaman's mother (Queen Atlanna), and Patrick Wilson in his full aquatic regalia as the villainous King Orm.
James Wan also mentioned at San Diego Comic Con 2018, that this movie is more of a "science-fiction fantasy film than a traditional superhero movie." His passion for the film is clear in every single shot. His vision makes the underwater world look like an adventure playground and a vibrant, diverse landscape.
Aquaman is scheduled for release in December 2018.
Wonder Woman 1984
We may have a while to wait for Wonder Woman 2 (AKA Wonder Woman 1984), but there's more than enough reasons to be talking about the much-anticipated sequel.
The secret footage released at Comic Con 2018:
Wonder Woman was one of the best movies of 2017, and as per the reviews by those who witnessed the first look at the still in production movie at Comic Con 2018 (which unfortunately isn't open to the public and won't be online), we can expect  to see Diana Prince delivering as great a performance in Wonder Woman 1984.
According to those who were lucky enough to see the footage of Wonder Woman 1984, it was brief, but fun. Wonder Woman jumps into a very '80s, bright white mall. A little girl is stunned to see her and comes up behind her. "Wow," she exclaims. Diana says "hold tight" and gently pushes her across the floor into a giant teddy bear as the girl laughs.
When she turns around there are two bad guys with guns pointed at her. Wonder Woman gives them like a "really guys?" look, runs up to them, grabs their arms, takes the guns from them, and crushes the weapons. She then breaks out the lasso, wraps them both up in it, and runs through the mall dragging them behind. She then jumps through the mall hanging them over a railing. The title card "WW84″ popped up, followed by a shot of her running very, very, fast through a busy city street.
The Wonder Woman 1984 cast features a few surprises:
Not so shocking is the return of Gal Gadot as Princess Diana/Diana Prince/Wonder Woman, but the rest of the Wonder Woman 1984 cast is raising a few eyebrows… Not only is Diana's love interest and leading man from the first movie, Steve Trevor (Chris Pine), returning, but Diana's mother Queen Hippolyta (Connie Nielsen) and aunt General Antiope (Robin Wright) will also make an appearance. Why is this so shocking? Well – spoilers for Wonder Woman if you haven't seen it yet – both Steve and Antiope are dead by the end of the film, and while Hippolyta is alive, she's on the island of Themyscira to which Diana "may never return". So how do they show up in Wonder Woman 1984? Especially considering it's set in the '80s. I guess we'll have to wait and see!
As for the rest of the Wonder Woman 1984 cast, Kristen Wiig is joining as the villainous Cheetah, AKA Barbara Minerva, an archaeologist who is imbued with the powers of a cheetah-god. Patty Jenkins announced the news via Twitter saying: "So excited to confirm the most thrilling news. Yes! It's true. So incredibly lucky to welcome the sensationally talented Kristen Wiig to our Wonder Woman family. Can't wait to finally work with one of my favorites. And SO excited by what we have planned."
Wonder Woman 1984 is scheduled to release in November 2019.
Glass
M. Night Shyamalan's Glass also debuted at San Diego Comic Con 2018.
The third movie in a surprise trilogy, which started with 2000's Unbreakable and continued with Split in 2006, Glass sees Samuel L. Jackson's Mr. Glass, Bruce Willis' David Dunn, and James McAvoy's The Horde collide in a psychiatric unit run by new character Dr. Ellie Staple, played by Sarah Paulson.
The trailer itself is one of the best released during Comic Con so far, and is a real treat for fans of either Unbreakable or Split, but there's probably more connections between the two movies in the teaser than you first noticed. It goes without saying that Shyamalan has been thinking about this trilogy for a while and a lot of the references and connections are so subtle, there's no way you'd realize what you were seeing unless someone pointed it out to you.
Split's Anya Taylor-Joy returns as Casey Cooke, a survivor of The Beast, and returning Unbreakable cast members include Spencer Treat Clark and Charlayne Woodard as Dunn's son and Price's mother, respectively. American Horror Story's Sarah Paulson rounds out the cast as a shrink who treats Dunn, Price and Crumb.
The main cast (aside from McAvoy who unfortunately couldn't make it due to illness) joined Shyamalan onstage to show off footage from the movie and to field questions. The trailer showcased McAvoy's wide-ranging performance as Crumb and the multiple identities who reside within him.
Glass is scheduled to release in January 2019.
Fantastic Beasts: The Crimes of Grindelwald
Comic Con 2018 also gave us the first look at the Fantastic Beasts: The Crimes of Grindelwald which dropped during Warner Bros' Hall H panel at Comic Con 2018.
Not only does the trailer show us a young Newt and Dumbledore at Hogwarts, but it also gives us a good look at villain Grindelwald, played by Johnny Depp, who also turned up in Hall H. There's lots to love about this trailer – all those fantastic beasts!
The trailer ended with a surprising meeting with Nicolas Flamel, a famous alchemist central to the backstory of the Harry Potter books. Thankfully, Warner Bros. released the trailer online shortly after it debuted at Comic Con 2018.
Fantastic Beasts: The Crimes of Grindelwald is scheduled to release in November 2018.
Shazam!
One thing was immediately clear about Shazam! during the film's Comic-Con panel: after years of dreary and dark comic book tales, here is a film that looks like it puts fun first and foremost – it's a clear and confident case of course correction, and the trailer makes it look like a blast!
Shazam! is built around a charming premise: what if a pre-teen boy named Billy Batson was granted mystical powers from an ancient wizard and could transform in a musclebound superhero just by uttering his name? That's wish fulfillment personified and Zachary Levi, who plays the "adult" version of the character, said that is the main appeal. "This is 14-year old me who got to put on spandex and a cape and fly around." The whole movie is a childhood fantasy brought to life.
According to director David Sandberg, who debuted with the horror film Lights Out before helming the Annabelle: Creation, Shazam's suit is an amalgamation of nearly every incarnation of the Captain Marvel character. "I wanted to keep the shorter cape as a throwback to the original because that's something that sets him apart from Superman or Batman," he told Entertainment Weekly in the lead up to SDCC. "It makes him feel a bit more Golden Age superhero, which is the vibe I'm going for." The movie design also includes a hood from DC's 2011 New 52, and the gold gauntlets from his DC Animation appearances.
Shazam! is scheduled to release in April 2019.
Venom
Marvel Studios might not have dominated, but that doesn't mean they were completely absent from San Diego Comic Con 2018.
Director Ruben Fleischer said that there aren't really any heroes in the superhero movie Venom, who is a grittier, more violent and more complicated character than his Marvel brethren.
This year's Comic Con attendees got a look at footage from the upcoming Spider-Man spinoff and heard stars Tom Hardy and Riz Ahmed as well.
Hardy plays Eddie Brock and the alien symbiote Venom. Fleischer also teased the possibility of an eventual face-off between Spider-Man and Venom. The film is scheduled for release in October 2018.
Sony Pictures also showed and extended trailer for the animated Spider-Man: Into the Spider-Verse, out December 2018, which focuses on Miles Morales learning the spidey ropes from a middle-aged Peter Parker.
Below is the trailer which released 3 months ago:
Godzilla: King of the Monsters
Warner Bros.'s massive Hall H panel at Comic-Con features a lot of new trailers, but one of the most exciting dropped so far has been for the new Godzilla movie titled Godzilla: King of the Monsters. Starring Millie Bobby Brown (Stranger Things), the trailer features all kinds of monsters and mayhem.
In the film, the planet is experiencing some kind of apocalyptic payback for all the damage that humanity has done to the Earth, complete with huge natural disasters meant to take out the human race. In order to save the 'our species', they have to find all the titans, (Godzilla, Mothera, etc.) who have been hiding since the time when they ruled over the earth.
The trailer opens with Brown on a rooftop, watching intently as a storm begins to cover the entire city. It then goes on to show various disasters occurring around the globe, before getting to the moment we've all been waiting for; a good look at the new Godzilla.
Godzilla emerges from the water, looks down at the puny humans, and lets out a blue fiery roar. Naturally, CGI technology has improved since the last time we got a Godzilla movie, so he, along with all the other monsters shown in the trailer, looks amazing. Mothera's giant green wings are also particularly awe inspiring.
Seems like we're in for a super thrilling movie, with lots of chaos, and huge monsters!
Godzilla: King of the Monsters is scheduled for release in May 2019.
Watch EVERY trailer released at San Diego Comic Con 2018 – which also includes trailers to TV Series.
Sources: Gizmodo, gamesradar+, COMINGSOON.NET, Gamespot, Polygon, Gulf News and YouTube