Reach More Audiences in September 2018
August 27, 2018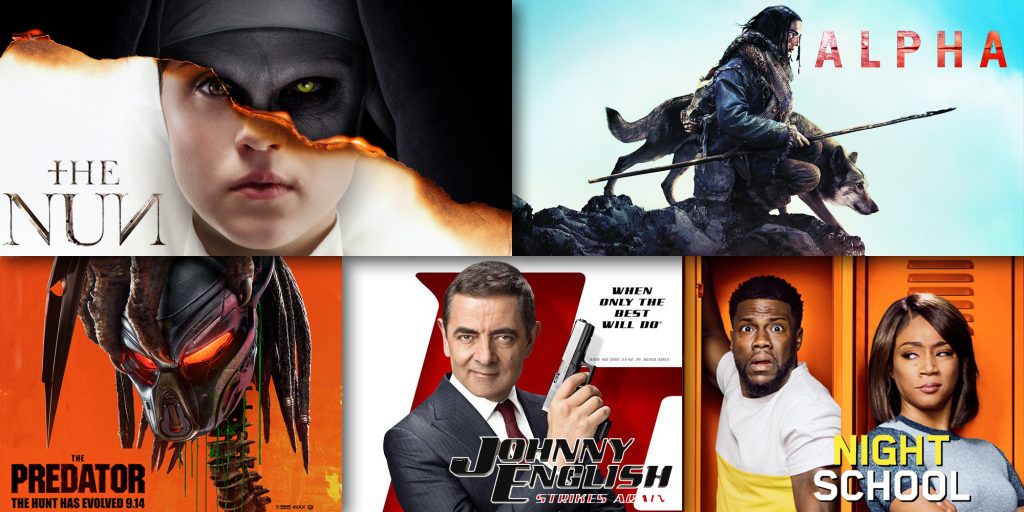 Cinema provides access to 'hard to reach audiences', and has proven to 'deliver captive and attentive audiences'.
With a diverse slate of content to suit all demographics, there's something for everyone this September:
The Nun
A priest with a haunted past and a novice on the threshold of her final vows are sent by the Vatican to investigate the death of a young nun in Romania and confront a malevolent force in the form of a demonic nun.
Starring: Taissa Farmiga, Bonnie Aarons and Jonny Coyne
Release Date: 06th September 2018
Alpha
In the prehistoric past, a young man struggles to return home after being separated from his tribe during a buffalo hunt. He finds a similarly lost wolf companion, and starts a friendship that would change humanity.
Starring: Kodi Smit-McPhee, Morgan Freeman and Natassia Malthe
Release Date: 06th September 2018
Luis & the Aliens
A 12-year-old boy embarks on a wild quest to help three tiny extraterrestrials return to their huge mother ship.
Starring: Callum Maloney, Dermot Magennis and Ian Coppinger
Release Date: 06th September 2018
The Predator
When a young boy accidentally triggers the universe's most lethal hunters' return to Earth, only a ragtag crew of ex-soldiers and a disgruntled science teacher can prevent the end of the human race.
Starring: Yvonne Strahovski, Olivia Munn, Jacob Tremblay
Release Date: 13th September 2018
Johnny English Strikes Again
After a cyber-attack reveals the identity of all of the active undercover agents in Britain, Johnny English is forced to come out of retirement to find the mastermind hacker.
Starring: Rowan Atkinson, Emma Thompson and Olga Kurylenko
Release Date: 20th September 2018
Smallfoot
A Yeti named Migo stirs up his community when he discovers something that he didn't know existed – a human.
Starring: Zendaya, Channing Tatum and James Corden
Release Date: 27th September 2018
Night School
A man's life takes an unexpected turn when he accidentally blows up his place of employment. Forced to attend night school to get his GED, he must now deal with a group of misfit students and a feisty teacher who doesn't think he's too bright.
Starring: Kevin Hart, Tiffany Haddish and Keith David
Release Date: 27th September 2018
The House with a Clock in its Walls
Ten-year-old Lewis goes to live with his uncle in a creaky old house that contains a mysterious tick-tock noise. When Lewis accidentally awakens the dead, the town's sleepy facade magically springs to life with a secret world of witches and warlocks.
Starring: Cate Blanchett, Jack Black and Kyle MacLachlan
Release Date: 27th September 2018
Sui Dhaaga: Made in India (Hindi)
An unemployed small-town man defies all odds and naysayers and starts his own garment business. It is a heart-warming story of pride and self-reliance, rooted in the heart of India.
Starring: Anushka Sharma, Varun Dhawan, Govind Pandey
Release Date: 28th September 2018
Need a campaign that delivers a guaranteed audience? Then cinema is the place to be!
Contact a member of our sales team for more information on upcoming cinema advertising opportunities.