Cinema Guarantees Audience Delivery in Nov & Dec 2018
October 7, 2018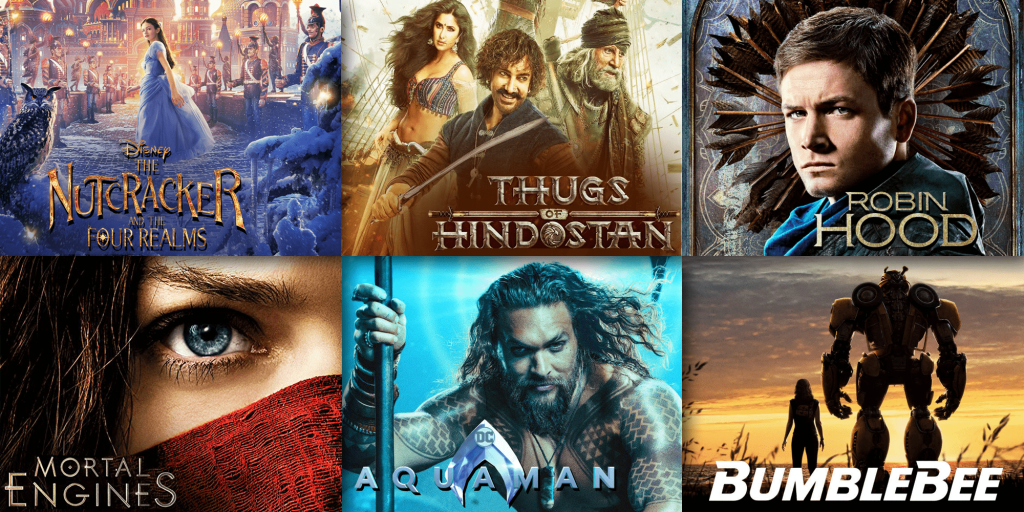 Some audiences are harder to reach than others through traditional media. Cinema however delivers premium first-run content within a captive environment to an attentive audience of varying demographics. And with an exciting and diverse line-up of movies set to release over the months of November and December 2018 – just in time for the dawn of the new year, there's never been a better time for advertisers to turn audiences into consumers.
November
Bohemian Rhapsody
Starring: Rami Malek, Joseph Mazzello and Mike Myers
Release Date: 1st November 2018
Fun Fact – Rami Malek got to meet Freddy Mercury's sister while in costume. When she saw him, she said: "That's my Freddy." She initially laughed, but later cried on an emotional note.
Girl in the Spider's Web
Starring: Claire Foy, Sylvia Hoeks and Lakeith Stanfield
Release Date: 08th November 2018
Fun Fact – It is based on the novel of the same name by David Lagercrantz, and continues on the "Millenium"-series created by Stieg Larsson, who passed away in 2004.
The Grinch
Starring: Rashida Jones, Benedict Cumberbatch and Angela Lansbury
Release Date: 08th November 2018
Fun Fact – This was Benedict Cumberbatch's second animated film. His first was Penguins of Madagascar (2014), four years prior.
Overlord
Starring: Wyatt Russell, John Magaro and Pilou Asbæk
Release Date: 08th November 2018
Fun Fact – One of the filming locations for the film was a decommissioned branch-line of the heritage train line and popular tourist attraction, the Bluebell Railway, in West Sussex, England.
Nutcracker and the Four Realms
Starring: Keira Knightley, Mackenzie Foy and Morgan Freeman
Release Date: 08th November 2018
Fun Fact – The Nutcracker and the Four Realms marks the 298th time Keira has portrayed a character in a period piece.
Thugs of Hindostan (Hindi)
Starring: Amitabh Bachchan, Aamir khan and Katrina Kaif
Release Date: 08th November 2018
Fun Fact: This will be the first time that Aamir Khan and Amitabh Bachchan will be seen in a film together.
Fantastic Beasts: The Crimes of Grindelwald
Starring: Eddie Redmayne, Katherine Waterston and Jude Law
Release Date: 15th November 2018
Fun Fact – Newt Scamander carries a wand, practices magic, and works for the Ministry of Magic even though he was expelled from Hogwarts, which puzzled several fans online especially since Hagrid wasn't afforded those liberties. J.K. Rowling explained that the reason for this will be revealed throughout the series.
Robin Hood      
Starring: Taron Egerton, Ben Mendelsohn and Jamie Dornan
Release Date: 22nd November 2018
Fun Fact: The ancient techniques of speed shooting from the draw hand and the double draw are used by Robin Hood in this movie.
Ralph Breaks the Internet
Starring: Kristen bell, Gal Gadot and John C. Reilly
Release Date: 22nd November 2018
Fun Fact: The logo for the movie was made to resemble an app icon, while the "Wreck-It Ralph 2" banner resembles a notification/update.
2.0 (Tamil)
Starring: Rajinikanth, Akshay Kumar and Amy Jackson
Release Date: 29th November 2018
Fun Facts: This will be the first Indian film directly shot in 3D. Akshay Kumar will make his Tamil debut with this film. This is the first time Rajnikanth and Akshay Kumar will be working together.
*the movie will release in 15 languages (worldwide)
December
Mortal Engines
Starring: Hugo Weaving, Stephen Lang and Robert Sheehan
Release Date: 13th December 2018
Fun Fact: This will be director Christian Rivers' first full feature film as a director (He previously directed a short and a section of an anthology).
Aquaman
Starring: Jason Momoa, Amber Heard and Nicole Kidman
Release Date: 20th December 2018
Fun Facts: According to Amber Heard, the underwater filming required cast members to be hosed down, and then shooting took place on a cold soundstage. Additionally, The Fishermen tribe were created through a combination of make-up (for the top half, the upper torso) and computer-generated imagery (for the bottom half, the tails).
Bumblebee
Starring: Justin Theroux, Hailee Steinfeld and Marcella Bragio
Release Date: 20th December 2018
Fun Fact: John Cena is the third wrestler to appear in a Transformers feature, after Dwayne Johnson (who played Cliffjumper in Transformers Prime (2010)) and Joe Seanoa (who played Predaking in Transformers: Power of the Primes (2018)).
Zero (Hindi)
Starring: Shah Rukh Khan, Katrina Kaif and Anushka Sharma
Release Date: 21st December 2018
Fun Fact: Shah Rukh offered Sridevi a cameo role in this film, so that he can share screen with her for 2nd time in his career. Since her death, this will be Sridevi's last appearance in films.
Mary Poppins Returns
Starring: Emily Blunt, Meryl Streep and Colin Firth
Release Date: 27th December 2018
Fun Fact: The sequel will be released 54 years after Mary Poppins (1964), setting a new record as the longest gap between a live-action film and its sequel in history.
Don't miss on advertising your brand alongside these blockbusters – guaranteed to usher in large audiences.
Contact a member of our sales team to book your campaign today!
Sources: IMDb and YouTube