The Latest Updates from Dubai Lynx 2019
February 24, 2019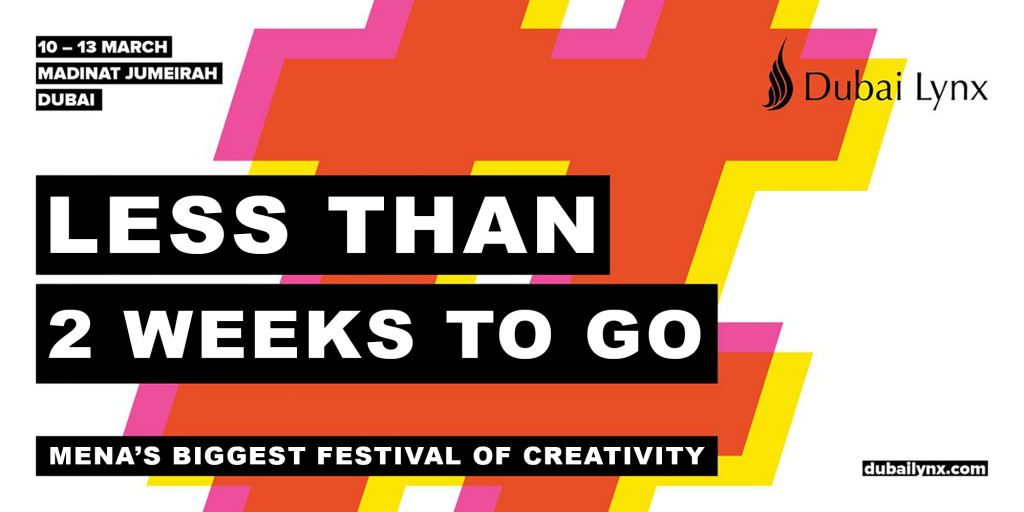 With less than two weeks to go for the biggest creative communications event in the MENA region, here are the latest updates from the desks of Dubai Lynx.
This year's festival (10th to 13th March 2019 at Madinat Jumeirah), will be a focused two-day event dedicated to inspiration and insight, followed by an awards show. The event guarantees to bring top creatives, the world's best brands, fledging start-ups and everyone in between under one roof, to learn, network and celebrate creativity in communications.
Choose your perfect pass for 2019
Meet the world's biggest brands, agencies, media owners and consultancies at Dubai Lynx. Find the right option for you and secure your place at the Festival in 2019.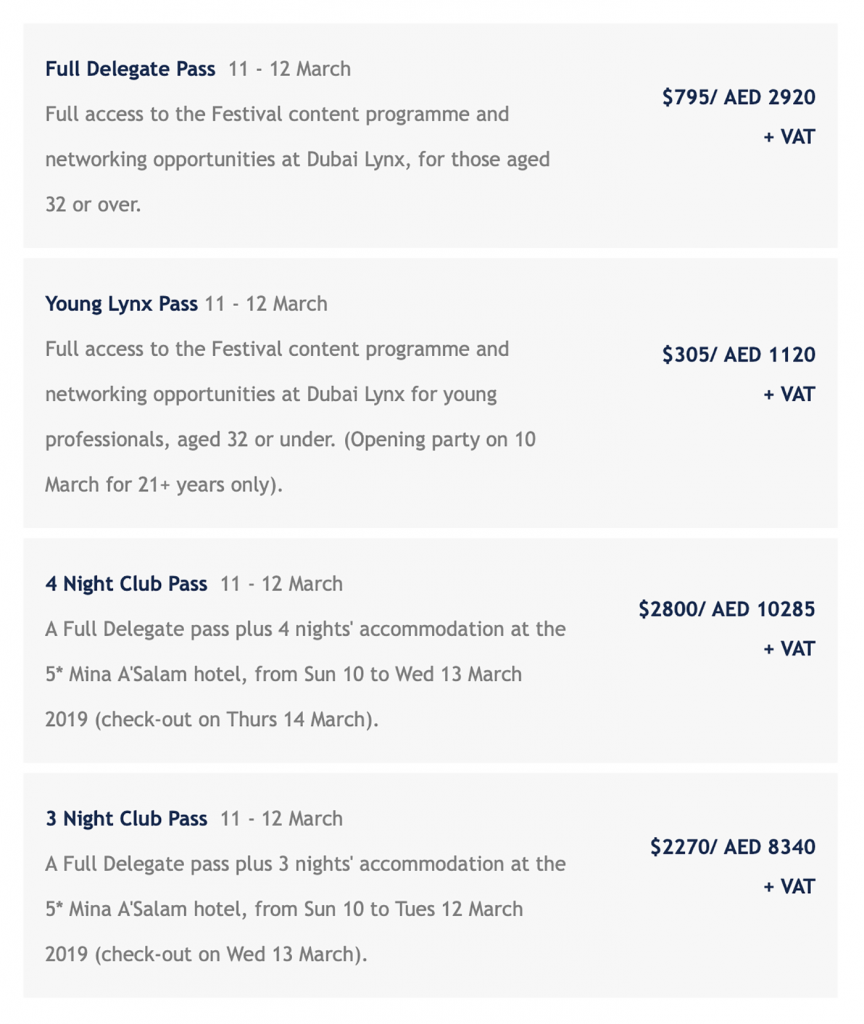 Compare all passes
Spotlight on Saudi Arabia
The opportunity for growth in KSA is clear. Creativity will be the differentiator for brands looking to win in this market. In 2019, the Festival will dedicate a full day to focus on Saudi Arabia. Powered by STC, the tailored programme brings together a diverse selection of speakers. Hear from content creators, creative agencies, TV stars, media platforms, the Ministry of Health and more, on what the landscape looks like today.
Topics that will be covered as part of this programme include:
Ditch What You Know for Sure, hosted by J. Walter Thompson MEA | Tuesday 12, 12:45 at the Inspiration Stage
Find out how to keep up with a nation that doesn't stop evolving.
Creative Opportunities – Health Awareness in Saudi Arabia, hosted by Ministry of Health – Saudi Arabia | Tuesday 12, 12:15 at the Inspirational Stage
Learn how to plan for social impact with strategic creativity.
Unveiling the Creative Hackers, hosted by FP7 MENA (a part of McCann Worldgroup) | Tuesday 12, 15:00 at the Inspiration Stage
Hear what Saudi's next generation really want from tomorrow.
Content Creator vs. Influencer, hosted by UTURN Entertainment | Tuesday 12, 16:00 at the Inspiration Stage
Discover more about culture in KSA from the content makers influencing it.
Don't miss out.
Dubai Lynx 2019 – Toolkit
We don't need to tell you that attending the Festival is essential. However, we do understand how difficult it is to make your case to the budget-holder – quite possibly your BOSS.
Therefore, the team at Dubai Lynx have put together a toolkit to help you out. It's a handy set of resources – including a guide to how the Festival offers great ROI and a ready-to-send cover letter – designed to help you frame the conversation. You'll be able to make an argument so compelling, they'll simply have to say 'YES'.
Get the toolkit
Dubai Lynx 2019 will champion diversity
Discover the programme of onstage content, sessions giving women a stage to thrive, initiatives spotlighting the next generation of female talent, and much more.
Miraa – The Other Side of Beauty, hosted by Unilever & VICE | Monday 11, 15:15 at the Transformation Stage
Discover what it means to create real cultural impact.
Turning Worriers into Warriors, hosted by Deloitte, Appetite Creative Solutions, FemmeNiche | Tuesday 12, 11:30 at the Lynx Loft – Level 1
Understand subconscious bias with an interactive workshop.
MEET UP: 5-step Guide – How to be a Female Leader, hosted by Dubai Lynx | Monday 11, 16:00 at the Meet Ups Lounge
 Find out how to be a female leader at our Meet Up.
Spotlight on the Industry's Bravest Brands
This year's festival will welcome some of the world's boldest brands. Witness CMOs and brand leaders on stage, sharing behind-the-scenes insight – on leadership, creating compelling content and building innovative campaigns. Also expect an exciting programme of panels, informal sessions and competitions hosted by some of the industry's biggest names.
Creativity Transforms: Michael Boychuk, Former Executive Creative Director, Amazon | Tuesday 12, 11:30AM at the Transformation Stage
Get inside Amazon's creative hub.
Brand Breakfasts with Euronews | Monday 11, 9:45AM at the Discover Stage
Have breakfast with Euronews.
The Strange Power of Movement Marketing | Monday 11, 16:30 at Transformation Stage
Discover the power of movement marketing with Mahindra Group and Emirates Airline.
Secret Ingredient: Why Emotions Matter Most in Advertising | Monday 11, at 12:45AM, at the Inspiration Stage
Learn why emotions matter most with Fatafeat and Mayar Foods.
Tell Us a Secret – The Human Side of Leadership
Explore the human side of leadership with General Motors and The Marketing Society.
For those of you who haven't attended Dubai Lynx in the past, check out the highlights from 2018 to see why this is a 'must-attend' event:
Visit Dubai Lynx for more information.
Source: Dubai Lynx