Impact BBDO Dubai Wins Seven Lions at Cannes Lions 2019
July 1, 2019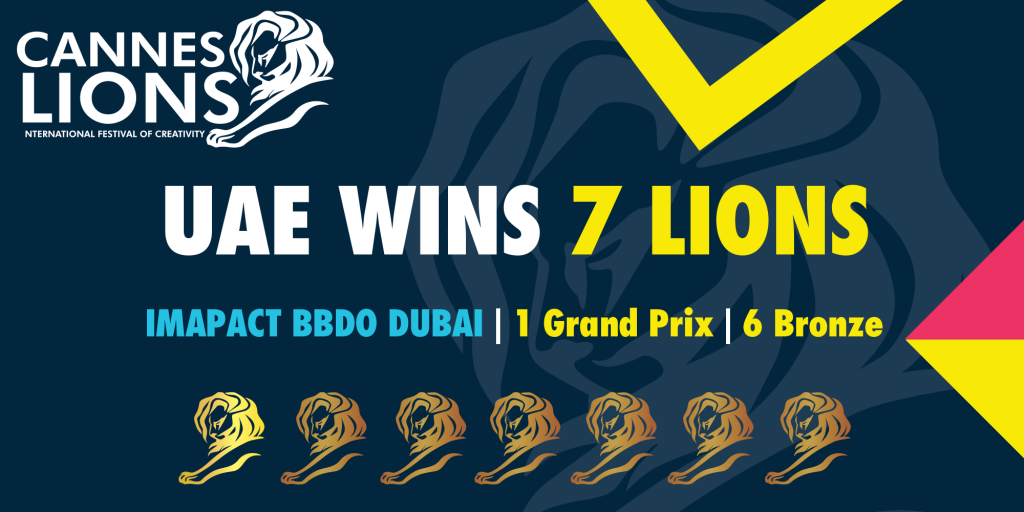 The 66th Cannes Lions International Festival of Creativity drew to a close on 21 June 2019, with Impact BBDO Dubai winning UAE 7 Lions  – the region's first Grand Prix and 6 Bronze Lions.
Of the 1,252 entries from 62 countries competing in the Print & Publishing Lions category (Communication Track) where 32 Lions were awarded – 1 Grand Prix, 6 Gold, 7 Silver and 18 Bronze Lions, Impact BBDO Dubai snatched the Grand Prix for 'The Blank Edition', which saw the agency work with leading Arabic-language daily newspaper An-Nahar to print an entirely blank edition – calling on Lebanese citizens to use the space to send a message to the stalled government.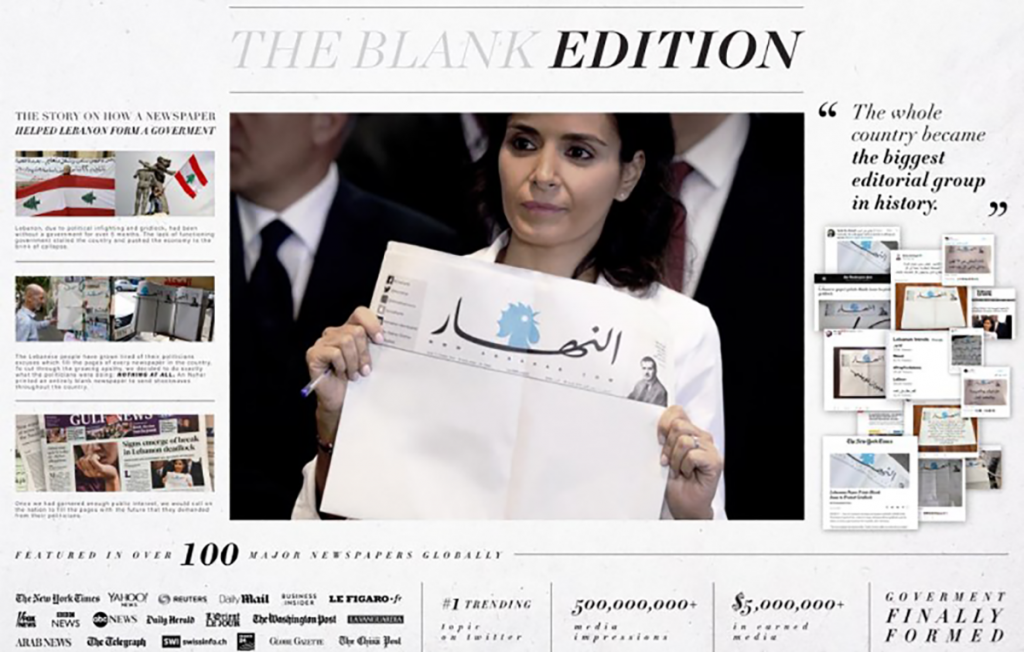 On UAE winning the 'Top Award' and taking home the Grand Prix in this category at the Festival's opening Awards Show, Jury president, Olivier Altmann, CEO and Chief Creative Officer, Altmann + Pacreau, France, said: "We are very happy to award the Grand Prix to a piece of work that celebrates creativity and journalism."
After the release of the completely blank edition, the newspaper's editor-in-chief encouraged citizens to use it to write their own headlines and send messages to politicians, over social media.
Altmann said the bold campaign – and political message – led to an easy jury decision.
"It was really unanimous – a good surprise. It took us about five seconds to award the Grand Prix," he said.
"For us, it was the perfect demonstration that print creativity can do a lot for print media itself, for print journalism. We thought it was really bold to award a Grand Prix to a white piece of paper that people could fill. It's almost an interactive tool for real life."
Impact BBDO Dubai also won 6 Bronze Lions across Health & Wellness, Industry Craft, Brand Experiences & Activation and Media categories for: 'The Toxic Flag' (Waste Management Coalition), 'The Zero Tolerance Ribbon' (28 Too Many) and 'The Black Edition' (An-Nahar).

Commenting on the Grand Prix win, Paul Shearer, Chief Creative Officer at Impact BBDO MENA, added: "Bringing home the first Grand Prix Lion for not only the UAE but also the region is of course an incredible honor."
Shearer said he personally hopes that this win will spur on everyone in the business around MENA.
"There is so much talent and esteemed agencies around that this should be just another step on the regions maturity. I also think some of the other work from the region was unlucky not to win at Cannes, as there was some great work there."
"I would like to thank Cannes Lions for their continued support with Lynx. Without this I fear we would have never achieved Grand Prix level. Lastly, I would like to thank our Chief Executive Officer, Dani Richa, who's creative eye makes our work so much better," said Shearer.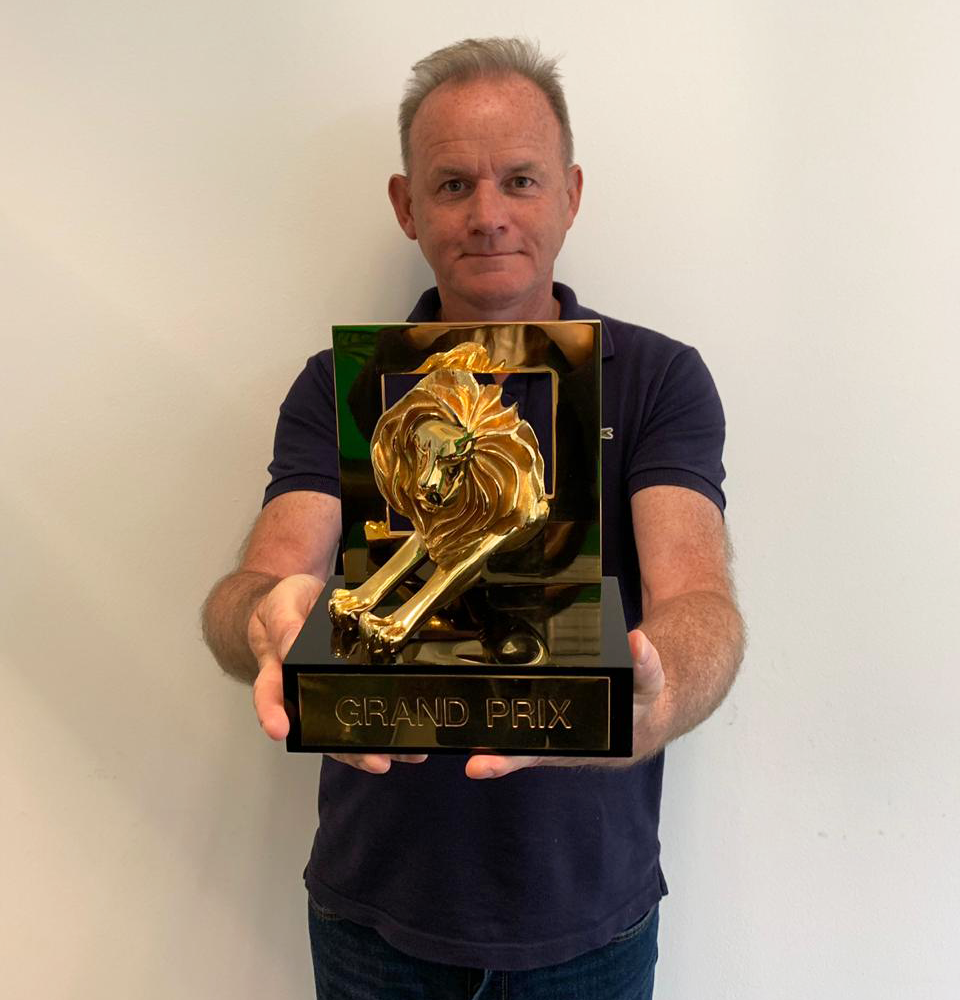 Ali Rez, Regional ECD Middle East & Pakistan at Impact BBDO – who was also a Glass Jury member at Cannes Lions 2019, said: " In what seemed a year featuring very tough juries, it is even sweeter that Impact BBDO managed to bring home such a large haul of Lions: 13 spread across three offices – UAE, Pakistan and Lebanon, and more than 50 shortlists across almost a dozen categories."
"The Glass jury was an incredible learning experience featuring some of the sharpest minds in the business – it was an absolute honor to be part of such an important jury. We saw solutions from around the globe tackling a number of issues related to gender inequality: financial inequality, stereotyping, health, violence, even technology-related."
"A trend that emerged this year was that awareness as a goal is simply not enough anymore, and that action is the need of the day," he added.
Tres Colacion, Creative Director, Impact BBDO Dubai – who played an instrumental role in campaign creation for An-Nahar, said: "The Blank Edition was a very special project for us. We set to change a national conversation through the power of creatively, the ultimate test. We talk a lot about game "changing ideas" and "culture busting", but there are very few instances that these opportunities truly present themselves. When they do, you absolutely need to take them and meet them with the kind of ideas that will truly resonate with people."
The Blank Edition team did just that and I'm incredibly proud to have our work recognized at the highest level. To win a Grand Prix, let alone the first in the region, is the highest honor," he added.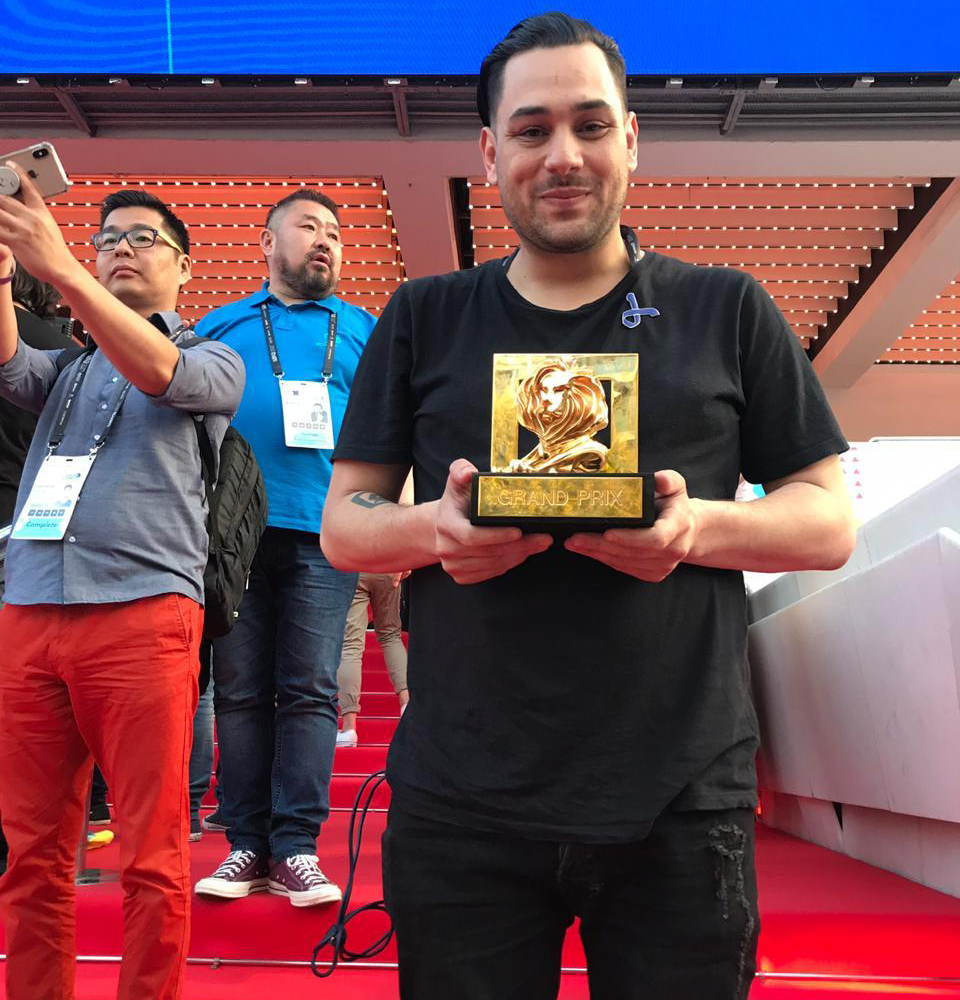 Check out case study for 'The Black Edition':
As the official representative of the Cannes Lions International Festival of Creativity in UAE, Motivate Media Group and Motivate Val Morgan would like to congratulate Impact BBDO Dubai on doing UAE proud by winning 7 Lions – including the most prestigious of them all!
Sources: Cannes Lions 2019, Campaign Middle East, Adweek and PRWEEK