Lexus | MIB: International | Partnership
July 1, 2019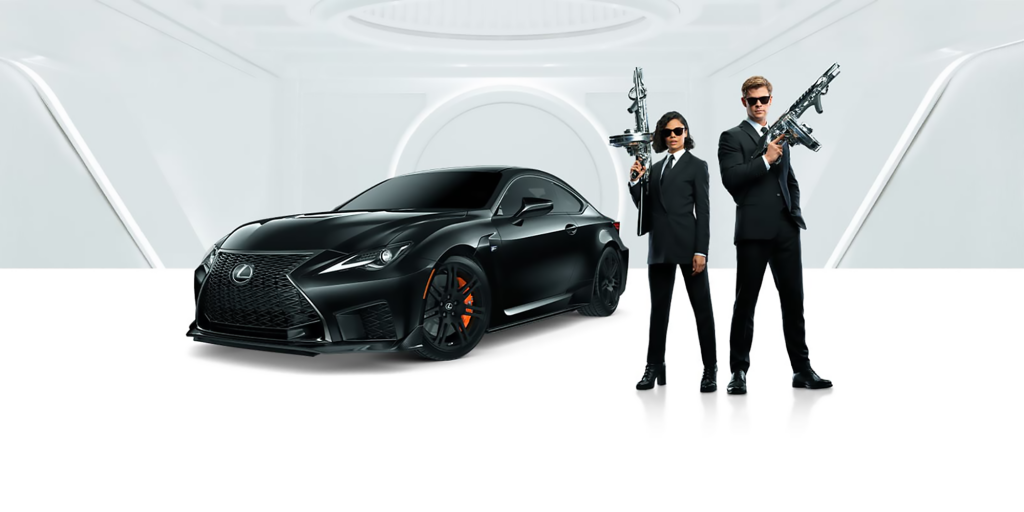 The Men in Black (MIB) have always protected the Earth from the scum of the universe, and in this new adventure (Men in Black: International), the agents tackle their biggest, most global threat to date: a mole in the organization, in the new Lexus RC F sport coupe.
Lexus vehicles are the official global fleet of the agents in the latest film from the MIB franchise. The Lexus RC F (US 2020 model) stars as the MIB agents' most elite weapon and vehicle of choice for high-velocity pursuits. The luxury sports coupe recently underwent an exciting change, making it faster, lighter and even more ready to transport the Men in Black as they save the universe; in the film, it also boasts some pretty amazing alien tech. The Lexus RX Hybrid and Lexus LX SUVs are also featured in alien encounters in scenes in the film.
Lexus worked with VOX Cinemas in Saudi Arabia and UAE to promote their partnership with Sony Pictures as the official vehicle of the Men In Black: International film, which released across cinemas on 20th June 2019.
A car display was booked to exhibit at VOX Cinemas – Red Sea Mall (Jeddah) during the 'premier' of the movie. Additionally, a 30 sec. on-screen ad was also included as part of the Lexus package from VOX Cinema – which screened during the two premier sessions at Red Sea Mall.
A car display was also booked to exhibit at the premier of Men in Black: International in the UAE at VOX Cinemas – Mall of the Emirates, and remained on display till Monday 1st July 2019.

The team at Motivate Val Morgan assisted Lexus in getting their on-screen material – which screened at the premier, approved by GCAM in Saudi Arabia (on short notice) and also connected Lexus with VOX Cinemas in order to successfully plan and execute the car display during the premier of Men in Black: International at VOX Cinemas – Red Sea Mall and Mall of the Emirates.
Is your brand featuring in/collaborating with any upcoming movies? Contact us for cinema advertising opportunities to amplify reach and recall for your brand.
Sources: Lexus, Deadline and Top Gear Philippines