Welcome to the Day After Judgement – Terminator: Dark Fate
October 7, 2019
The Terminator first said "I'll be back" in 1984, and he was right, several times over!
Arnold Schwarzenegger, Linda Hamilton, and franchise co-creator James Cameron will return in Terminator: Dark Fate (a direct sequel to their Terminator 2: Judgment Day), releasing across cinemas in the Middle East on 31st October, 2019.
Watch the trailer of Terminator: Dark Fate:
And now here's everything we know about Terminator: Dark Fate ….
Plot:
According to Paramount Pictures and 20th Century Fox – 27 years after the events of Terminator 2: Judgment Day, a new, modified liquid metal Terminator (Gabriel Luna) is sent from the future by Skynet in order to terminate Dani Ramos (Natalia Reyes), a hybrid cyborg human (Mackenzie Davis), and her friends. Sarah Connor comes to their aid, as well as the original Terminator, for a fight for the future.
James Cameron – who directed the first two films and produced this one, told The Hollywood Reporter that Terminator: Dark Fate is meant to continue the story from Terminator 1 and Terminator 2.
"And we're pretending the other films were a bad dream. Or an alternate timeline, which is permissible in our multi-verse. This was really driven more by [director Tim Miller] than anybody, surprisingly, because I came in pretty agnostic about where we took it. The only thing I insisted on was that we somehow revamp it and reinvent it for the 21st century," said Cameron
Rating:
Terminator: Dark Fate doesn't have an official rating from the MPAA. However, James Cameron has confirmed that the movie will be Rated R (Restricted).
"I think, tonally, what makes this a direct sequel to T1 and T2 is as much about the tone as it is about the narrative: It's R rated, it's grim, it's gritty, it's fast, it's intense, it's very linear. The whole story takes place in 36 hours. It's not this kind of grandiose, complex story. It's just very focused on the characters, it's very now, it's very present and it's just a fast white-knuckle ride," said James Cameron.
As of now, the rating in the UAE stands at 18+ – subject to change close upon the date of release.
Director:
Tim Miller had a previous career in Visual Effects. His work has been seen in movies such as Thor: The Dark World and David Fincher's The Girl with the Dragon Tattoo.
Miller made his directorial debut with Deadpool, and had the odds stacked against him. Miller made the project on a modest budget by superhero movie standards, and utilized a character that wasn't a household name. But all that changed with the first movie, which proved an R-rated superhero blockbuster could make a ton of money at the box office.
Terminator: Dark Fate will be Miller's second huge feature. On the choice to pivot to such a beloved franchise, Miller states: I think you'd get the same answer from pretty much any nerd you'd ask, which is these movies, because they were the seminal sci-fi movies of the decade when they came out, they had a big influence on a lot of people, especially at my age. Star Wars and Terminator were the two biggest franchises that made me want to get into this. The idea that I could continue this story is unbelievable to me."
The pressure is certainly on for Miller to deliver on his sophomore run as a director, especially given how much moviegoers love James Cameron's set of Terminator movies.
Cast:
Sarah Connor – The now 62-year old Linda Hamilton returns as Sarah Connor! She appeared in The Terminator (1984) as the future mother of John Connor (played by Eddie Furlong in Terminator 2), eventual leader of the Resistance in the war against Skynet. But she's so much more than that. Having started out as a damsel in distress in the 1984 film, she returned in 1991's classic Terminator 2 as a transformed muscled machine – becoming an action hero icon.
T-800 – 71-year old Arnold Schwarzenegger will return to his T-800 role for this film. Terminator: Dark Fate will see T-800 – who now seems to live in the woods, brought back to help our heroes with their latest mission.
Grace – Mackenzie Davis has another new leading role for the Terminator franchise. The first photo from Terminator: Dark Fate showed markings on Grace's body. She's expected to be a 'soldier-assassin' – human with cybernetic alterations to better fight terminators. Fans will know Mackenzie Davis from films Blade Runner 2049 and The Martian.
Dani Ramos – Colombian actress Natalia Reyes will play Dani Ramos – one of the new leading roles, a young woman targeted for termination by Rev 9 (a high-tech Terminator similar to the T-1000). There's speculation that Dani may anchor the Terminator franchise from here, if they do end up making more films. This appears to be Natalia Reyes' first American role – quite a debut!
Terminator – Actor Gabriel Luna (who played Robbie Reyes/Ghost Rider on ABC's Marvel's Agents of S.H.I.E.L.D) will play the villainous Terminator Rev 9 in this film. One of the key things we know about this Terminator is that he has liquid metal capabilities and can duplicate himself.
Might there be a Terminator 7?
The Terminator franchise has nothing official on the books other than Terminator: Dark Fate. However, it has always managed to make a comeback.
There are fans who believe this next film – Terminator: Dark Fate, needs to end the franchise, however, box office will most likely be the deciding factor as to whether there will be a Terminator 7. We'll just have to wait and see!
Here are some statistics for previous films in the Terminator franchise:
 Terminator: Genisys (2015)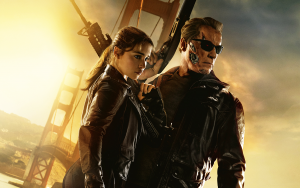 Worldwide Box Office – $432,150,894|
UAE – Ran for 8 weeks and did over 235K admissions
Terminator: Salvation (2009)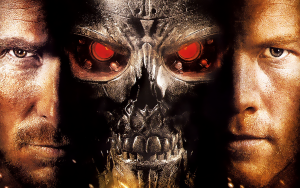 Worldwide Box Office – $365,491,792
Terminator 3: Rise of The Machines (2003)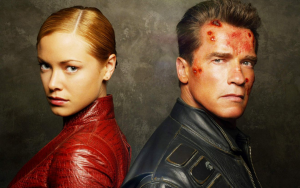 Worldwide Box Office – $433,058,296
Terminator 2: Judgement Day (1991)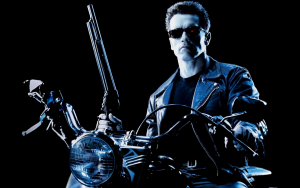 Worldwide Box Office – $515,419,827
The Terminator (1984)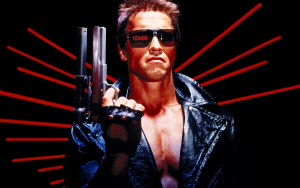 Worldwide Box Office – $78,019,031
Boxoffice Pro is projecting Terminator: Dark Fate to make between $35-45 Million in its US opening, which would be a great comeback for the Terminator film series since it's last release in 2015.
Don't miss out on advertising alongside the latest film from the iconic Terminator franchise. Contact us for cinema advertising opportunities.
Sources: CinemaBlend, Fandom, Digital Trends, The Numbers, The Verge, Collider, IMDb and MVM Analysis