Spooky Movies to Watch this Halloween
October 17, 2019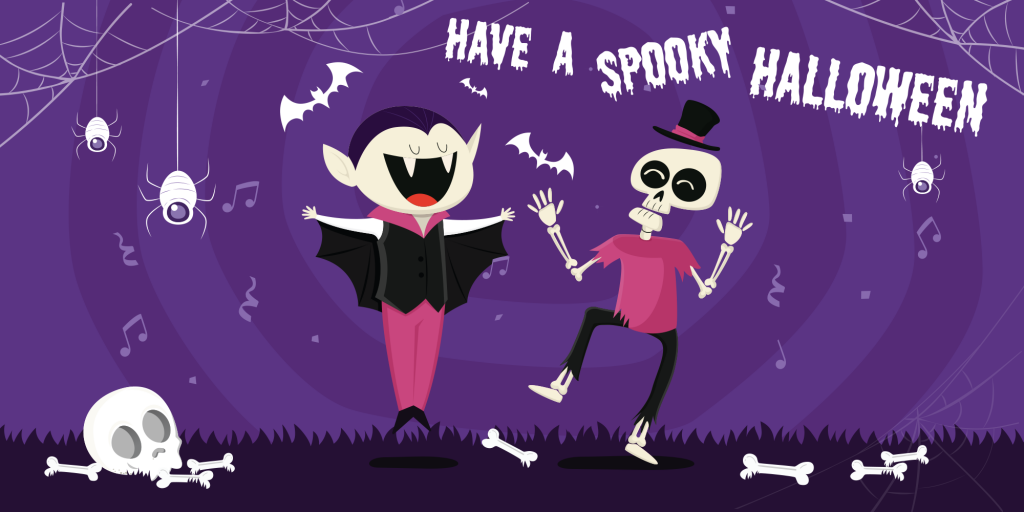 BOO to you from our CREW!
Halloween will soon be upon us, and while this day is celebrated around the world with costume parties and trick-or-treating, it is also a day that has long inspired some of the scariest films over the years.
Whether you're in the mood for a good scare or prefer to celebrate the day with a bit of humor, there's a Halloween movie for every taste.
New movie releases over the weekend of Halloween include:
Terminator: Dark Fate
Director – Tim Miller
Starring –  Mackenzie Davis, Linda Hamilton, and Arnold Schwarzenegger
The Addams Family
Directors – Greg Tiernan and Conrad Vernon
Voiced by -Oscar Isac, charlize Theron and Chloë Grace Moretz
In addition to the above, there are also older movie releases you can watch in the comfort of your home to get into the spirit of Halloween. From childhood classics, psychological thrillers and cult favorites, we guarantee you'll find something to 'tickle your fancy' from our list of 30 spooky movies to watch this Halloween:
Hocus Pocus (1993)
Halloween movies need not be dark, bloody, and nightmare-inducing. For many, the Halloween season doesn't begin until they've viewed this classic starring Kathy Najimy, Bette Midler, and Sarah Jessica Parker.
Beetlejuice (1988)
Raise your hand if you've ever worn a Beetlejuice-inspired costume for Halloween or, more important, dressed up as Winona Ryder's Lydia (aka the goth girl) from the movie. The movie also stars Alec Baldwin, Geena Davis and Michael Keaton.
Hereditary (2018)
Who agrees that Toni Collette should have been nominated for all the awards for this Ari Aster movie? And how about that terrifying lucking sound her daughter makes in the movie… creepy!
Edward Scissorhands (1990)
Tim Burton's unlikely love story is just eerie enough to include in your Halloween must watch line-up. The movie stars Johnny Depp and Winona Ryder.
Halloween (1978)
For those who get a thrill from horror movies, John Carpenter's Halloween is a must watch. Get ready to witness for the first time, or all over again, murderer Michael Myers escapes a psychiatric hospital on the night before Halloween then returns to his hometown of Haddonfield, Illinois to terrorize scream queen Jamie Lee Curtis. Jamie Lee Curtis reprised her role as Laurie Strode in the 2018 continuation of the time-tested franchise.
Practical Magic (1998)
Looking for enjoyable escapism? Sandra Bullock and Nicole Kidman play supernatural sisters earnestly attempting to end a family curse that keeps them from finding true love.
The Nun (2018)
The trailers alone were terrifying enough! The movie – about a mysterious Romanian abbey, is sure to give you full-blown nightmares.
Trick 'r Treat (2007)
Not your average scary movie, Trick 'r Treat follows five interwoven stories over the course of one fateful Halloween.
Get Out (2017)
Fans were captivated by this horror/thriller by Jordan Peel – starring Allison Williams and Daniel Kaluuya. The twists and turns will keep you guessing until the very end.
Zombieland (2009)
The world has gone all zombie… with only a few humans left to fight them off – which Woody Harrelson has no problems doing! The sequel Zombieland: Double Tap released in cinemas on 17 October 2019. Might as well watch them both this Halloween!
The Sixth Sense (1999)
"I see dead people" is one of the most famous movie quotes in history, and it all started in The Sixth Sense, starring Bruce Willis and Haley Joel Osment. This is a definite must watch/re-watch this Halloween.
The Ring (2002)
The good thing about watching this movie in 2019 is that videotapes pretty much don't exist anymore. The bad thing is that the movie is still rather. We bet you'll think twice about answering any phone calls while watching the movie. The film also has a sequel – The Ring 2, which released in 2005. Think you can handle watching both movies back-to-back?
A Girl Walks Home Alone at Night (2014)
This underrated vampire Western from director Ana Lily Amirpour is a satisfying black-and-white film for anyone who loves cats, hates men who disrespects women, and has an ear for good music.
The Conjuring (2013)
This horror film by director James Wan provides typical haunting tricks that seems fresh and terrifying once again, and guaranteed to haunt you long after you turn the lights back on. Also check out its sequel – The Conjuring 2, which released in 2016.
Saw (2004)
Watching a serial killer torture strangers for almost 2 hours is another way to get into the Halloween spirit… right? A fan of such? Then do watch its sequel from 2005 – Saw II.
Scream (1996)
You can't let Halloween pass by without watching this one and its sequels: Screen 2 (1997), Scream 3 (2000) and Scream 4 (2011).
The Others (2001)
It's hard to look away from Nicole Kidman's powerhouse performance as Grace, a loving and religious mother who tries to protect her children from a photosensitivity disease that keeps them indoors.
A Nightmare on Elm Street (1984)
The original Freddy Krueger film still gives a fright – decades later. If you really want a serious spook, have a marathon with all the sequels, including the 2010 remake.
A Quiet Place (2018)
In this gripping and clever monster movie, John Krasinski and Emily Blunt put their marriage to the test by starring side by side in this super-scary release where an entire family must live in silence.
Us (2019)
Jordan Peele's most recent thriller stars Lupita Nyong'o, Winston Duke, and Elisabeth Moss.
The Witches (1990)
This tale of a young boy who stumbles upon a gaggle of witches is still so popular that it's getting a remake in 2020 which will star Anne Hathaway and Octavia Spencer.
IT (2017)
Whether you opt for the 1990 original or this movie, you'll likely need to sleep with the lights on after a viewing of this terrorizing tale. And if this movie leaves you wanting more… the sequel – IT Chapter 2, hit cinemas in September and should probably be still screening at select cinemas across the region.
Family Halloween Flicks:
Coraline (2009)
Based on the popular book, Coraline follows a young girl who accidentally finds herself in an eerie version of her own world.
Goosebumps (2015)
Jack Black stars in the thrilling live-action version of R.L. Stine's popular books. Kids and adults will love seeing their favorite Goosebumps monsters terrorize and trick a charming small town. Yikes! And while you are at it, also watch its 2018 sequel Goosebumps 2: Haunted Halloween.
Scooby -Doo (2002)
Who said Halloween movies can't be light, fun and mysterious? Scooby-Doo – starring Sarah Michelle Gellar, Freddie Prinze Jr, Linda Cardellini and Matthew Lillard combines comedy, a few thrills.
Ghostbusters (1984)
This legendary movie features three kooky college professors who lose their university jobs. Naturally, they opt for careers in the ghost-busting business, and they team up to de-haunt houses and save people from the supernatural. We dare you to watch this classic without singing "who ya gonna call!" The 2016 Ghostbusters stars an all-female cast which includes Melissa McCarthy, Kristen Wig and Kate McKinnon – down right hilarious! Summer 2020 will also witness the release of yet another Ghostbusters movie… we can't wait!
The Adams Family (1991)
Did anyone else wish they were part of the Addams family after watching this classic? Talk about one freakishly cool family!
Hotel Transylvania (2012)
Monsters need vacations too, which is this premise behind this animated feature starring the voices of Adam Sandler as Count Dracula and Selena Gomez as his daughter, Mavis. While you are at it, also watch its sequels: Hotel Transylvania 2 and Hotel Transylvania 3: Summer Vacation.
Monster House (2006)
The scariest house on the street has a mind of its own in this spirited adventure story.
The Haunted Mansion (2003)
Eddie Murphy and his family take on the spooky residents of a neglected mansion in this Disney favorite that's suitable for the whole family.
We 'witch' you a Happy Halloween!
Sources: Cosmopolitan, Country Living and Glamour