Gear Up For The Level Up: 'Jumanji: The Next Level'
November 18, 2019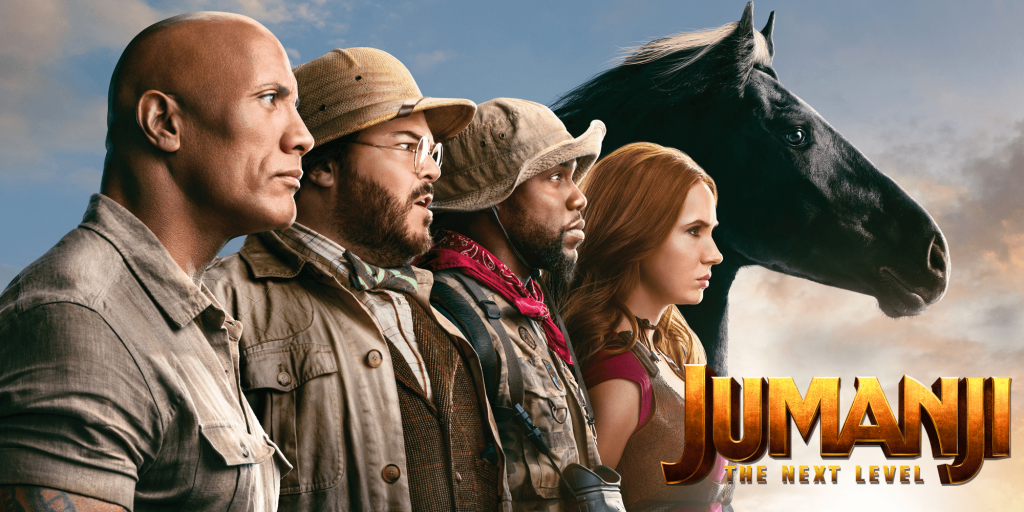 The gang is back but the game has changed!
In Jumanji: The Next Level – releasing 12th December 2019, the players return to the world of Jumanji to rescue one of their own, only to discover that nothing is as they expected.
The players – Spencer, Martha, Smolder Bravestone, Fridge and a few new faces, brave parts unknown and unexplored (from the arid deserts to the snowy mountains) in order to escape the world's most dangerous game!
Watch the trailer of the Jumanji: The Next Level 2019:
Here's what we know about the movie so far:
Rating:
 The MPAA has yet to announce an official rating, but it will probably be PG-13. The first Jumanji in 1995 was PG, but this is more of a direct sequel to Jumanji: Welcome to the Jungle (2017), which earned a PG-13 rating in 2017 for adventure action, suggestive content and some language. It can be presumed that the movie's rating in the Middle East will end up being PG-15 for cinemagoers.
Will Jumanji: The Next Level Connect to the previous films?
It was initially thought that Jumanji: Welcome to the Jungle would be a reboot of the Jumanji franchise. Instead, it was a sequel to the 1995 Robin Williams movie. It didn't have many references to the original, but it was clear that it was set in the same universe. Director Jake Kasdan states he plans to have Jumanji: The Next Level connect to both previous films, but especially Welcome to the Jungle.
Director:
Jake Kasdan has directed numerous theatrical films such as: Zero Effect (1998), Walk Hard: The Dewey Cox Story (2007), Bad Teacher (2011) and Jumanji – Welcome to the Jungle, as well as episodes of TV shows such as: Freaks and Geeks, New Girl and Fresh Off the Boat.
In 2006, Kasdan received his first Golden Globe nomination for Walk Hard: The Dewey Cox Story (2007) – Best Original Song (shared with John C. Reilly, Judd Apatow, and Marshall Crenshaw).
Kasdan's proven ability with smart, teen-based comedy, earned him the directing job for Orange County (2002) – starring Jack Black, Colin Hanks and Schuyler Fisk.
Mostly known for R-rated comedies, Kasdan came out of nowhere to prove he could helm a PG-13 action-comedy with major stars Dwayne Johnson, Kevin Hart, Jack Black, Karen Gillan, and Nick Jonas. Jumanji: Welcome to the Jungle (2017) also directed by Kasdan, went on to become one of Sony's biggest box-office hits ever.
Hailed as the 'Helmer of Jumanji series', Kasdan states the upcoming installment will sew in even more nods to the original Robin Williams classic.
Who's returning in Jumanji: The Next Level?
Almost every major player from Jumanji: Welcome to the Jungle will appear in Jumanji: The Next Level, although we'll get to see several of them in brand-new light.
Dr. Smolder Bravestone
In Jumanji: Welcome to the Jungle (2017), Dwayne Johnson got to play against his type even though the person playing his avatar was nerdy, allergy-prone Brantford High School student Spencer. However, in the sequel, Johnson's game avatar (Smolder Bravestone) will play to his literal strengths – a confident and clearly very muscular archaeologist and international explorer.
Professor Sheldon "Shelly" Oberon
Jack Black had a fun role in Welcome to the Jungle as Professor Sheldon Oberon. His cartographer was played by popular, self-absorbed pretty girl Bethany, who was not expecting to be Black's 'overweight middle-aged man'. This time round, as seen in the  trailer of  The Next Level, Fridge (Kevin Heart) ends up in the body of the 'old, fat dude' avatar.
Ruby Roundhouse
Karen Gillan plays "killer of men" Ruby Roundhouse, a fierce martial arts and dance fighting expert. Her avatar was played by shy high school student Martha.
Jefferson "Seaplane" McDonough
Nick Jonas was something of a surprise addition to the group as avatar pilot Jefferson 'Seaplane' McDonough. He was the avatar of gamer Alex Vreeke – a teen who got stuck in the Jumanji game in 1996. This storyline was a direct tie to the original 1995 Jumanji film, where Alex had taken shelter in the game world in a house built by the previous Jumanji player, Alan Parrish, portrayed in film by Robin Williams.
New characters in Jumanji: The Next Level:
Joining the cast for Jumanji: The Next Level are comedic acting legends Danny DeVito and Danny Glover, playing Spencer's grandfather, Eddie Gilpin, and his friend, Milo Walker, respectively.
If The Next Level follows the same format as Welcome to the Jungle, we don't expect to see DeVito and Glover on screen for very long, but it looks like the characters will still have a significant presence in the movie after they accidentally enter the game and wind up controlling the avatars portrayed by Dwayne Johnson and Kevin Hart.
Also coming aboard are Dania Ramirez (Once Upon a Time) and Awkwafina (Crazy Rich Asians), both in undisclosed roles. While Ramirez doesn't appear in the trailer at all, the brief glimpse we get of Awkwafina suggests that she'll be playing a character within the game.
The Hollywood Reporter states that Awkwafina's role is 'key' and 'significant',  leading us to guess that she's likely either an avatar for one of the players — possibly Spencer, Bethany, or even Alex — or she's the game's new villain.
Jumanji: Welcome to the Jungle (2017) did $964,496,193 at Worldwide Box Office proving to be one of the leggiest (and most unexpected) blockbuster phenomenon's in recent memory. In the UAE, the film ran for a total of 22 weeks and did over 684K admissions – 2nd highest ranking movie in UAE's Top 10 Movies of 2017.
Boxoffice Pro is projecting Jumanji: The Next Level to make $66 – 76 million in its opening weekend in the US.
Motivate Val Morgan forecasts over 600K admissions for Jumanji: The Next Level.
Don't miss out on advertising alongside this fun and comedic blockbuster. Contact a member of our sales for more information on cinema advertising options.
Sources: Looper, The Numbers, Boxoffice Pro, Meaww and MVM Analysis