Cinema Advertising Builds Brand Intimacy
December 4, 2019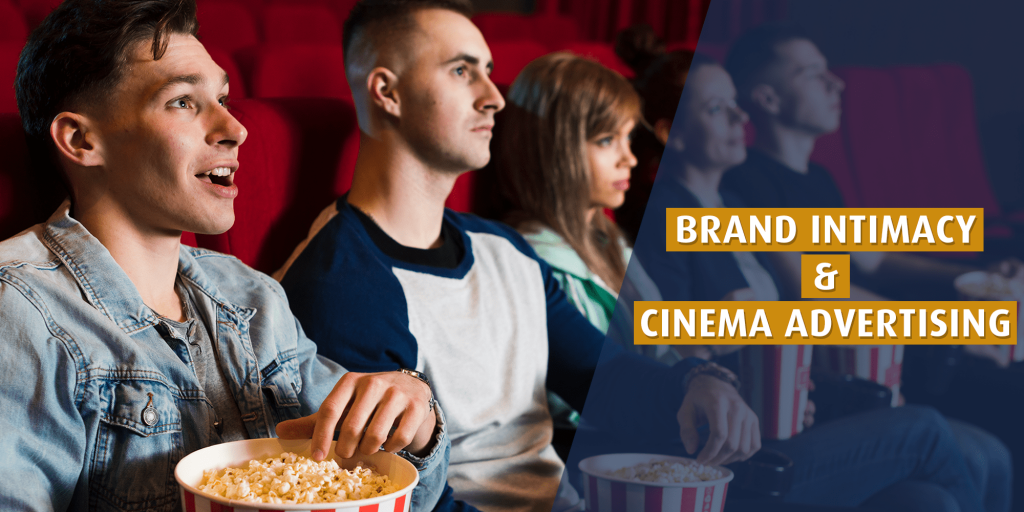 There has been a rapid increase of investment by advertisers in cinema advertising, the luxury brands are not far off.
Today, there are countless of options for luxury brands to tell their stories. To choose the right platform, advertisers need to tap into the consumers cluttered mind, which is exposed to advertisements on a daily. One way to ensure that the brand breaks through this clutter is by raising the intimacy the consumer shares with the brand.
Important findings from the latest 2019 Brand Intimacy Report by MBLM and attributes of cinema advertising which help build Brand Intimacy among cinemagoers, gain a better understanding of 'Brand Intimacy' and more.
Understanding Brand Intimacy
Brand Intimacy is defined as the emotional science that measures the bonds we form with the brands we use and love. These bonds are reciprocal and are fueled by emotion. Brands that build stronger bonds create stronger business return and longevity.
According to the 2019 Brand Intimacy Report, consumers are more willing to pay price premiums for Intimate Brands and less willing to live without them.
"Brands in the luxury category rely on creating, sustaining and developing stronger emotional relationships with their consumers. We've seen a tremendous increase in the industry around the enhancement and ritual archetypes, indicating that their consumers are changing their relationship to brands in the luxury category," states William Shintani, managing partner of MBLM.
Latest MBLM Report 2019:
In 2019, the luxury industry remains in the 7th rank out of the 15 industries showcased in the 2019 Brand Intimacy Report.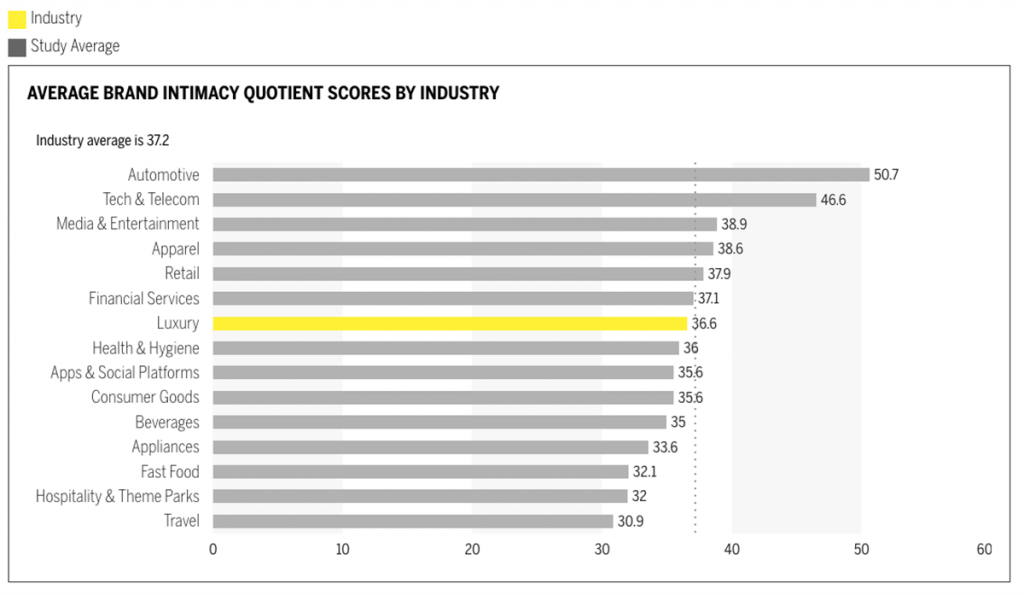 Dior rises to the top of the luxury industry, followed by Chanel at #2 and Louis Vuitton at #3. The Top 10 is rounded out by Cartier, Dolce & Gabbana, Armani, Gucci, HugoBoss, Burberry, and Hermès respectively.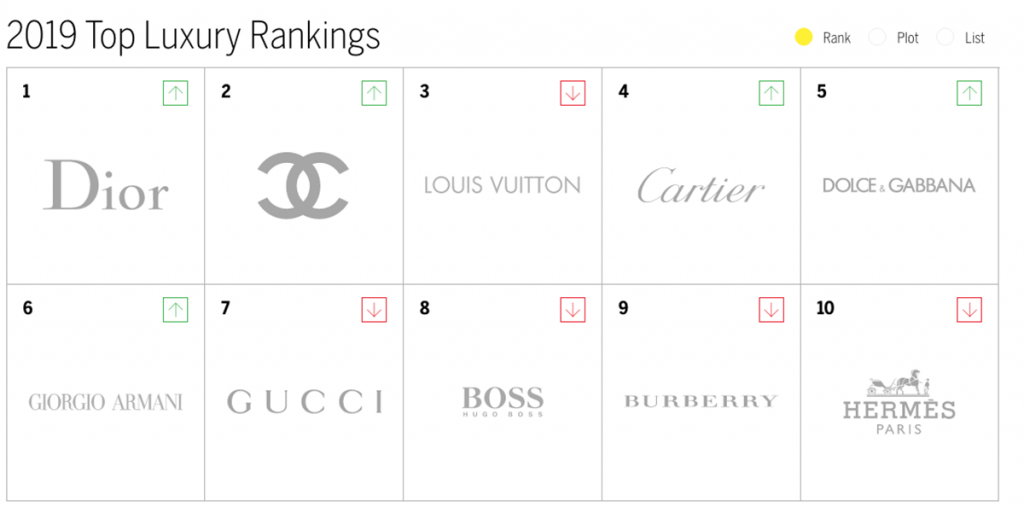 Enhancement and Nostalgia are fastest growing archetypes (the type of emotional relationship between a person and a brand) in the luxury category.
31% of users report being in one of the three stages of intimacy (sharing, bonding and fusing) with the luxury industry.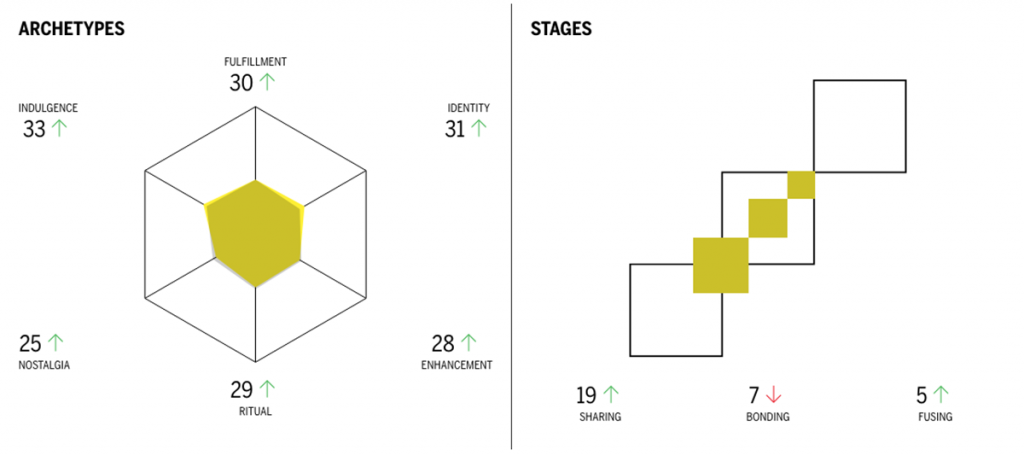 Notable findings for the luxury industry include:
Consumers identified Indulgence (close relationship centered around moments of pampering and gratification that can be occasional or frequent) as the top archetype for the luxury industry.
Dior is ranked as the most intimate brand in the industry and is the #1 brand for millennials and users with low incomes.
Chanel ranked #1 with women, users in the 35-64 year segment and users with high-income.
Louis Vuitton is the #1 brand for men across all incomes and socio-economic levels.
7% of users have an immediate emotional connection with Gucci, 11.6% above the industry average.
1% of users in the study consider Cartier to be the most essential luxury brand (brands a consumer can't live without), 6.3% above the industry average.
Dior, Chanel, Cartier, Dolce & Gabbana, and Armani have improved their ranking in 2019.
LouisVuitton, Gucci, HugoBoss, Burberry, and Hermès have fallen in rankings during 2019.
MBLM leverages the yearly study to help advertisers create, sustain and measure ultimate brand relationships. To download the full Brand Intimacy 2019 Report, please click here
Attributes of Cinema to Build Brand Intimacy
Cinema has the strongest combined brand impact of any medium, according to research by Millward Brown, commissioned by Digital Cinema Media.
Millward Brown brought together the combined learnings of 183 CrossMedia case studies from across Europe, 88 of which were in the UK, and examined how each medium performed against five metrics.
Pound-for-pound, cinema outperformed all of the other media in all but one of the five metrics.
Why choose cinema as a medium for advertising?
Cinema is the strongest medium for making brands memorable with a return of investment (ROI) of 2.9 per cent, ahead of TV with an ROI of 2.5 per cent.
Cinemas deliver greater recall and resonance for audiences than any other AV channel, now is a better time than ever for marketers to invest in cinema advertising to build their brands.
Ideal Environment for Advertising
Dark Auditorium & Distraction Free – All eyes on the big-screen and attention guaranteed without interruptions.
Everything About it is BIG
Larger Than Life Image – Consumers notice cinema ads as they make real use of the big screen with impressive graphics, panoramic landscapes and unusual visual displays.
Exceptional Audio
Surround Sound & Booming Bass – Sound is a key part of the cinema experience, with the best ads using it to optimize its effect.
Captive & Receptive Audience
"Opt in" Medium – With the audience choosing to go to the cinema, your brand reaches out to a relaxed and receptive audience.
In addition, cinema offers 360-degree exposure and innovative opportunities to brands – utilizing both on-screen and off-screen advertising. Ranging from sampling, activations, promotions and many more activities, advertisers can now compliment and support their on-screen ads with off-screen advertising for greater brand impact.
The tendency of people towards cinemas is increasing day by day. According to a survey, since 2008, the total number of people visiting cinemas increased by 24 percent, with 75 percent of the adult population. During the shows, with an excess of 87 percent of moviegoers exposed to the ads, cinema's appeal is continually reaching to more and more people which provides a powerful way for advertisers to reach audiences.
Target luxury niche audiences using Cinema
With an increase in the number of blockbusters releasing across the region and an equal increase in the number of cinema admissions each year, there's no doubt that cinema remains an important platform for entertainment – catering to all ages and nationalities, and advertising in the region.
Luxury cinema concepts are very high-end and upscale – designated plush lobby areas, comfortable leather reclining seats, bespoke F&B offerings and a personalized waiter service, which elevates the movie going experience for consumers with a sophisticated mindset.
Such cinemas create small, intimate and curated relationships with sophisticated audiences which are more viable for luxury brands than mass awareness-seeking media campaigns.
Brand Storytelling is increasingly becoming the new way to create meaningful dialogs with luxury consumers – and there's no better place than cinema for showcasing such content.
Luxury cinema concepts are no longer specific to certain operators. Today, most reputed cinema operator across the region offer unique luxury cinema experiences – catering to audiences of varying levels of sophistication.
Over the last two years, cinema operators have invested a great deal on expanding and upgrading their respective cinema multiplexes. From luxury cinema screens, to cinemas designed focusing on the little ones, the cinemas are now catering to a variety of demographics than ever before.
This upgrade includes the revamp of existing luxury cinema screens and the introduction of luxury cinema concepts and stand-alone boutique cinemas.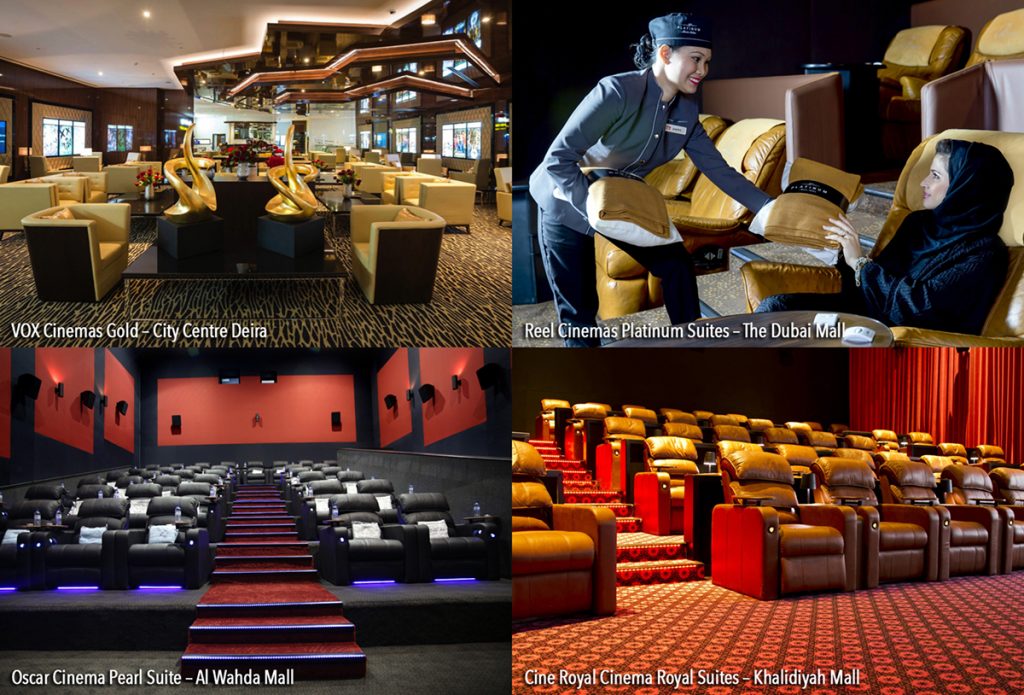 Luxury cinemas are intimate and private with fully reclining armchairs and adjustable footrests arranged in pairs with their own private table. The seating is tiered for unobstructed viewing.
The sheer opulence and indulgence of these luxury cinemas also offers unsurpassed levels of service. Drinks and snacks are served on-demand throughout the movie and the menu offers a range of premium food options.
An exclusive lounge facility is adjacent to each of these luxury cinemas – to deliver an intimate cinema experience for guests.
Motivate Val Morgan serviced cinemas that offer luxury cinema experiences include: VOX Cinemas (regionally), Reel Cinemas (UAE), Oscar Cinema (UAE), Cine Royal Cinema (UAE) and Cinemacity (UAE).

Partnering with the late celebrity Michelin star chef Gary Rhodes, VOX Cinemas introduced a new luxury THEATRE by Rhodes – the first concept of its kind in the Middle East in September 2015 at its Mall of the Emirates cinema location.
THEATRE by Rhodes delivers the most innovative and customer-focused experience, presenting movie lovers with a full food and beverage menu –prepared by in house chefs who are all trained to meet the internationally renowned Rhodes' standard.
From a state-of-the-art auditorium to the large leather reclining pod-seats, waiter service and exclusive lounge, THEATRE by Rhodes is luxury cranked up to the max – effectively an upgrade on the VOX Gold Class cinema experience.
THEATRE by Rhodes is solely available at VOX Cinemas: Mall of the Emirates (UAE – Dubai), Yas Mall (UAE -Abu Dhabi) Nation Towers (UAE -Abu Dhabi), Doha Festival City (Qatar) and The Avenues (Bahrain).

Example Luxury Brand Cinema On-Screen Campaigns Booked Through Motivate Val Morgan:
Cartier
Tiffany & Co.
Tag Heuer
Why choose to partner with Motivate Val Morgan:
Motivate Val Morgan's coverage includes over 480 cinema screens across 55 cinema locations in the Middle East – UAE, Lebanon, Oman, Egypt, Qatar, Bahrain, Saudi Arabia and Kuwait. We partner with leading cinema operators who offer luxury cinema experiences and have a presence in the best shopping malls across the region.
With an incredible slate of content coming to the big screen in 2020, cinema is set to once again appeal to a wide range of demographics.
Contact a member from our sales team for more information on cinema advertising opportunities that target affluent and sophisticated audiences.
Sources: Aviamost, Forbes, CampaignLive