VOX Cinemas Celebrates 20 Years
January 13, 2020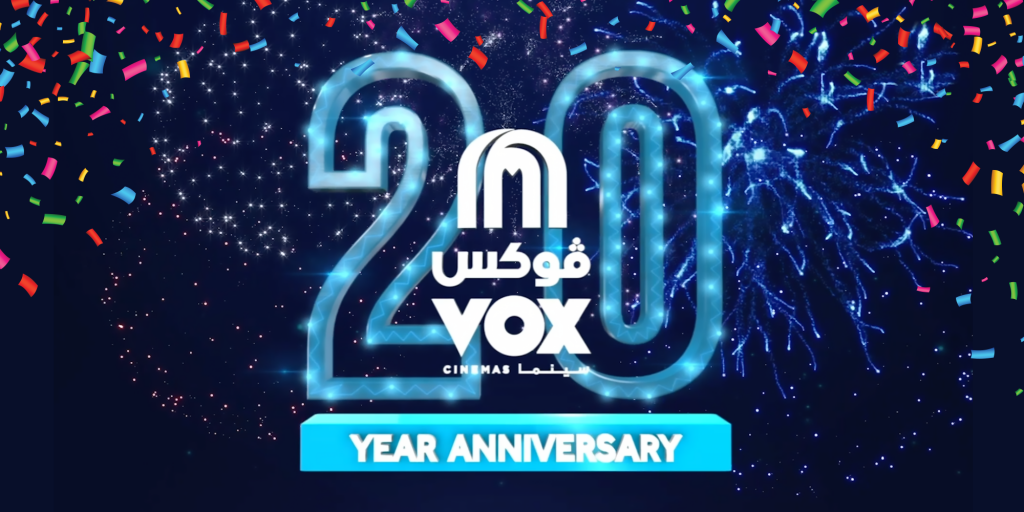 VOX Cinemas – owned and operated by the cinema arm of Majid Al Futtaim Group, celebrates its 20th anniversary this year.
As the largest and fastest growing cinema chain in the Middle East, VOX Cinemas presently operates over 500 screens across 49 locations in 8 countries across the MENA, and is in the midst of a Dhs1.2bn investment to expand its operation to a further 300 screens by 2020.
The cinema chain has also announced grand plans to invest Dhs1.96bn to develop 600 screens across Saudi Arabia by 2023.
We at Motivate Val Morgan would like to extend our best wishes to VOX Cinemas on this milestone and look forward to many more years of success as business partners.
In an exclusive interview with Gulf Business, Cameron Mitchell, CEO of VOX Cinemas, Toni El Massih, Chief Content Officer and Michelle Walsh, Chief Marketing and Innovation Officer outline the company's blockbuster performance over the last 20 years and why they stand strong despite the rise of streaming services.
The interview is as per below:
GB: What would you say are the three biggest highlights of the last 20 years for Vox?
Cameron Mitchell: "The first would be reopening Vox Mall of the Emirates in 2015. That cinema, even to this day, is one of the best cinemas in the world – if not the best in the world. And I think it was a massive step change from cinema as being just a place to watch movies to a place where you're entertained. Everyone that walked in after the first week went 'wow' because of the LED, the graphics, the whole experience of that location.
"Number two was when we won the award for the 'Best cinema in the world' at Cinema Con in 2017. We are a small Middle Eastern cinema exhibitor – there's companies around the world that are 30 and 40 times bigger than us – and for us to be invited to go to Las Vegas and be recognised as being best in the world was amazing.
"Number three would be Riyadh Park opening. There was a ban on cinemas in Saudi for 30 years and we were working with the government of Saudi Arabia for probably two years before the law changed to allow cinemas.
"Toni had hosted several teams of people from Saudi who came to Dubai and we introduced them to the UAE censors, design details and other aspects. And then roughly six months before the law changed, we approached the government and asked if we could build a four-screen cinema in a Magic Planet that we have in Riyadh – which they could use for testing. So, we committed to an investment of about $6m – $7m in advance of the law changing.
"The law changed about two weeks before we finished building the cinema. And we were the first multiplex cinema to open in Saudi Arabia after 30 years.
All of this is in line with Majid Al Futtaim's DNA – the group is focused on the future and in always ensuring that we put our money where our mouth is and do what's right for the business in the country."
GB: You have ambitious plans for the Saudi market. How are you meeting such stiff targets?
Cameron Mitchell: "Normally the standard time for opening a cinema is about two and-a-half-years. But at the end of 2019, we had 90 screens open in Saudi Arabia and we'll have 200 at the end of 2020. That's because we are getting approvals to build these cinemas based on sketches and we're actually designing it as we're constructing the cinema.
"And it's not from purely a financial perspective; we're doing it because the government is sort of saying to us – 'we've given you a licence and we've promised the people that you're going to build cinemas, so please build them'.
"Most of us are working seven days a week to make sure that the standard of cinemas in Saudi Arabia is the best in the world. There's about 10 licences granted to operators in Saudi, but as of today, we have 80 per cent market share of the screens in the kingdom."
Michelle Walsh: "The Saudi story is also interesting because before that, we were a traditionally small market from a Hollywood Studios standpoint. But Saudi is suddenly this new frontier market.
"And more competition is coming in now, which just means we are going to have to work even harder. But we're seeing what they're bringing to the market and we still believe that our customer experience is far superior and our food and beverage is much better."
GB: Can you elaborate more on your food and beverage offering? Has that been a key differentiator?
Michelle Walsh: "Food and beverage (F&B) is obviously a huge revenue stream for us and has been our focus for the last couple of years. We started with the collaboration with Gary Rhodes in Mall of the Emirates (THEATRE by Rhodes and GOLD by Rhodes), and working with him gave us a hospitality mindset. He pushed us to recruit better chefs, have better service standards and build better designed kitchens like the hotel grade ones.
"Recently, we also added food and beverage to our app to give people the chance to avoid queues. That's a really complex process, especially for creating hot foods. So we had to completely transform our back-end operations."
Cameron Mitchell: "You also have to look at each country individually in terms of how you serve customers, and what kind of food you might serve. For instance, in Saudi we have local chefs preparing Saudi food that has a certain sort of spice to it.
"One of the challenges in our industry is that everyone is showing exactly the same films. So for us, it has to be the other factors. What we can control is the seat, the experience, the service, the app, the food, the ambience in the foyer, the arrival experience, the exit experience and technology."
GB: Another challenge has been the rise of streaming services, with ominous threats about the death of cinema. What are your thoughts on this?
Cameron Mitchell: "There was a little bit of nervousness a few years ago when there was one massively strong streaming company that looked like it would monopolise everything. Now, if you look, there's multiple streaming platforms which have become what free TV used to be.
"There's also been a lot of studies internationally that have said that streaming actually encourages people to go to the cinema more often. The experience of going to a cinema is different. If it's just a place to watch movies, you might as well watch it at home. But we are focused on the experience – we want to be the fun, cool place to go and have fun with your friends and family.
"Also, in this region, you look at the mall culture and the social family environment we live in – everyone loves going out."
Toni El Massih: "We also make sure that we offer content for everybody. So, it's not only Hollywood films that we release. Out of India, every week, we have five different regional language films. We also cater to Europeans with French and Italian films and also release Korean and Chinese films. Recently, we also had a successful run with a Turkish film. We cater to all demographics."
GB: Are you also getting into original content?
Toni El Massih: "Yes, we have partnered with Abu Dhabi's Image Nation and NBC Saudi to produce regional content, with a focus on Egypt and Saudi Arabia. There is a strong appetite for Arabic content, but there's hardly any films coming out of places like Saudi – this year, there's only been one film.
"As of now, Arabic content comprises only 5 per cent of the total box office. So we are going to start producing a lot of original content and focus on commercial films. We're not into documentaries yet, more so films that are going to attract the audience to come to the cinema."
GB: Looking specifically at the Vox brand, when did you realise its strength and influence?
Toni El Massih: "The day we went from being Cinestar to VOX Cinema. That happened in 2011 and then we spent about six months working on the re-branding. That's when we knew we had a very strong brand. We had a strong team, and we were confident about taking it forward and building it from there."
Michelle Walsh: "Being part of the Majid Al Futtaim group gave us the impetus, the investment, the belief and the ambition to expand."
GB: You have had a partnership with Motivate Val Morgan for cinema advertising since the beginning – for the last 20 years. How has the relationship evolved?
Cameron Mitchell: "Motivate, I think, is the only partner that we've had from day one, because they are clearly the best in the region at what they do. They are very closely aligned with us and everything we are doing, and they share that same sort of consumer focus that we have. Everywhere we go, they come with us.
"So now in the UAE, we have more than half of the market share of screens, in Saudi it's about 80 per cent, we are about 85 per cent in Oman and in Bahrain, we're about 60 per cent. In Lebanon, we're about 20 per cent. We don't disclose market share numbers for Egypt. In all of those places, Motivate's our partner and they represent us for on-screen advertising. We have an amazing relationship with the team."
We at Motivate Val Morgan would like to extend our best wishes to VOX Cinemas on this milestone and look forward to many more years of success as business partners.