Must-Watch Irrfan Khan and Rishi Kapoor Movies
May 4, 2020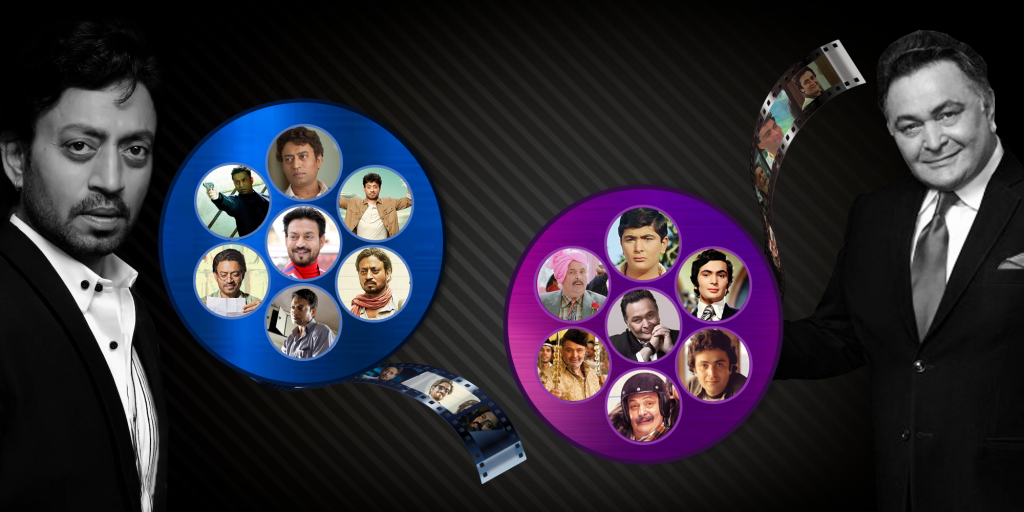 In less than 24 hours, Bollywood lost two legends last week – Irrfan Khan and Rishi Kapoor, both to the battle with cancer.
Irrfan Khan, known internationally for his roles in Life Of Pi and Slumdog Millionaire, died on Wednesday 29th April 2020 at age 53 from colon cancer. He spent his life breaking stereotypes in the many movies he starred in and resonated especially well with fans. He was also a man who achieved what a few actors manage to do – success in two of the world's biggest film industries – Hollywood and Bollywood.
Then, on Thursday 30th April 2019, Indian cinema received another blow with news of the death of Bollywood veteran and icon Rishi Kapoor at age 67 from leukaemia.
Khan and Kapoor were very different actors. Khan was one who lent an extraordinary touch to the most ordinary roles (through his intensity, studiousness and approachability) and came to the spotlight from very humble roots from. Kapoor on the other hand came from a Bollywood dynasty and was the original pin-up boy of the 70s, who featured in over than 100 films and had longest run in Bollywood as a romantic lead (from the 1970s to the late 1990s), eventually growing to become everyone's choice to play multifaceted characters.
But one thing is for sure … while these two legends are no more, their work will be cherished and will live on forever.
In memory of Irrfan Khan and Rishi Kapoor, here's a list of must-watch movies starring the two Bollywood icons:
Irrfan Khan
Hindi Medium (2017)
A lighthearted romantic film about a young couple Raj (Khan) & Mita (Saba Qamar) who live in Chandni Chowk, Delhi, with aspirations to move into English speaking society for their daughter's sake. The film traces their trials and tribulations on this journey and the impact it has on their relationship on their family.
Qarib Qarib Singlle (2017)
A contemporary love story between two opposite personalities who embark upon an unusual journey, which becomes an adventure of a lifetime. The film is a refreshing take on love and self-discovery. Parvathy and Irrfan's dialogue and chemistry makes it a hilariously enjoyably film which will leave you with a smile.
Piku (2015)
In this heart-warming slice of life film of a father-daughter relationship with plenty humor, Irrfan Khan plays the role of a local cab driver with family drama of his own. It's a classic Khan sidekick role, where his wisdom ends up carrying much of the film's message.
Haider (2014)
This film is the third installment of director Vishal Bhardwaj's Shakespearean trilogy – Maqbool, Omkara and Haider. In Haider, Khan emboldens the protagonist's desire for revenge over his father's death and the film brilliantly underscores how politics become so personal in times of militancy. Khan also acted in the highly acclaimed Maqbool.
The Lunch Box (2013)
Khan plays the role of an accountant who has just been widowed. He accidentally starts to receive lunches with notes in them by a woman trying to save her own marriage, and thus begins a series of lunchbox notes and a virtual affair.
Life of Pi (2012)
This groundbreaking movie is about a young man who survives a disaster at sea and is hurtled into an epic journey of adventure and discovery. While cast away, he forms an amazing and unexpected connection with another survivor – a fearsome Bengal tiger. Khan plays the adult character of Piscine 'Pi' Patel, and a heartbreaking scene from Life of Pi, in which Khan talks about life and death, is being widely shared online since his passing: "What hurts the most is not taking a moment to say goodbye."
Slumdog Millionaire (2008)
This movie unfolds in a series of emotional flashbacks and Khan plays the role of a police inspector who keeps bringing us back to the modern day. From tough-talking and threatening to being forgiving and compassionate – all of which is signature Khan, Slumdog Millionaire was Khan's big introduction to western audiences.
Life in a Metro (2007)
This film is about six different stories of the interconnected lives of a diverse group of people all occurring within one place – Mumbai Metro. Khan plays Monty, a sweet but socially awkward guy (another signature Khan role).
Rishi Kapoor
Mera Naam Joker (1970)
Directed by father Raj Kapoor, the 1970 drama catapulted a teenaged Kapoor to stardom. This movie also earned him a National Film Award for Best Child Artist.
Bobby (1973)
A classic drama by Raj Kapoor about interfaith lovers. The movie featured Rishi Kapoor in his first lead role opposite Dimple Kapadia, and its legacy today lives on through the classic song sequence, 'Hum Tum Ek Kamre Mein Bandh Ho'.
Amar Akbar Anthony (1977)
In this timeless tale of three brothers raised with different faiths, Kapoor dials up the charm as the young romantic, Akbar. Aside from the laughs and punchlines, fans of Rishi Kapoor will certainly want to re-watch this classic, mainly for his eight-minute qawwali song, 'Parda Hai Parda'.
Do Dooni Chaar (2010)
In this slide-of-life comedy by director Habib Faisal, Kapoor portrays a middle-class school teacher struggling with inflation and financial pressures. The film received widespread critical acclaim.
Agneepath (2012)
The pin-up boy of the 70s reinvented himself as a villainous character – Rauf Lala, for Karen Johar's retelling of the cult classic rom the 90s. The sheer breadth of his talent is visible in his role as a ruthless criminal.
Kapoor & Sons (2016)
This coming-of-age comedy is packed with talent—from Rajat Kapoor and Fawad Khan to Ratna Pathak Shah and Alia Bhatt, Rishi Kapoor plays the role of a wizened grandfather who is on a quest to secure a family portrait with his dysfunctional family.
Sources: Rotten Tomatoes, BBC, CNN, Gulf News, Vogue, Rotten Tomatoes and YouTube