The Latest News from the World of Movies – May 2020
May 18, 2020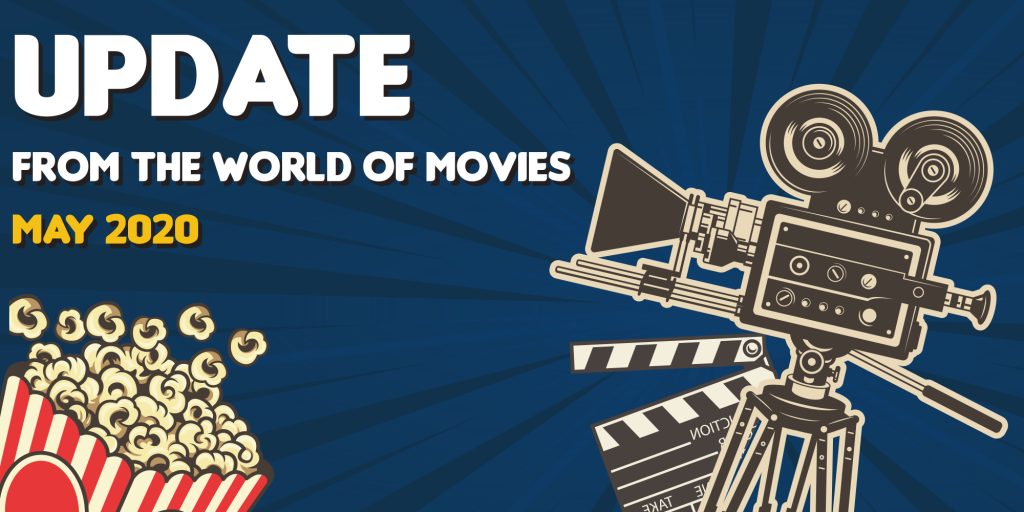 Attention movie-lovers! Cinemas may still remain closed in response to COVID-19, but that doesn't mean you shouldn't stay up-to-date with what's happening in the world of movies!
Here are some of the big announcements made in May 2020:
While the word eagerly awaits the release of Wonder Woman 1984, and even though there is no official on the big screen, Patty Jenkins has story ideas for Wonder Woman 3 and the planned Amazonian spin-off.
But of course, Wonder Woman 1984 needs to release first.
"I'm not going to nail down a fresh thought about it until [Wonder Woman 1984] comes out, because I kind of want to give myself a palette cleanser, and be fresh of mind. But yeah, there's an arc that I have in mind for the first movie, and then the second movie, and then the Amazon movie, and then the third movie," said Patty Jenkins.
Read more on this at ScreenRant and CinemaBlend
Warner Bros. has unveiled a new image from the Dune adaptation from director Denis Villeneuve – due to hit cinemas in December this year, which also features the sandy landscape of Abu Dhabi in the background.
Scenes for this highly anticipated sci-fi movie were filmed in Jordan and the UAE, as well as Budapest.
Read more on this at The National and Empire
One small step for Tom Cruise, one giant leap for moviemaking?
Cruise is partnering with NASA to shoot a movie, at least in part, aboard the Intl. Space Station – the first narrative feature to be shot in space.
It's unclear how Cruise will pull off this feat, but one thing's for sure, knowing him, even at 57 he'll probably insist on doing his own stunts (remember the freefall at 200 mph in 2018's Mission: Impossible — Fallout?)
Read more on this at Variety an ScreenRant
Yes, it's highly unlikely that anyone will ever win an Oscar for playing the caped crusader – Batman, but this does not mean that the pressure is off when portraying the character.
Robert Pattinson – the new Caped Crusader, says he has found a 'gap' to make Batman his own – in contrast to the likes of Val Kilmer's cheeseball effort.
"I kind of like the fact that not only are there very, very, very well-done versions of the character which seem pretty definitive, but I was thinking that there are multiple definitive playings of the character," said Pattinson.
You've seen this sort of lighter version, you've seen a kind of jaded version, a kind of more animalistic version. And the puzzle of it becomes quite satisfying, to think: Where's my opening? And also, do I have anything inside me which would work if I could do it? And then also, it's a legacy part, right? I like that," he added.
Read more on this at: The Guardian
You know who's great at spicing things up and adding much-needed levity to franchises that have become somewhat bogged down in their own mythology? Taika Waititi!
Disney has announced that Taika Waititi will direct and co-write a new Star Wars movie for theatrical release.
Rumors of a Waititi-helmed Star Wars movie first surfaced in January, though it's unclear if this movie is the one that Marvel Studios president Kevin Feige is reportedly developing.
Read more on this at The Verge and Wired
Paramount Pictures has dated a new, untitled live-action Transformers film to be released in theaters on June 24, 2022.
As Paramount and Hasbro press forward to revamp the franchise, two new Transformers projects are being developed simultaneously, with Joby Harold (Army of the Dead) and James Vanderbilt (Zodiac) each penning a script. Plot details are being kept under wraps and no directors are currently attached to either.
Also, An untitled animated prequel to the Transformers franchise is in the works at Paramount Pictures and Hasbro's eOne with Toy Story 4 director Josh Cooley.