Reel Launches Drive-in Cinema at The Dubai Mall
June 1, 2020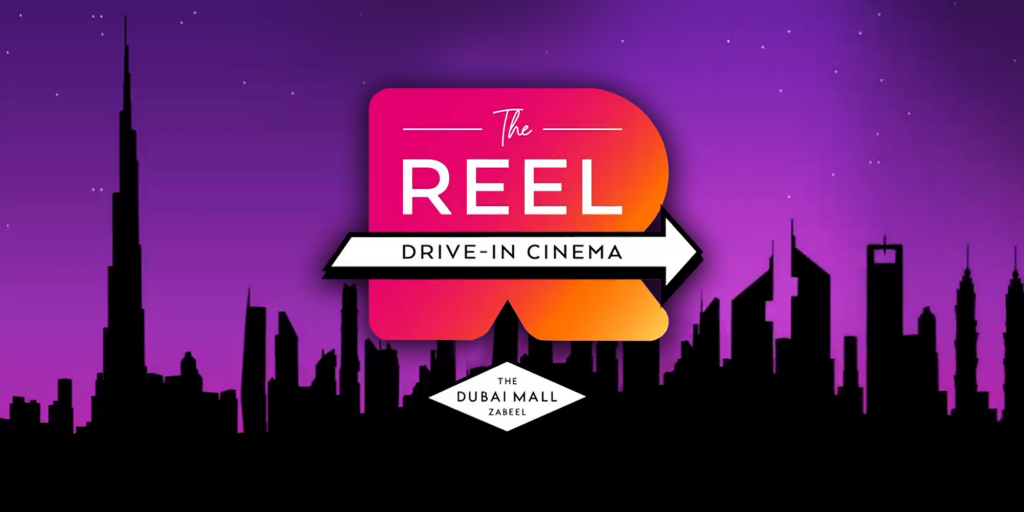 Dubai' welcomes its second drive-in cinema with the launch of Reel's – The Dubai Mall Zabeel experience.
Reel Cinemas launched its drive-in cinema at The Dubai Mall on Saturday 30th May, 2020.
Located at the rooftop parking space of the mall's Zabeel extension, the latest addition to Reel's portfolio allows moviegoers in Dubai to watch films on the big screen – with the iconic Burj Khalifa and the city's skyline in the background, while adhering to social distancing rules and guidelines. The movie can be heard by tuning car radios to a set FM frequency of 88.3.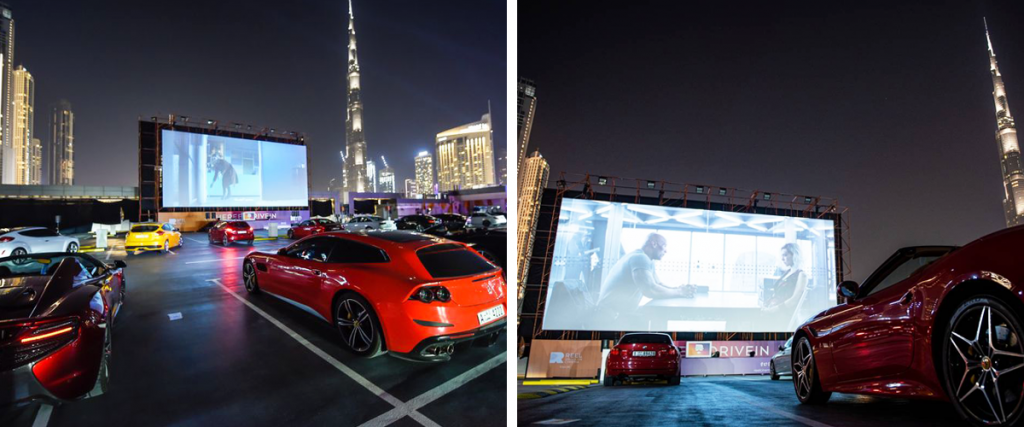 The cinema accommodates 70 cars, with allocated parking arranged based on the car size for an optimum viewing experience for all. Only two people per car are allowed and ticket bookings have to be made via the Reel Cinemas website. Age restrictions do apply, with anyone under 12 years and over 60 unable to attend for now.
Tickets cost Dh170 per car, and include a food and beverage package for two people, which consist of one cheese popcorn, one salted popcorn, one regular nachos, two chocolate bars, two soft drinks and two water bottles. Food carts are also available for those who wish to make additional food orders.
Earlier in May, VOX Cinemas launched its drive-in experience at Mall of the Emirates.
The revival of the drive-in cinema concept – which has also seen an upswing in the US and Europe, offers movie lovers a safe way to engage in one of their favorite pastimes during these unprecedented times, whilst maintaining social distancing and enjoying a bucket of popcorn.
Here's a list of movies that will be showing at Reel Cinemas Drive-in at The Dubai Mall Zabeel:
Fast and Furious: Hobbs and Shaw, BloodShot, Bombshell, 21 Bridges, The Hustle, Rambo Last Blood, Gemini Man, Bad Boys for Life, The Gentleman, Jumanji Next Level, Fantasy Island, 1917, Fast and Furious 8, Angel has Fallen, A Quiet Place, Mission Impossible Fallout, Fighting with my Family, The Invisible Man, The Upside, Knives Out, Men in Black International, Midway, Jurassic Park Fallen Kingdom, Childs Play, Aqua Man, Misbehaviour, The Grudge, Charlie's Angels, Crawl, The Wretched and Shazam.
For more information, visit www.reelcinemas.ae, and don't forget to check out their Drive-in experience FAQs.
Sources: The National, Gulf News, What's On and Reel Cinemas
Related Article:
VOX Opens Rooftop Drive-in Cinema at Mall of the Emirates