Muvi Cinemas Opens Saudi Arabia's First Dolby Screen
August 10, 2020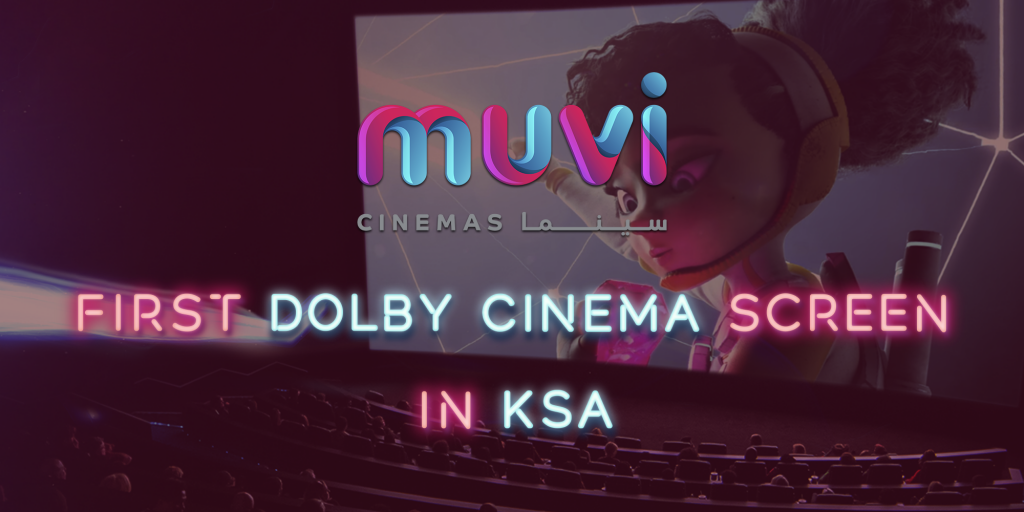 Muvi Cinemas – Saudi Arabia's first home-grown cinema brand, has opened the first Dolby Cinema screen in KSA, located at the U-Walk Boulevard, Arabian Centres in Riyadh
Dolby Cinema™ is a premium cinema created by Dolby Laboratories that combines Dolby proprietary technologies such as Dolby Vision™ and Dolby Atmos®, as well as other signature entrance and intrinsic design features, designed to make every visit a completely captivating cinematic event.
Dolby Vision™ brings the story alive with amazing brightness and darker darks to offer a more lifelike sense of depth, rendering colors and detail unlike other movie screens, and Dolby Atmos® transports audiences into the movie with breathtakingly realistic, moving audio that fills the room, while the clarity and precision creates a stunning, textured soundscape that adds layers of depth to each scene.

Films to be screened at the Dolby Cinema in U-Walk include Arabic drama/comedy Shams Al Maarif, English films My Spy and animation Trolls World Tour and Arabic comedy Al Ghasala.
There are a total of 251 Dolby Cinemas globally, with an additional 200 Dolby Cinema screens committed, and more than 300 movie titles being released or announced in Dolby Vision™ and Dolby Atmos®.

Speaking on the opening of the Dolby Cinema at U-Walk, Sultan Alhokair, CEO of Muvi Cinemas, said: "We are very excited to be opening Dolby Cinema and bringing the most powerful image and sound technology to Saudi Arabia. Dolby Cinema will provide a different experience for Saudi cinemagoers and will be the first of three screens to be added to our extensive portfolio of offerings."
Muvi Cinemas was established in 2019 with headquarters in Riyadh. Last year, Muvi announced an expansion plan to launch 250 new screens across the Kingdom within 24 months to offer unique and exclusive experiences for all guests, and recruit and train more local talent. The cinema chain operates a total of 41 screens across the following locations in KSA: Mall of Arabia (Jeddah), Al Hamra Mall (Riyadh), Nakheel Mall (Dammam) and U-Walk (Riyadh).
Contact us for cinema advertising opportunities across the four locations of Muvi Cinemas in Saudi Arabia.
Sources: Muvi Cinemas, Arab News and BroadcastPro Middle East