Big Screen Events in December 2020
October 5, 2020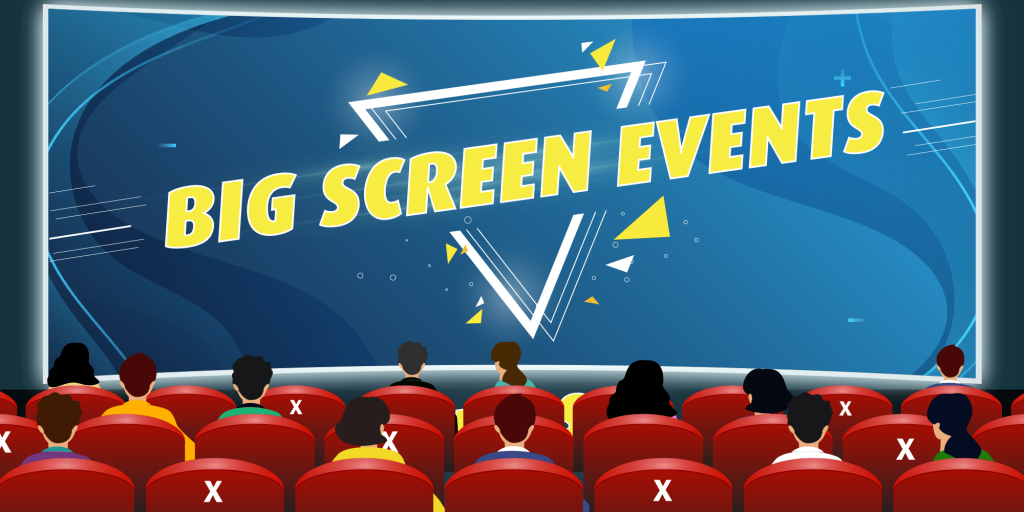 With roughly 80 days to go for Christmas, we at Motivate Val Morgan look ahead to what's in store on the BIG screen in the month of December, and why brands should plan to include cinema in their festive media campaigns.

From mystery thriller Death on the Nile – based on the 1973 novel by Agatha Christie and Wonder Woman 1984 – the ninth installment in the DC Extended Universe, December 2020 holds festive treats for both cinemagoers and advertisers.
It has been a difficult year for a majority of industries with the outbreak of the COVID-19 pandemic and its on-going coverage dominating the news.
For cinema, Q2 2020 started off with its closure, followed by a staggered reopening between June and September – with cinemas operating at 30-50% capacity, accompanied by the lack of new content. Then came the release of two highly anticipated blockbusters – Tenet and Mulan, closely following each other, that did rather well on the BIG screen in both UAE and Saudi Arabia:
In 5 weeks since release on 27 August 2020, UAE and KSA box office earnings for Tenet amount to $2,042,357 and $1,500,000 (respectively).
In 4 weeks since release on 3 September 2020, UAE box office earnings for Mulan totals $2,096,219.
Following this high note was the official announcement of Death on the Nile, Wonder Woman 1984, No Time to Die and Black Widow pushing its release dates to December 2020, April 2021 and May 2021 (respectively).
The good news for now is that Bollywood blockbuster Laxmmi Bomb – featuring Akshay Kumar, which premiers on 9 November 2020 on Disney Plus Hotstar, will also release across cinemas in Australia, New Zealand and UAE simultaneously, on 9 November 2020. Laxmmi Bomb is anticipated to give cinema another upward push at box office in the UAE.
Laxmmi Bomb Motion Poster Trailer:
For now, December has a treat in store for everyone – cinemagoers and advertisers, with a range of highly anticipated a-list and b-list blockbusters, expected to release on the BIG screen.
The month kicks off with a brand new action comedy adventure featuring Ryan Reynolds – Free Guy, a story about a bank teller who discovers that he's actually an NPC inside a brutal open world video game, scheduled to release 10 December 2020.
Free Guy Trailer:
Next up is Death on the Nile by 20th Century Studios, scheduled to release on 17th December 2020 . The mystery thriller directed by Kenneth Branagh is based on the 1937 novel of the same name by Agatha Christie, and a follow-up to 2017's Murder on the Orient Express, featuring a star studded cast which includes Gal Gadot, Kenneth Branagh, Tome Bateman, Russell Brand and Letitia Wright.
Death on the Nile Trailer:
Just in time for Christmas will be the release of the much anticipated DC blockbuster Wonder Woman 1984 by Warner Bros. – featuring Gal Gadot, Chris Pine and Kristen Wiig. The film was originally announced for release on 13 December 2019, before being moved up to 1 November 2019, then to 5 June 5 2020, followed by 2 October 2020, and now 24 December 2020. Fingers crossed we won't have to wait any longer than December 2020.
Wonder Woman 1984 Trailer:
Please Note: release dates for the movies listed above are subject to change.
December being the month of festivity, is something we're sure most are looking forward to. There's no denying that come December, the pandemic might still be headlining the news. However, cinema has always been known for providing audiences with a space for escapism – a place to immerse themselves in a story, for a couple of hours, watching feel-good content. Given the hardships we have experienced this year, in some way or another, December holds optimism among cinemagoers, given the powerful movie line-up, and presents opportunities for advertisers to target audiences who are keen to flex their spending power during the festive month leading up to the new year.
Stay tuned for the latest updates on movies releasing on the BIG screen over the next couple of months. We've also recently launched an attractive 'guaranteed views' package. Contact us if interested in starting a discussion on cinema advertising opportunities alongside any of the above mentioned blockbusters in the month of December 2020.
Sources: Box office Mojo, NDTV, IMDb and YouTube