Movies to Watch this Halloween
October 19, 2020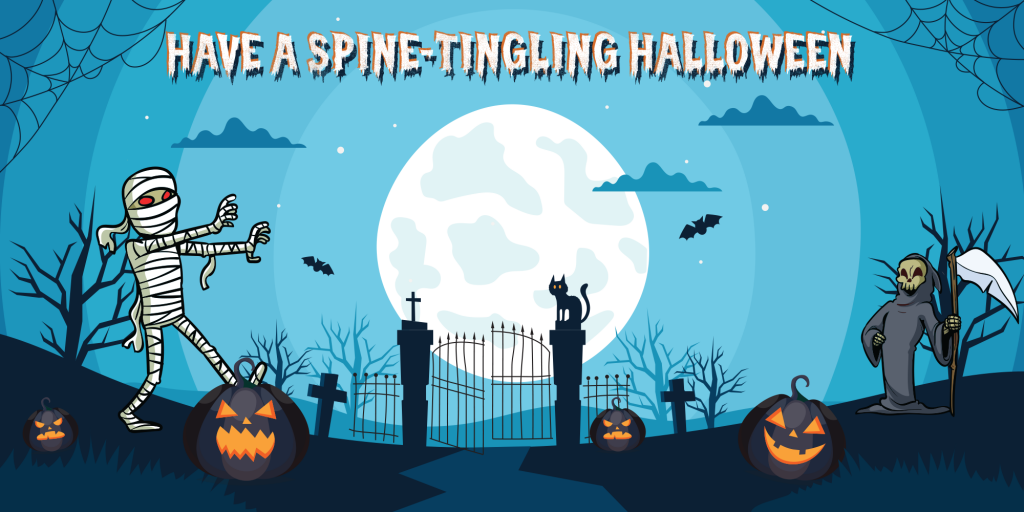 With Halloween just around the corner, it's time to indulge in activities such as carving pumpkins, decorating the house, buying a spook-tastic costume, applying ghoulish make-up and either heading out trick-or-treating, or enjoying the spooky day with friends and family.
But what does this day hold for those who have outgrown trick-or-treating? A Movie of course!
Nothing compares to watching a scary movie on this spooky day, for an altogether more bizarre indulgence. COVID-19 may have dominated us throughout most of 2020, but old traditions die hard, and there's no better way than watching a movie to distract your mind from the stresses relating to the pandemic, and transport you to a world where the horrifying stuff isn't actually real.
We at Motivate Val Morgan have got your spooky movie night covered with a roundup of some 'all-time favorite' monstrous, scary, truly freaky and the not so creepy magical kids flicks to get you in the spirit of Halloween this year.
The Witches:
An adaptation of Roald Dahl's The Witches is dark fantasy comedy film directed by Robert Zemeckis, featuring Anne Hathaway, Octavia Spencer and Stanley Tucci. Set in 1960s Alabama, the film follows an orphaned young boy stumbles across a conference of witches, while staying with his grandmother at a hotel, and gets transformed into a mouse by the Grand High Witch.
The Witches releases in cinemas across the middle East on 29 October 2020.
In addition to The Witches, here are 13 categories of scary movies to watch on-demand, some of which will trigger self-induced nightmares.
1. Monster Movies
One of the oldest forms of horror cinema, monster movies and their dreaded villains come in all shapes. Whether they're aliens, ghouls or demons, monsters can represent a manifestation of our own fears. Such movies are often portrayed in a way wherein humans interfere with nature, ultimately leading to a monster attack.
A Quite Place
Bird Box
2. Deformed Humans
These are the kind of films where the antagonist is a deformed human, often seen wearing a mask following a horrifying accident.
Nightmare on Elm Street
Friday the 13th
3. Inanimate Objects
This horror category has a long history of haunted/ possessed inanimate objects that inspire guffaws instead of screams. Some of them are the work of a ghost, while some are just plain inexplicable. Yet they all have one thing in common: they're kind of baffling.
Annabelle
Poltergeist
4. Vampire
Vampires exist in the folklore of almost every society on earth. Therefore, it's only natural that it'd be a story expressed in nearly every language and thus, films around the world.
Abraham Lincoln: Vampire Hunter
Van Helsing
5. Found Footage
These are horror films which capture events on screen and are typically seen through the camera of the characters involved in real-time. Also usually involves an investigation after a video or audio footage that is found to discover instances of what actually happened.
Paranormal Activity
The Cloverfield Paradox
6. Schlock
Widely known as 'Gore' or 'Splatter' films, these films are light on character and plot and heavy on fake blood and guts. Mostly low on story and high on shock value.
Evil Dead
Saw
7. Supernatural
The widely popular horror category of all times, supernatural occurrences often include ghosts, spirits and demons. Many supernatural horror films have elements of religion relating to themes such as afterlife, the Devil, and demonic possession.
The Conjuring
The Exorcist
8. Curse
Films of this type are often cautionary tales, where a character unleashes a curse unknowingly or by failing to listen to a warning. While non-believers would think these as coincidences or publicity stunts in a movie setup, some of these are just too freaky to ignore.
The Curse
The Grudge
9. Serial Killer
A booming horror category! Serial killer movies are classic horror movies with plenty of incredible, terrifying and mind-boggling murders.
Silence of The Lambs
Malevolence 2
10. Zombie
Who doesn't enjoy the living dead, the ones that are driven by hunger of human flesh, and are nearly impossible to put down permanently?
World War Z
Train to Busan
11. Comedy
Light hearted films with a mix of elements – they are both funny and scary, catering to a wide audience. No wonder these films have long been one of the most popular genres.
Scary Movie
Shaun of the Dead
12. Apocalypse
End of the world movies combine a rush of adrenaline with dread – for the ones that fancy pulse-quickening suspense.
Resident Evil: Apocalypse
Legion
13. Animated
Lastly, if you are bored of the same old horror movies making the rounds every Halloween, animated movies offer something different for everyone to look forward to.
SCOOB!
The Addams Family
Team Motivate Val Morgan WITCHES you a SPINE-TINGLING Halloween!
Sources: Collider, Wikipedia, Premium Beat and ScriptFirm