Cannes Lions Awards – LIVE Briefings
November 29, 2020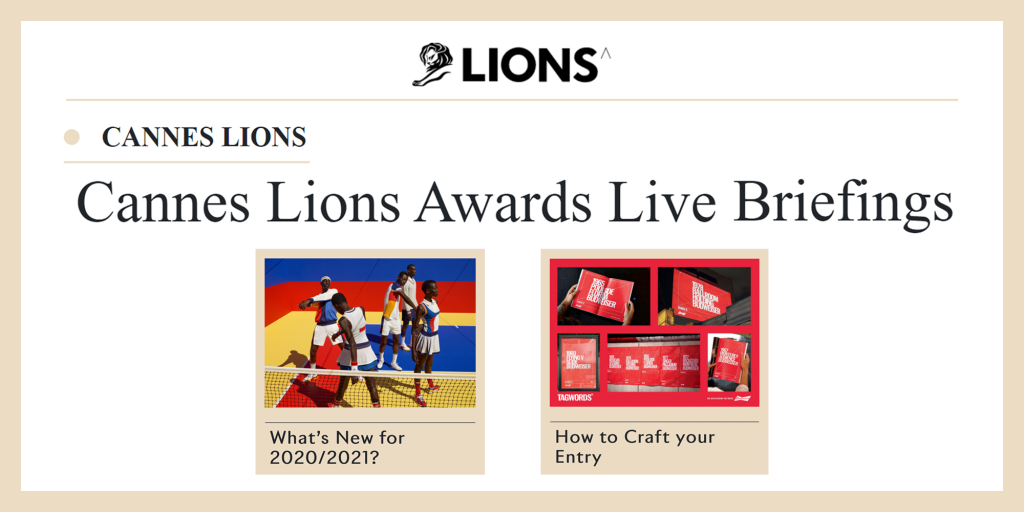 Introducing the Cannes Lions Awards LIVE Briefings!
The Awards that benchmark global creative excellence are now open for entries, earlier than usual this year to give you more time to prepare your work. In June 2021, Cannes Lions juries will judge and award work from both 2020 and 2021.
By entering Cannes Lions, you will have access to one of their Awards Experts, a personal adviser to guide you through the entire entry process and answer any (really: any) of your questions. The talented team has also put together a mini-series of Live Briefings.
Tune in for expert advice and insider tips on how to give your work the best possible chance of success.
The remaining Cannes Lions Awards Live Briefings are as follows:
What's New for 2020/2021?
An introduction to the changes to this year's Awards, including a guide to the eligibility dates for '2020 work' and '2021 work'. We'll also take a closer look at the debut of the Creative Business Transformation Lions, the evolved Creative Effectiveness Lions and the refreshed PR and Film Craft Lions.
TUESDAY 1 DECEMBER
8:30AM GMT/4:30PM SGT AND 5PM GMT/12PM EST
How to Craft your Entry
Expert advice on how to make sure that the magic of your idea is as clear as possible for the Jury. Including advice on what to consider before producing your case film and how to approach the written submission, with guidance from past Jurors and winners.
THURSDAY 3 DECEMBER
8:30AM GMT/4:30PM SGT AND 5PM GMT/12PM EST
Click here for more information on the Cannes Lions Live Briefings and to sign up for a place.
Motivate Media Group and Motivate Val Morgan are the official representatives of the Cannes Lions International Festival of Creativity in the UAE.
Source: Cannes Lions