Welcome 2021 With the Feel-good Factor of Animation!
January 17, 2021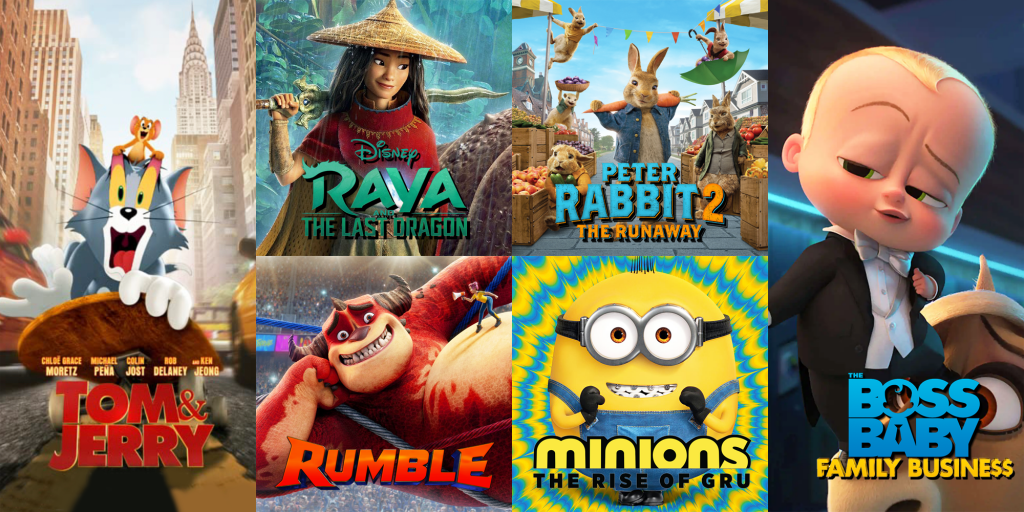 A comprehensive list of animation movies releasing in 2021.
As the idea of a bright new year dawns upon us, cinema offers you a refreshing line-up of blockbusters!
One can't predict as to how much more damage COVID-19 is planning to wreak on the release schedule, nevertheless, from action movies, to thrillers and rom-coms, there's much entertainment ahead on the BIG Screen in 2021.
What's interesting though is the array of animation movies set to release now, more than ever before.
Here's a comprehensive list of animation movies set to release this year:
Tom & Jerry
Warner Bros. is bringing the beloved franchise back to the big screen (for the first time in almost three decades) in hybrid format.
Releasing in cinemas – 25 February
Raya and The Last Dragon
Walt Disney Animation Studios has committed itself to a number of original films after releasing back-to-back sequels, and first up is this fantasy epic set in the magical realm of Kumandra, a land inhabited by an ancient civilization — and dragons — which draws on the cultures of Southeast Asia.
Releasing in cinemas – 4 March
Peter Rabbit 2: The Runaway
The lovable rogue is back! Will Gluck directs this Peter Rabbit sequel based on the characters created by Beatrix Potter. The cast includes Rose Byrne, Elizabeth Debicki, Margot Robbie, and James Corden in the lead role.
Releasing in cinemas – 11 March
Rumble
Paramount's latest has gone through multiple titles, directors, and release dates, but the premise has stayed the same throughout. Based on Rob Harrell's graphic novel Monster on a Hill, the film is set in a world where humans train monsters to fight in professional wrestling tournaments.
Releasing in cinemas – 10 June
Minions 2: The Rise of Gru
The Rise of Gru is both a prequel and sequel within the highest-grossing animation franchise of all time. Narrative chronology places it between 2015's Minions and the Despicable Me trilogy (2010, 2013, 2017); if Minions revealed where the gibbering yellow henchmen came from, this film provides an origin story for the villain who becomes their commander.
Releasing in cinemas – 3 July
Boss Baby: Family Business
McGrath returns to direct his sixth feature at Dreamworks. Family Business is a sequel to The Boss Baby, the 2017 comedy that became a surprise box-office smash and spawned a franchise.
Releasing in cinemas – 16 September
Other animated movies that are scheduled to release in 2021 include:
Kung Fu Mulan (January), Maya The Bee 3: The Golden Orb (February), Dragon Rider (February), Even Mice Belong in Heaven (April), Bob's Burgers (April), Ron's Gone Wrong (April), Troll: The Tale of Tail (May), Vivo (June), Rumble (June), Luca (June), Space Jam: A New Legacy (July) Hotel Transylvania 4 (August), Paw Patrol (August), My Little Pony Movie (September), The Bad Guys (September), The Addams Family 2 (October), Clifford: The Big Red Dog (November), Encanto (November) and Sing 2 (December).
Please Note: release months/dates are subject to change.
Despite the pandemic roadblocks and setbacks, the animated movie industry is determined to continue entertaining us in 2021 .. in a year we are bound to feel the ripple effects of 2020, and will need it the most.
Advertisers, here's your chance to advertise alongside an array of wholesome family entertainment packed with fun for all age groups.
Contact us to advertise your brand alongside these movies.
Sources: IMDB, Wikipedia, Cartoon Brew, Lopper and Collider
Related Article: