VOX Cinemas Launches at The Esplanade in Riyadh
August 23, 2021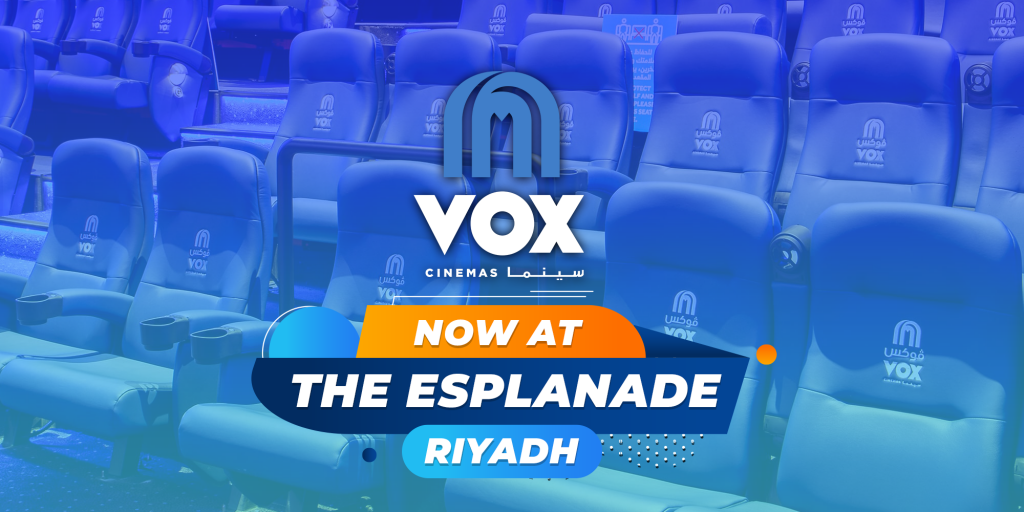 VOX Cinemas The Esplanade is integrated with Yalla! Bowling and offers a variety of high-end cinematic experiences including GOLD, MAX, and KIDS.
VOX Cinemas celebrated the opening of its latest integrated cinema experience with the launch of VOX Cinemas The Esplanade in Riyadh, Saudi Arabia on 19 August 2021. The opening marks the third fully launched project between VOX Cinemas and Unified Real Estate Development Company as part of a SAR 500 million multi-project investment commitment to develop seven integrated leisure, entertainment, and cinemas experiences across the Kingdom.
The 8-screen multiplex with 868 seats is integrated with Yalla! Bowling, a selection of games including billiard tables and air hockey as well as F&B to complement the cinematic experience. The new cinema endorses signature VOX concepts namely MAX, KIDS and GOLD.

Mohamed Al Hashemi, Country Head, Kingdom of Saudi Arabia, Majid Al Futtaim Leisure, Entertainment, Cinemas and Lifestyle added, "Our expansion in Saudi Arabia continues, and we're excited to bring more entertainment experiences to communities in Saudi Arabia with the opening of VOX Cinemas The Esplanade. This latest offering is the perfect location to reach a wider audience of movie lovers and anyone else seeking a memorable experience. We are proud to collaborate with Unified Real Estate Development Company once again as together we make a deeper contribution to the Kingdom's Quality of Life program and Vision 2030. We are committed to continuously investing in our expansion in the Kingdom, especially with the growing demand for world-class, immersive cinematic experiences. We look forward to welcoming people across the community and creating even more great moments with our guests."
Prince Bandar bin Khalid F. Al Saud, President of Unified Real Estate Development Company added: "Riyadh continues to grow and evolve as a compelling entertainment option in the region, and we are pleased to be a part of this development alongside Majid Al Futtaim. The VOX Cinemas location at The Esplanade promises a rich variety of entertainment experiences to complement the on-screen action, making it an ideal fit for the discerning visitors of The Esplanade."
In April, VOX Cinemas opened the first ever multiplex in Hail in collaboration with Unified Real Estate Development Company, the largest and fastest-growing outdoor shopping center developer in Saudi Arabia, and together they also have a location at Town Square in Jeddah.
VOX Cinemas presently operates 149 screens across 14 locations in 5 cities of Saudi Arabia.
Motivate Val Morgan congratulates VOX Cinemas on the launch of  The Esplanade, and warmly welcomes this new location to our cinema circuit in Saudi Arabia.
Contact us to advertise your brand on the screens of VOX Cinemas – The Esplanade.
Source: VOX Cinemas (Press Release)