Confirmed Marvel Movies Releasing After Eternals
November 29, 2021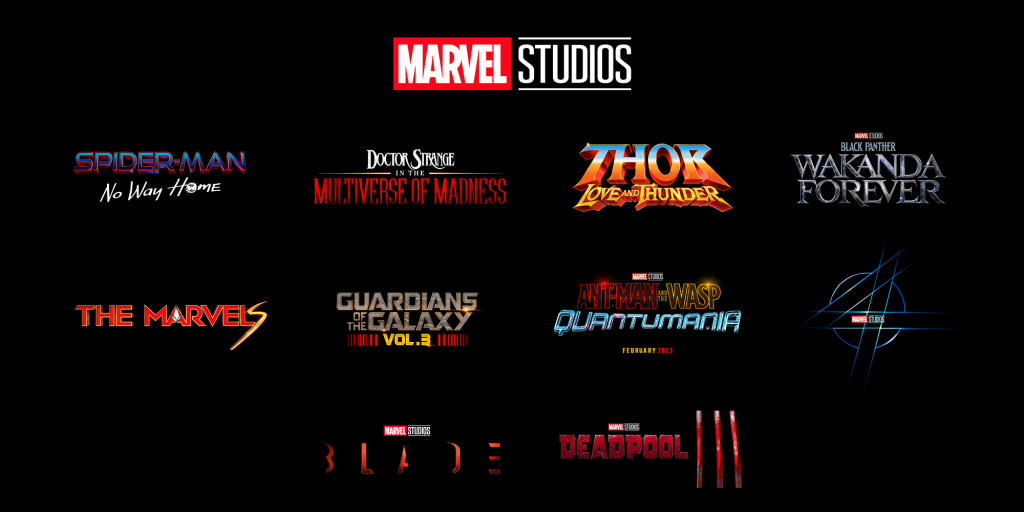 Here's a list of all confirmed Marvel movies, releasing from December 2021 onwards.
Marvel Cinematic Universe was first introduced to audiences in Iron Man (2008) when Nick Fury tells Tony Stark: "Mr. Stark, you've become part of a bigger universe. You just don't know it yet." This was an ambitious attempt of 'transmedia story telling' – bringing the comic book continuity to the BIG Screen. 21 Marvel movies later, Avengers: Endgame marked the end of Marvel's overarching storyline as we know it, but it is not the end of the Marvel Cinematic Universe.
Following a pandemic-mandated delay of Marvel's Phase 4 slate, the studio debuted three series – WandaVision, The Falcon and the Winter Soldier and Loki, and returned to the BIG screen in 2021 with Black Widow, Shang-Chi and the Legend of the 10 Rings and Eternals, revealing plans for its post-Infinity Saga future.
In this feature, we provide a summary of all confirmed Marvel movies that are releasing over the coming years, including Phase 4 and 5 , as well as the those that are currently in development.
Spider-Man: No Way Home – December 16, 2021
Arguably the most highly anticipated MCU movie since Avengers: Endgame. Tom Holland's third solo outing as the web-slinging New Yorker is slated to hit theaters a little over a month after the debut of Eternals. With Spider-Man's identity now revealed at the end of Far From Home, Peter asks Doctor Strange for help. When a spell goes wrong, dangerous foes from other worlds start to appear, forcing Peter to discover what it truly means to be Spider-Man. Hype has reached fever pitch since the release of the first trailer, as rumors ran rampant about the multiverse adventure set off by Doctor Strange. Some of those rumors have been confirmed in the second trailer, such as the appearance of Doc Ock, Electro, Lizard and Sand Man, while the others remain unconfirmed, though it seems all but guaranteed that both Maguire and Andrew Garfield will be reappearing as their own versions of Peter Parker.
Doctor Strange In The Multiverse Of Madness – May 5, 2022
After taking over as Peter Parker's mentor in Spider-Man: No Way Home, Doctor Strange will get his second solo outing in 2022. Like many of the MCU's upcoming films, he will be joined by a slew of Marvel heroes both familiar and new. Elizabeth Olsen will be returning as Scarlet Witch, Benedict Wong, Chiwetel Ejiofor, and Rachel McAdams are also set to return while Xochitl Gomez will make her MCU debut as the dimension-hopping hero America Chavez. It's also set to follow through on the promise of exploring the multiverse, something the MCU has yet to do in full force despite touching on it in shows like Loki and the upcoming Spider-Man: No Way Home.
Thor: Love & Thunder – July 7, 2022
Chris Hemsworth is breaking the trilogy mold of Marvel movies by starring in his fourth solo outing as the God of Thunder. After wowing audiences with his hilarious and irreverent Thor: Ragnarok, Taika Waititi is back in the director's chair for another Thor adventure. At the end of Avengers: Endgame, Thor was last seen leaving earth with the Guardians of the Galaxy, as they set out to search for Gamora. The Guardians are also set to make an appearance in Love and Thunder. Jane Foster will also be back as Mighty Thor, as she prepares to wield Mjolnir. Also back are Jamie Alexander's Lady Sif and Tessa Thompson's Valkyrie. They'll all have to face off against Christian Bale's Gorr the God Butcher. Russell Crowe will also be playing Zeus, introducing Olympian gods to the fold and combining the cosmic adventures of Thor with mythological storytelling.
Black Panther: Wakanda Forever – November 10, 2022
The highly anticipated sequel to Black Panther released in 2018 (the only Marvel movie to be nominated for a Best Picture Oscar) has faced a long road to screens. After the tragic passing of T'Challa actor Chadwick Boseman, Wakanda Forever was retooled to tell a more expansive story about Wakanda while still honoring Boseman's legacy as the iconic Black Panther. While the Black Panther sequel will focus on the various characters introduced in the first film, Wakanda Forever will also introduce Ironheart, played by Dominique Thorne. Wakanda Forever is sure to be one of the most emotional Marvel movies to date as it deals with T'Challa's absence and how the African nation will be shaped by his legacy.
The Marvels – February 16, 2023
The sequel to 2019's Captain Marvel will kick off the MCU's 2023 slate. Brie Larson's Carol Danvers will be joined by Teyonah Parris' Monica Rambeau, who has a bone or two to pick with the cosmic hero. Iman Vellani will also appear as Ms. Marvel after her debut in a solo Disney+ show in 2022. As is common for Marvel movies this far out, very little is known about the plot, but the events of The Marvels are seemingly already being set up in the MCU.
Guardians Of The Galaxy Vol. 3 – May 4, 2023
James Gunn's Guardians of the Galaxy Vol. 3 is the only MCU movie not to be delayed recently and that's because Gunn has been ready to direct the film for several years. In addition to being the last outing of the original members of the team, Guardians 3 will also introduce Adam Warlock, who is set to be played by Will Poulter. Gunn has also hinted dozens of other secret roles have been cast for the film, indicating a massive send-off for some of the most beloved MCU characters. Guardians of the Galaxy Vol. 3 will also expand the cosmic side of the MCU further after both Thor: Love and Thunder and The Marvels spend some time away from earth.
Ant-Man & The Wasp: Quantumania – July 27, 2023
While the Ant-Man films have always been more tangentially related to the MCU at large, that all changed when Paul Rudd's plucky Scott Lang played a big role in Avengers: Endgame. The third Ant-Man film will go even further than that. Not only does Cassie Lang, Scott's daughter, seem primed to become a hero in her own right, but the Lang family is set to face off against who many presume to be the MCU's next Thanos. Jonathan Majors' Kang the Conqueror was introduced in Loki as He Who Remains, but the foreboding overlord of the citadel beyond the end of time warned of dangerous variants of himself who would be unleashed if the Sacred Timeline was destroyed. Now that that's happened, it looks like Scott, Hope van Dyne, Janet van Dyne, and Hank Pym are set to face off against one of the MCU's most dangerous villains, making Ant-Man & the Wasp: Quantumania an integral installment in Marvel's wider plans.
Fantastic 4 – 2023
Marvel's First Family will finally make their MCU debut – it's just a matter of when. Now that Disney owns 20th Century Fox, the rights to the Fantastic Four are finally in the hands of Marvel Studios and Kevin Feige announced plans for a movie about the superhero team in December 2020. Spider-Man: No Way Home director Jon Watts will also helm Fantastic Four, so as soon as Peter Parker's third solo film releases, Watts should be able to begin work on the highly anticipated film. While Marvel has yet to set a date of release for the film, it seems safe to assume it could come in late 2023 or early 2024.
Blade – 2023
Two-time Academy Award winner Mahershala Ali will take on the role of vampire hunter Blade as the MCU looks to continue exploring the scarier side of Marvel lore with characters like Moon Knight and the upcoming Disney+ Halloween special that will reportedly include Werewolf by Night.  Blade will represent a shift in the MCU as a whole and there's no one more perfect than Ali to take on the role. With a director and writer both attached to the film, Blade will be one of the Marvel movies releasing in 2023.
Deadpool 3 – 2024
The famous "Merc with a Mouth," Ryan Reynolds' Deadpool is officially making his way to the MCU in Marvel's first R-rated feature. Bob's Burgers writers Wendy Molyneux and Lizzie Molyneux-Logelin are attached to pen the screenplay with filming beginning sometime in 2022. Right now, Deadpool is the only character who will remain the same in crossing over from 20th Century Fox to Disney, and there's no better character to do so than Wade Wilson. With filming commencing next year, it seems likely that Deadpool 3 will hit theaters sometime in early 2024.
Captain America 4 – TBA
Anthony Mackie's Sam Wilson is officially the MCU's new Captain America after he wrestled with taking on the mantle in Disney+ series The Falcon and the Winter Soldier. Little is known about Captain America 4, including whether or not Sebastian Stan will appear after Bucky Barnes and Sam Wilson teamed up in their show. Still, it seems safe to assume that Stan could make a comeback alongside Emily van Camp's Sharon Carter, who was revealed as the Marvel villain Power Broker at the end of that series. With no writer or director attached to Captain America 4, it could be a while before the movie comes out, but Kevin Feige has said he does have a release date in mind.
X-Men – TBA
 Like Deadpool and the Fantastic Four, X-Men mutants are officially being introduced to the MCU. Of all the upcoming Marvel movies, the one centered around mutants may be the most mysterious. Marvel will want to differentiate itself from 20th Century Fox's long-running X-Men franchise and doing so could mean holding back on introducing fan-favorite characters like Wolverine, Storm, and Cyclops. However, it happens, it's sure to be another landmark event for the MCU following Eternals, but it will be quite some time before they finally appear. That won't stop Marvel Studios from slyly laying the groundwork for mutants' eventual appearance, though.
Source: Screenrant
Related Articles