What's Buzzin Behind The Screen – Industry News – January 2022
January 10, 2022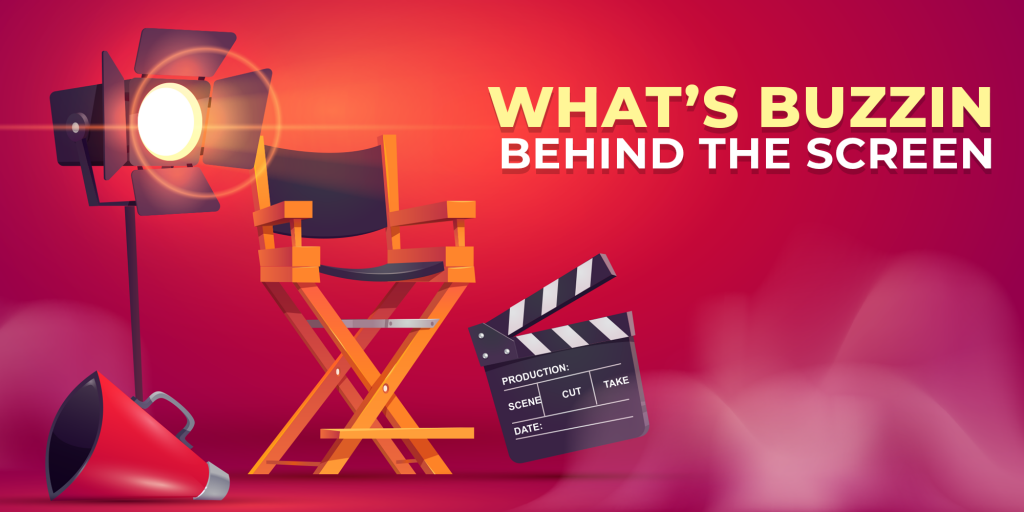 In this edition of 'What's Buzzin Behind the Screen', we bring you the latest industry news – everything you need to know about what's happening behind the scenes in Hollywood. From the latest trailer releases to box office collections and movie announcements, here's the January 2022 update:
Given the cinema closures and audience worries during the pandemic, there have been some successful movies in 2021. But it took the MCU to deliver a true blockbuster, as Spider-Man: No Way Home crossed the $1 billion mark globally just 12 days after it was released. As of now, the movie is at $1.05 billion, making it the third-fastest film to reach that mark, after Avengers: Infinity War and the top title holder Avengers: Endgame.
For the second year in a row, China ended 2021 as the world's largest theatrical film market. Total movie ticket revenue in the country clocked in at $7.3 billion (RMB 47.3 billion, assuming an average annual exchange rate of RMB 6.45 to $1), more than double last year's total and down just 26 percent from a pre-pandemic high of $9.2 billion (RMB 64.3 billion) in 2019, according to data from regional box office tracker Artisan Gateway.
Josh Hartnett is the newest addition to Christopher Nolan's Oppenheimer, despite already including Cillian Murphy, Emily Blunt, Matt Damon, Robert Downey Jr., Florence Pugh, and Rami Malek. The movie is set in the backdrop of WWII, and portrays the life of scientist J. Robert Oppenheimer and his role in developing the atomic bomb.
Actors today are increasingly interested in portraying Hollywood luminaries of the golden age. Both Jamie Bell and Tom Holland have been linked with Fred Astaire in the last couple of years and now Chris Evans is rumored to be playing Gene Kelly in a new movie. The movie will revolve around 12-year-old boy working at the MGM lot in 1952 who develops an imaginary friendship with legendary movie star Kelly while he works on his next film.
Taika Waititi is directing an adaptation of Alejandro Jodorowsky and Mœbius' graphic novel The Incal – an epic space opera, which follows P.I. John Difool who stumbles upon a mystical artifact which forces him on a journey to save the universe. As for Waititi, his next project to arrive in theaters will be Thor: Love and Thunder, and he's also working on a Star Wars movie.
With Encanto out in the world, Disney has now announced its next big animation project –Strange World. The movie will tell the story of an uncharted and treacherous land where fantastical creatures await the legendary Clades, a family of explorers whose differences threaten to topple their latest — and by far — most crucial mission. A November 2022 release date has been set for the movie directed by Don Hall.
Dave Bautista, who had a great year in 2021 with Dune and Army Of The Dead, now plans to add another respected director to his impressive list of collaborators as he has signed on to direct M Night Shyamalan's next film, Knock At The Cabin. The filmmaker's follow-up to Old is, naturally, a complete mystery so far, with Shyamalan merely teasing the title. Bautista is also involved in Rian Johnson's Knives Out 2 and is currently working with James Gunn on Guardians Of The Galaxy Vol 3.
The reuniting of Patty Jenkins and Gal Gadot from Wonder Woman will have to stand in line. Jenkins has stepped down as director of Cleopatra, a chronological thriller starring Gadot as Egypt's renowned ruler. The director of the Marvel superhit The Falcon and the Winter Soldier, namely, Kari Skogland will now be directing the movie. However, Patty Jenkins will not leave the filming completely. She'll continue to produce Cleopatra as she concentrates on her following two films, Warner Bros.' Wonder Woman 3 as well as Disney and Lucasfilm's Star Wars: Rogue Squadron.
Stay tuned for the latest industry news in our February 2022 edition.
Source: The Hollywood Reporter, Empire Online
Related Article :
What's Buzzin Behind The Screen – Industry News – October 2021