Cinépolis Cinemas Launches Al Hokair Time in Jizan, Saudi Arabia
April 4, 2022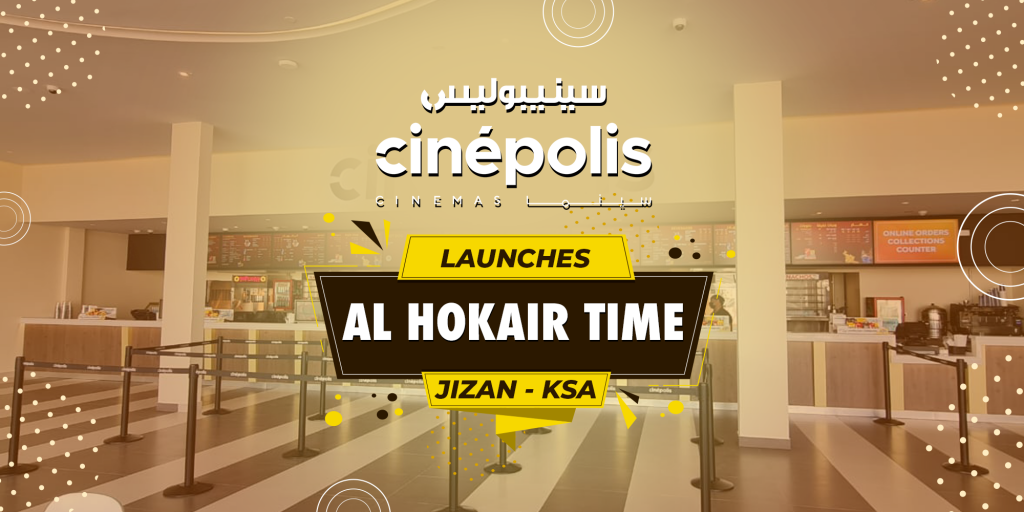 Cinépolis Cinemas – Al Hokair Time in Jizan is the third location by the exhibitor in the kingdom of Saudi Arabia.
Cinépolis Cinemas opened its third location in KSA – Al Hokair Time, in Jizan on 7 March 2022.
The 8-screen cinema includes a Macro XE auditorium – triple the size of an ordinary cinema that comes complete with laser technology and Dolby Atmos surround sound to create a powerful audio experience, and Junior auditorium which features a colourful jungle gym – complete with slide and ball pit, as well as fun bean-bag seating.
Cinépolis Cinemas is globally known for its legendary popcorn, and in the KSA, they have elevated their F&B offering by introducing a full-fledged menu ranging from the traditional bites such as popcorn chicken, to local favorites such as dynamite shrimp.

Located on the ground floor of the popular Al Shati strip mall, Cinépolis – Al Hokair Time offers patron convenient and direct access from the parking lot to the cinema.
Alejandro Aguilera, CEO of Cinépolis Cinemas says: "As a brand that is present in over 18 countries, our goal was to bring our global expertise to the Saudi market. We are introducing a new type of cinema that focuses on service and customer experience. Simply put, Cinépolis Cinemas is a cinema for everyone."
Cinépolis Cinemas presently operates 23 screens at 3 locations across 3 cities in Saudi Arabia.
Contact us to advertise your brand across the Cinépolis cinema circuit.
Source: Cinépolis press release.
Related Articles: 
Cinépolis Cinemas Opens the First Luxury Cinema in Muscat
Motivate Val Morgan Welcomes Cinépolis Cinemas to its Circuit