WARC | Global Advertising Trends | A Focus on Cinema
Cinema advertising growth is outpacing all other traditional media, as Netflix's rise shows no notable impact
The global cinema advertising market is expected to be worth $4.6bn this year, representing a 6.8% rise from 2018. This is ahead of the all media growth forecast by WARC, the international marketing intelligence service, of 4.6% for 2019 (to $624.9bn), and places cinema as the second-fastest growing ad medium this year, behind internet as a whole.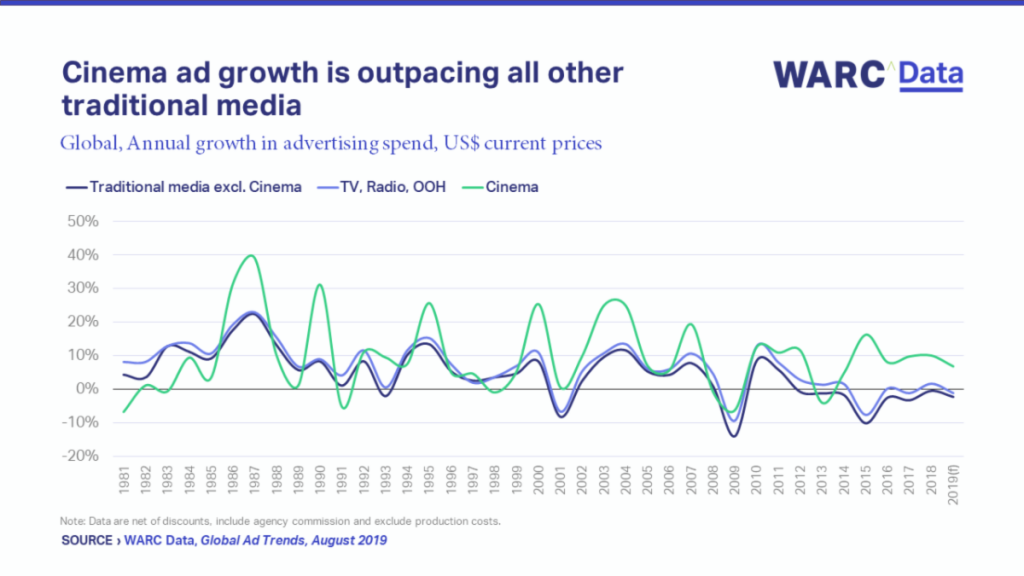 Cinema's share of global adspend is holding steady

While small, cinema's 0.7% share of global adspend is expected to hold steady in 2019, making it the only medium other than internet not to lose share. Figures from WARC's Adspend Database show that cinema's share of global adspend has dipped only twice since 1980 (1994 and 2013) and growth in cinema ad investment has generally tracked ahead of other traditional media since 1981, and consistently so since 2014.
In Europe, advertisers spend 1.6 times more on cinema per admission than in the US. The UK leads the way, with spend per admission rising from £0.18 in 1980 to £1.43 last year, when 177m admissions were recorded – the highest on record. This despite 46% of UK consumers stating that Netflix is their first choice for watching movies, according to GlobalWebIndex.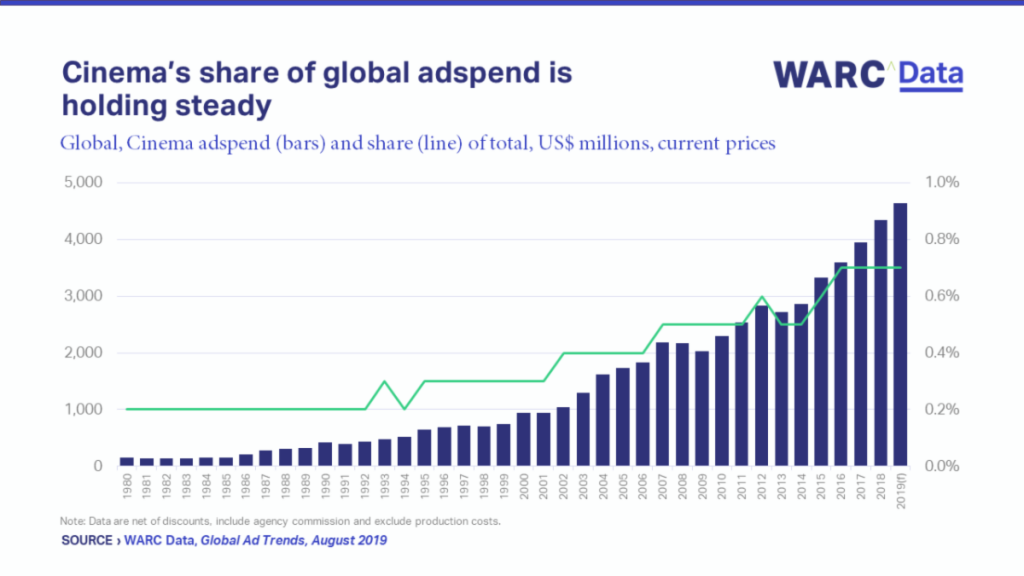 China is driving global growth, US brands are under-investing

China is the largest cinema ad market globally, with RMB11.9bn (US$1.8bn) expected to be spent this year. This equates to a 47.3% share of global cinema adspend when measured in Purchasing Power Parity terms. Further, China has accounted for three quarters (74.9%) of global growth in cinema adspend since 2015, on average, and is expected to contribute 87.4% towards global cinema growth this year. IHS figures suggest that the number of cinema screens in China increased by 9,303 in 2018 alone, or 26 per day on average.
In the US, the world's second-largest cinema market with a projected value of $735m this year, the medium draws less than half a percent (0.4%) of media budgets on average. Seven product categories allocate more than this, most notably food, for which cinema accounts for 1.5% of all media spend. Non-profit (1.0%), telecoms & utilities (0.7%), alcoholic drinks (0.7%), automotive (0.6%), transport & tourism (0.6%) and financial services (0.5%) also record investment levels above the US average.
DCM recommends that brands invest a minimum of 2.7% of budgets in cinema, with some sectors like travel & tourism seeing optimal levels of campaign ROI when allocating as much as 11%.
Attentive audiences ensure cinema ads get noticed in a brand-safe environment, while young audiences have a positive affinity with the medium

Captive audiences viewing high-quality ads in an emotional atmosphere is a draw for advertisers. Research by Ebiquity has found that Cinema outperforms all other media at triggering an emotional response, guaranteeing a safe environment, and getting ads noticed. However, the medium scores lowest in increasing campaign ROI, maximizing campaign reach, and generating short-term sales.
Cinema attracts a younger, more affluent audience who tend to be lighter TV viewers. According to IPA TouchPoints 6, cinema delivers a more positive emotional experience than any other AV channel (84% of time spent at the cinema is associated with positive emotions for 16+ adults, versus 60-65% for live TV, longform VOD and short online video). Kantar Millward Brown has also found that among 'Gen Z' (16-19 year-olds), cinema is the most popular traditional advertising medium with 59% feeling 'positive about it' (compared to 34% for print, 38% for TV and 50% for outdoor).
Consumers now spend more on streaming movies than visiting the cinema, but Netflix has yet to hit the box office

Data from the Motion Picture Association of America (MPAA) show that the amount consumers spend on digital home entertainment, including on online subscriptions such as Netflix, surpassed the amount spent at the cinema globally for the first-time last year ($42.6bn versus $41.1bn). This landmark had already been reached in the US during 2015.
Over the course of an average year, a Netflix subscription will cost a consumer US$113.16. This compares to the $45.55 a North American will spend at the cinema each year on average, with the equivalent figures for the UK and the EU at $25.13 and $11.04 respectively.
In the US, a moviegoer visited the cinema five times on average in 2018, which roughly equates to 263m consumers going every two months. But with almost three-quarters (74%) of Americans now using an online subscription – and 84% using a pay TV channel – to watch a movie at least 2-3 times each month, viewership in the living room may have reached parity with the silver screen.
James McDonald, Managing Editor, WARC Data, and author of the research, says: "The experiential nature of cinema places it in a different bracket to SVOD services, which instead occupy a similar space to traditional TV. This, coupled with the exclusivity of box office hits – particularly franchises – should ensure any downward pressure from SVOD services is minimal in the short term.
"Cinema offers advertisers access to younger, more affluent audiences who have an affinity with the medium. This enables ads to be screened in a brand safe environment where they will be noticed, often in a location that is close to a retail outlet and, by extension, a point of purchase."
Global media analysis – Cinema
0.4% average budget allocated to cinema among major US product verticals
0.7% cinema's share of global adspend, which has held steady since 2016
6.8% forecast rise in cinema adspend this year, making it the second-fastest growing ad medium
35.0% proportion of 16-34 year-olds who believe that cinema ads are 'trustworthy'
59.0% proportion of 'Gen Z' who feel positively towards cinema, ahead of all other media
87.4% share of cinema ad growth to be generated in China this year
Other key media intelligence new on WARC Data
Google voice search is most effective
American influencers command the highest price
Gaming consumption tops nine and a half hours per week
Connected TV and 30-second ads lead on video impressions
Amazon Prime Day reaches new heights in 2019
Global Ad Trends, a monthly report which draws on WARC's dataset of advertising and media intelligence to take a holistic view on current industry developments, is part of WARC Data, a dedicated online service featuring current advertising benchmarks, forecasts, data points and trends in media investment and usage.
Download a sample report of WARC's latest Global Ad Trends report on Cinema.
Source: WARC