And Us Wins Gold at the UAE Young Lions Digital Competition 2023
Jonathan Cruz and Saymon Medeiros from And Us won gold at the UAE Young Lions Digital Competition 2023
The 20th edition of the esteemed UAE Young Lions Digital Competition, hosted by Motivate Media Group and Motivate Val Morgan – the official UAE representatives of the Cannes Lions International Festival of Creativity, witnessed 21 teams across 15 agencies compete on Saturday, 4th March 2023.
The Judging and Awards Ceremony followed on Wednesday, 8th March 2023, with Jonathan Cruz and Saymon Medeiros from And Us winning Gold.
Jonathan Cruz and Saymon Medeiros will receive a full week's delegate pass and an all-expense-paid trip to represent the UAE at the International Young Lions Digital Competition – part of the Cannes Lions International Festival of Creativity, in June 2023.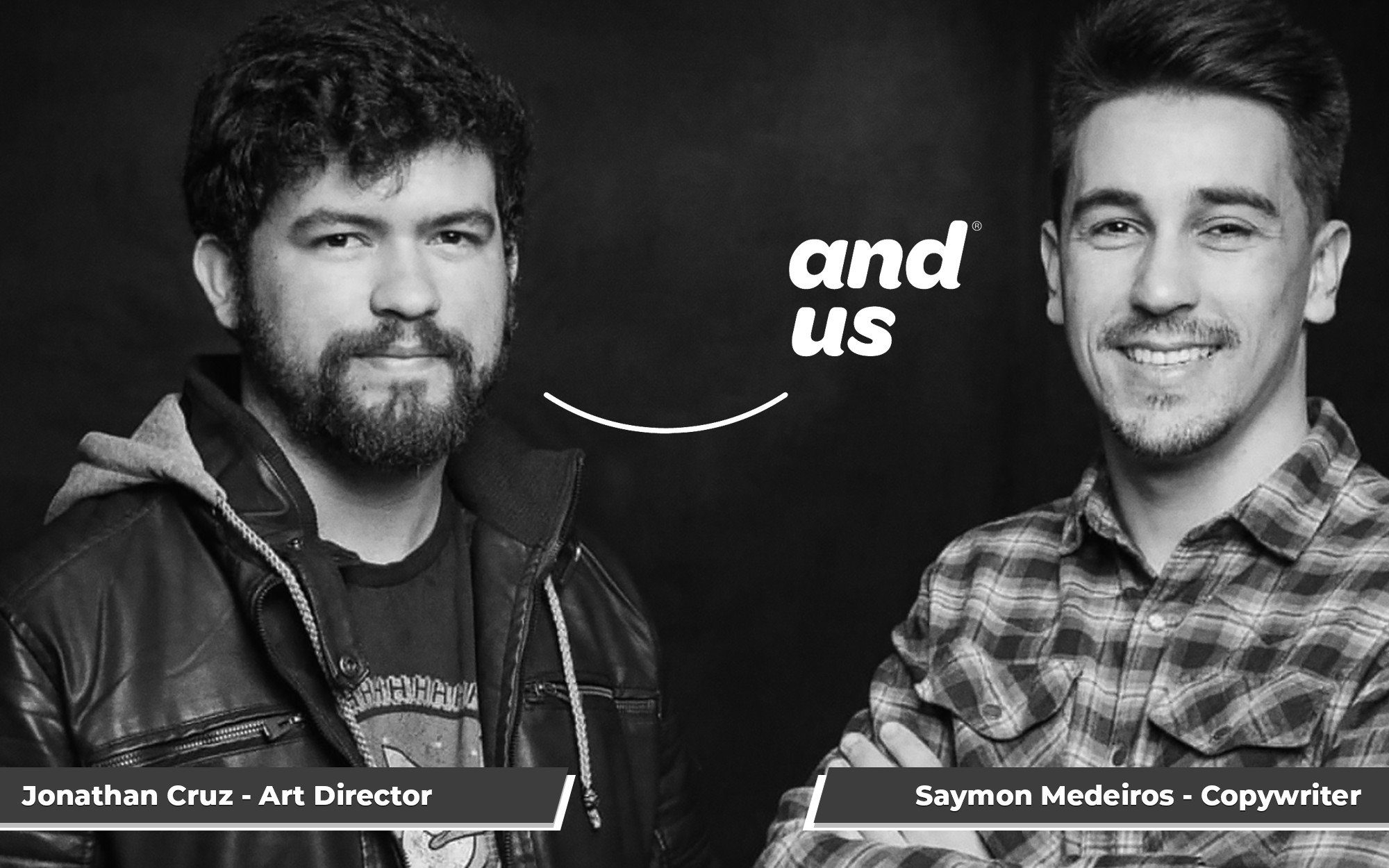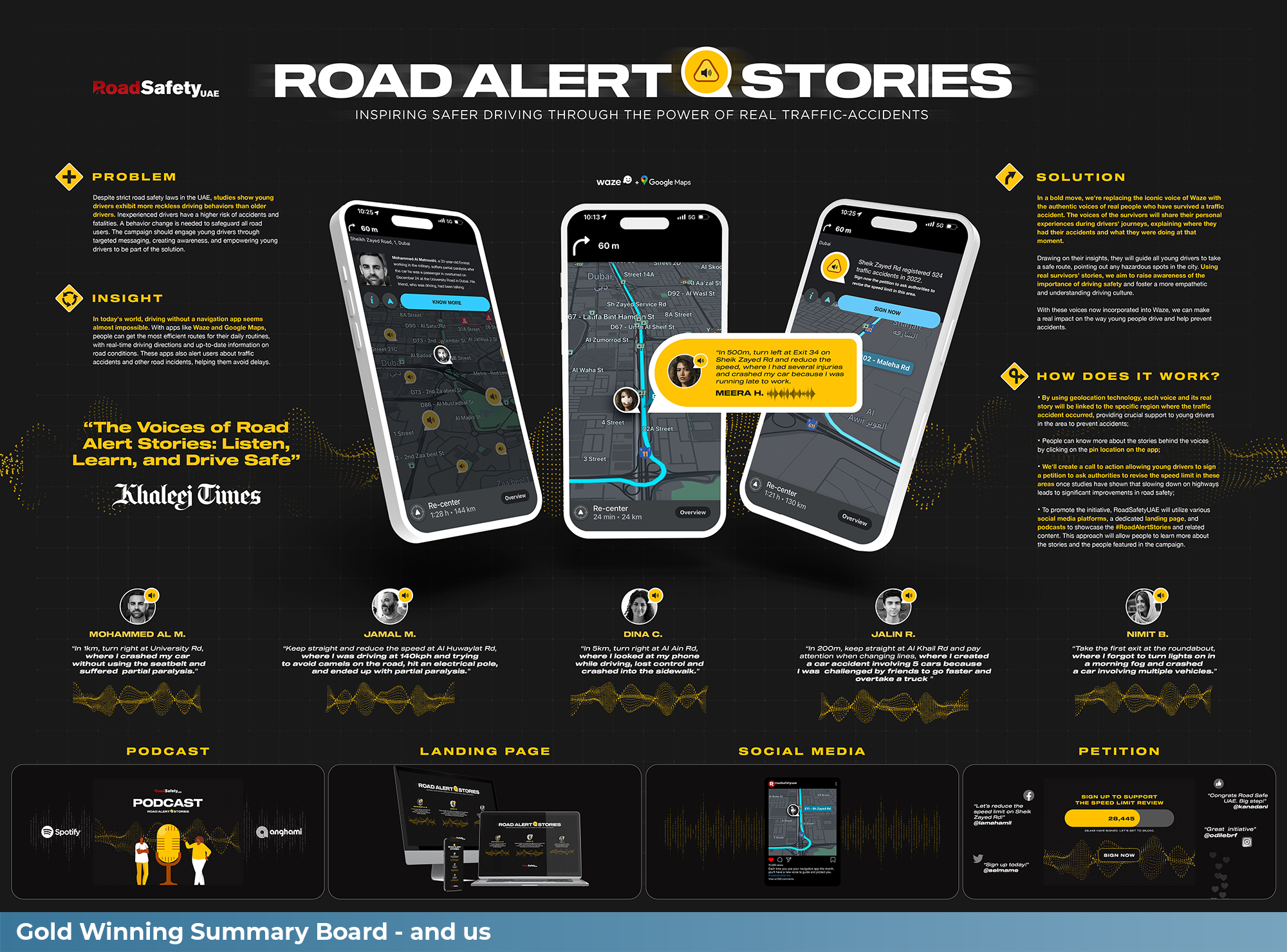 Adila Fataliyeva and Isha Sharma from Science and Sunshine secured Silver, while Haneen Chaarawi and Sebastian Galindo Rubiano from McCann Dubai and Rim Reda and Kezia Shamil from Leo Burnett tied for Bronze.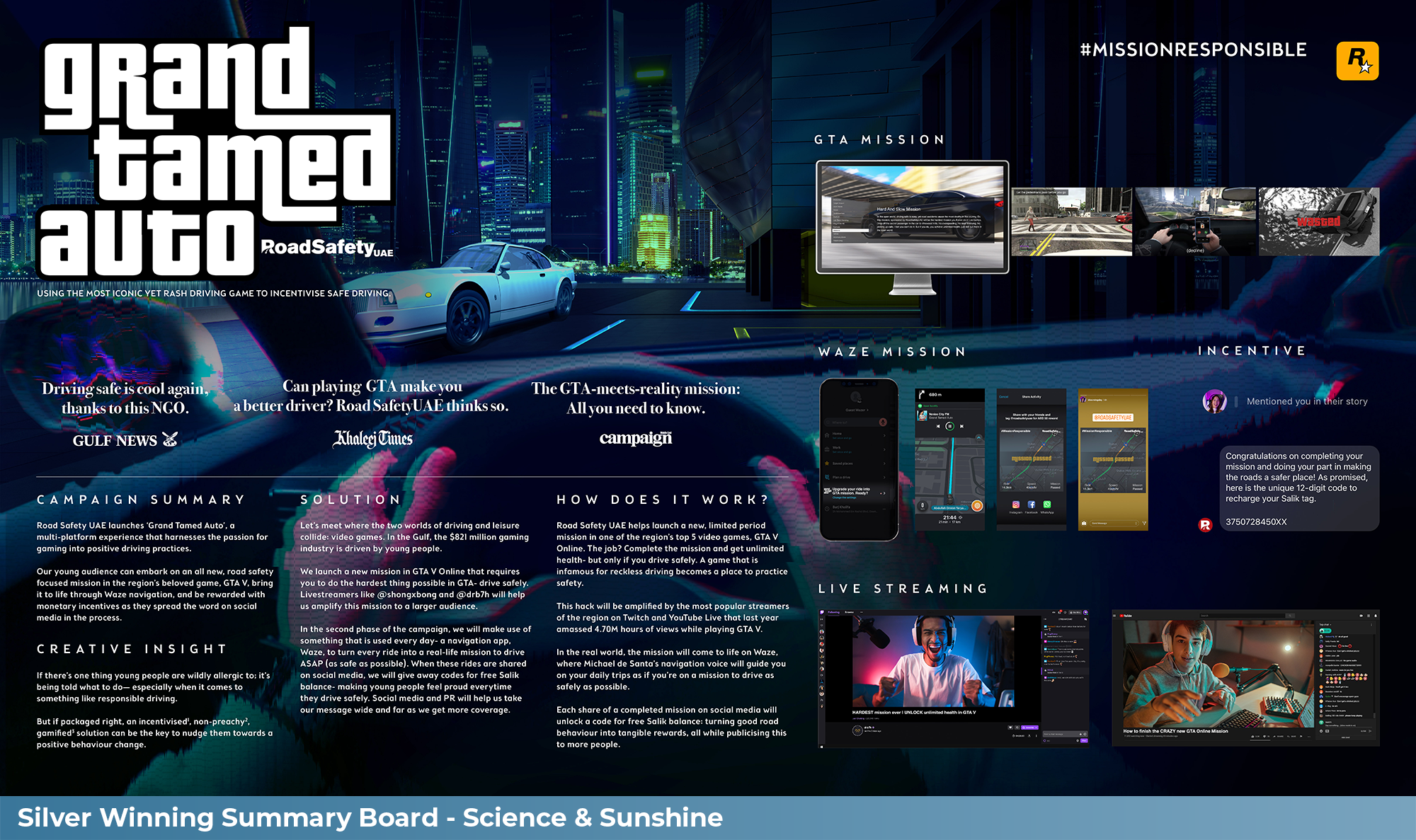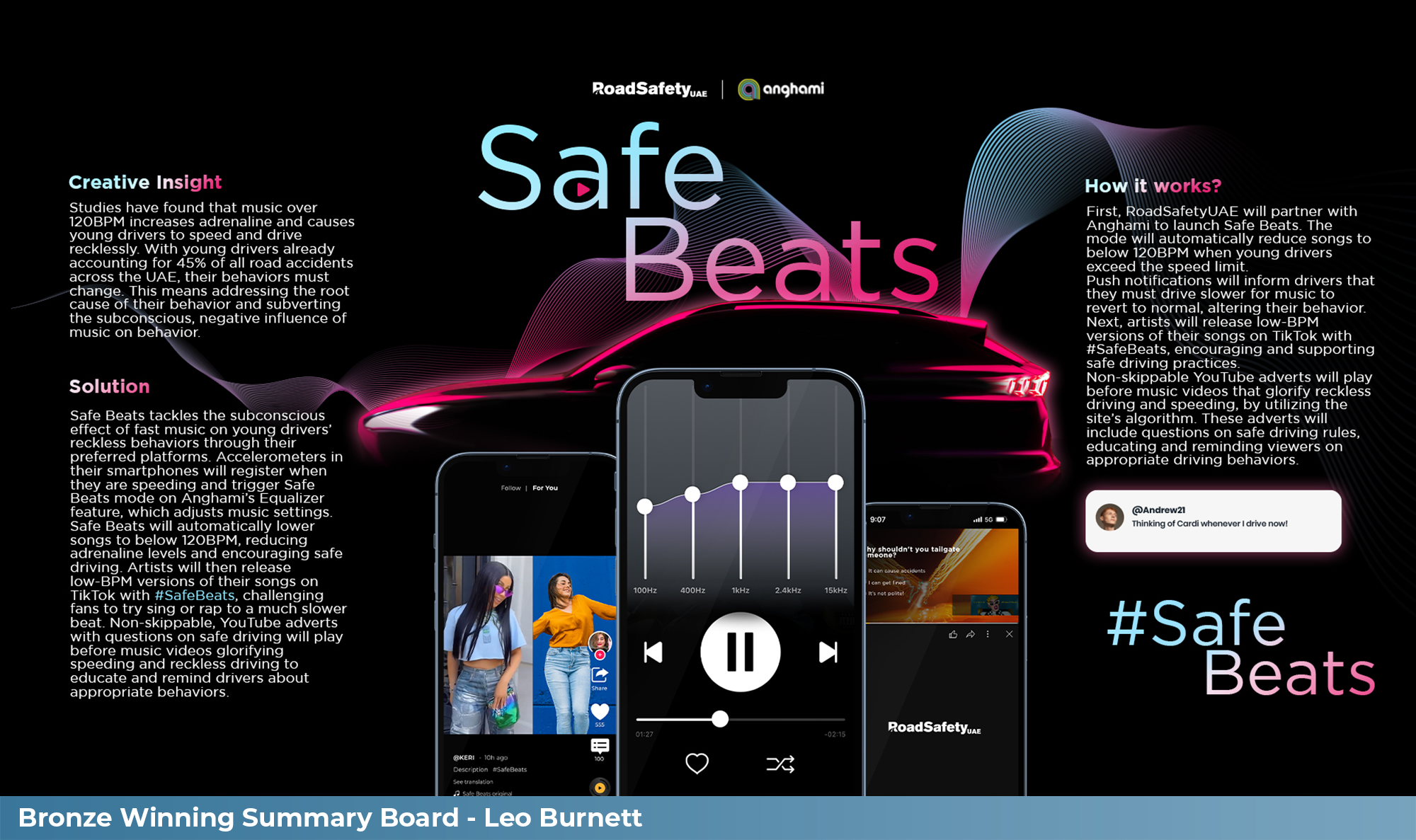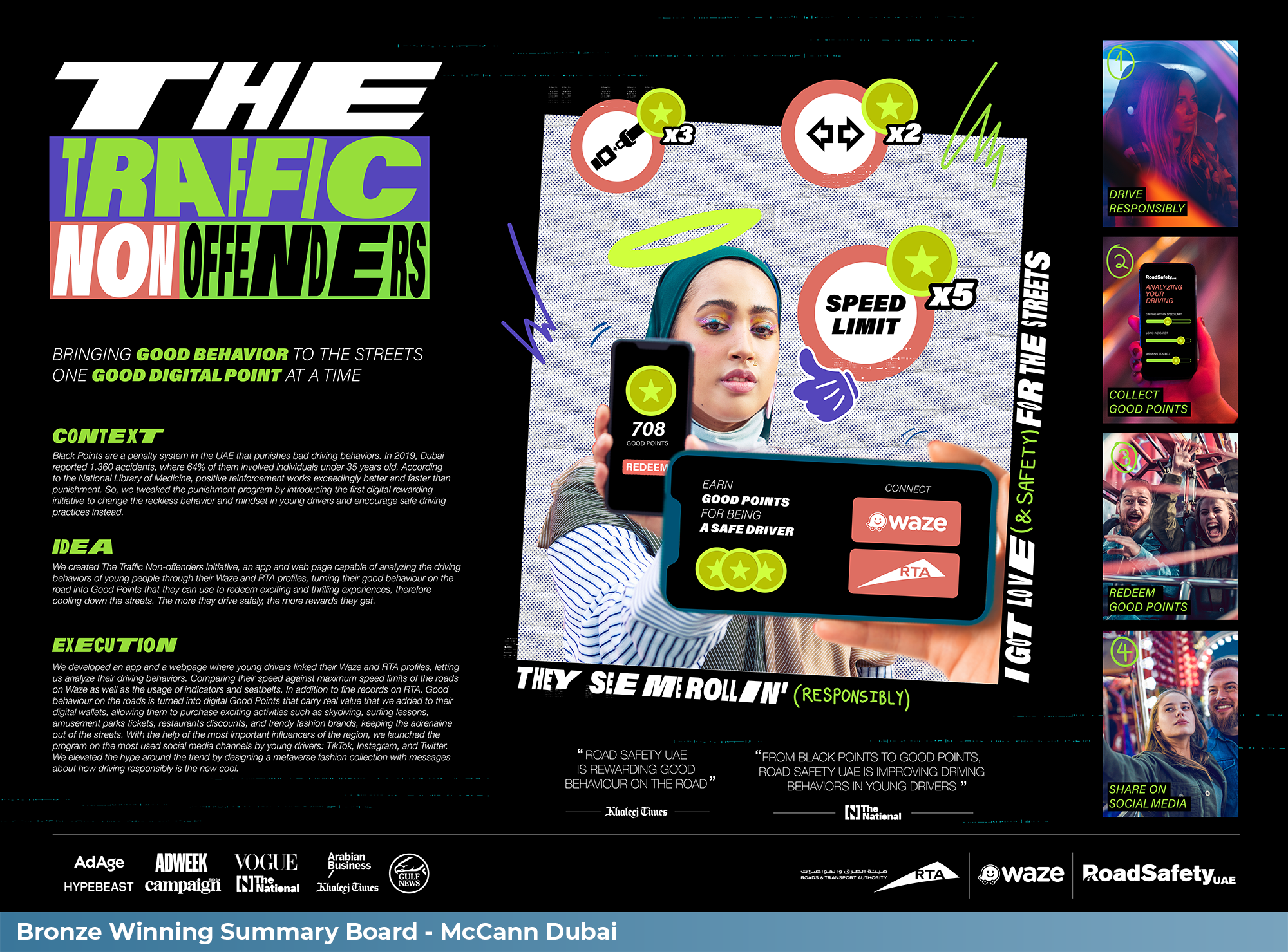 This year's client brief was from RoadSafetyUAE –  an award-winning CSR & engagement program established in 2014, which serves as a communication, improvement, and education platform for all traffic participants in the UAE. Participating teams were challenged to develop a creative and innovative, 'root cause' based, long-lasting and universally true awareness campaign to help change the behaviour and mindset of young drivers in the UAE.
Speaking at the awards ceremony, Thomas Edelmann, Managing Director, RoadSafetyUAE stated: "Young drivers represent about 50% of all road fatalities in the UAE and hence, this segment must be tackled by creating awareness for safe behavior, in a relevant manner. The team members of all twenty-one participating teams precisely represented the target audience, resulting in the creation of a series of genuinely insightful and pertinent campaigns that adhered to the guiding principle of "by them…for them!" As a means of honouring the outstanding creative endeavors, it would be ideal for the agencies behind the twenty-one teams to engage their clients and invite them to adopt the cause of road safety, while also leveraging some of the innovative concepts presented in partnership with RoadSafetyUAE. We want to thank Motivate Val Morgan and Getty Images for organizing and supporting the UAE Young Lions Digital Competition 2023, as well as the team members and the agencies behind them for their commitment and hard work."
The jury panel for this year's competition comprised of Girogia Fattoracci (Leo Burnett), Ingersol Jayakumar (Precise Communications), Andrej Arsenijevic (Commonwealth McCann), Steve De Lange (And Us), Anton Marais (Publicis Middle East), Anshuman Bhattacharya (Havas Middle East), Claudia Canas (FP7 McCann), David Willett (Weber Shandwick), Jordache Fernandes (KEKO Dubai), Raja Rizkallah Nadim (Science & Sunshine), Saleh Elghatit (Serviceplan), Rodrigo Scapolan (TBWA\RAAD), Rita Harbie (Saatchi & Saatchi MEA), and Robert Habib (C2 Communications)
Ian Fairservice, Managing Partner, Motivate Media Group, said: "This year has seen a notable increase in the number of entries, signifying the industry's progress and resilience in the aftermath of the pandemic. I was mightily impressed with the quality of the work produced by the future of the creative industry. As always, it was extremely difficult to narrow down the top submissions but in the end there had to be a winning team – I want to congratulate everyone who put their all into the competition, but especially the winners, Jonathan Cruz and Saymon Medeiros from And Us, who I'm sure will be great ambassadors during this year's Cannes Lions event."
The UAE Young Lions Digital Competition – hosted by Motivate Media Group and Motivate Val Morgan and supported by Getty Images (exclusive image provider of the competition), aims to unveil the brightest creative minds from across the UAE, and is part of the Cannes Lions International Festival of Creativity – the world's biggest celebration of creativity in communications. The 2023 festival will take place between 19-23 June at the Palais des Festivals et des Congrès in Cannes, France.
LIONS Creativity Report Global Rankings 2022
The annual LIONS Creativity Report ranks the most creative businesses and people in the world based on performance at Cannes Lions.
Official rankings are presented alongside insights, analysis, and interviews with Lion-winning creators, uncovering what it takes to produce the highest-ranking work in the world.
The LIONS Creativity Report has been released and is available to everyone for free through LIONS' insights and intelligence platform The Work. Full to the brim with insights and data, the report is the ultimate global benchmark for impactful creativity and ranks the most creative businesses and people in the world, based on performance at Cannes Lions.
Speaking about the report, Simon Cook, CEO, LIONS, said, "It's a celebration and also a tool for future success. The official global creativity rankings provide a definitive benchmark for the industry, accompanied by insights and commentary from our winners and the talented experts who judged the work this year. I would like to congratulate everyone who ranked this year. Together, they set the global benchmark for creativity."
The LIONS Creativity Report presents four Regional Network of the year awards and 11 global awards: Creative Company, Network, Agency, Independent Agency, Creative Brand and Palme d'Or, as well as Health Network, Health Agency, Media Network, Agency by Track, and Independent Agency by Track of the Year. The creative rankings also include the top performing Director, Art Director, Creative Director and Copywriter.
The rankings are compiled using data from Lion-winning and shortlisted work from 2022. PwC is LIONS' Process Integrity Partner and is responsible for independently confirming due process in the calculation and reporting of the Special Awards rankings listed in the LIONS Creativity Report.
In this year's Lions Creativity Report, Jarred Pitts and Maher Dahdouh from Impact BBDO Dubai share seventh rank as 'Copywriter of the Year' – another triumph for the agency, who not only won 8 Lions at this year's Festival, but has also been ranked the No. 1 creative agency in the Middle East and Africa region for the fourth consecutive year.
Also included in the report is analysis and insights from the winning work and lessons on how brands are growing businesses and tackling some of the world's most challenging problems in innovative ways. The themes covered include – Creativity for Growth; Scalable Solutions; Craft with a Conscience; Tech in Service to the Idea; and Invite Everybody. It is an essential companion for the coming creative year for it showcases brilliant work that will help guide creativity, as well as give exclusive insight that will support awards entries for Lions in 2023.
The LIONS Creativity Report is powered by The Work, the LIONS intelligence and insights platform that houses 250,000 pieces of work along with how it was briefed, researched, produced and crafted.
Access the full report, for free, here.
Source: Cannes Lions (Press Release)
Motivate Val Morgan | Private Screening | Thor: Love and Thunder
Motivate Val Morgan in partnership with VOX Cinemas, hosted a private screening of Thor: Love and Thunder at Mall of the Emirates on Thursday 14th July at – the first screening post COVID-19 and for the year 2022.
With an attendance of over 75 invitees – a mix of agency and direct clients (and their family members), the private screening was a massive success and the first of many more ahead for this year!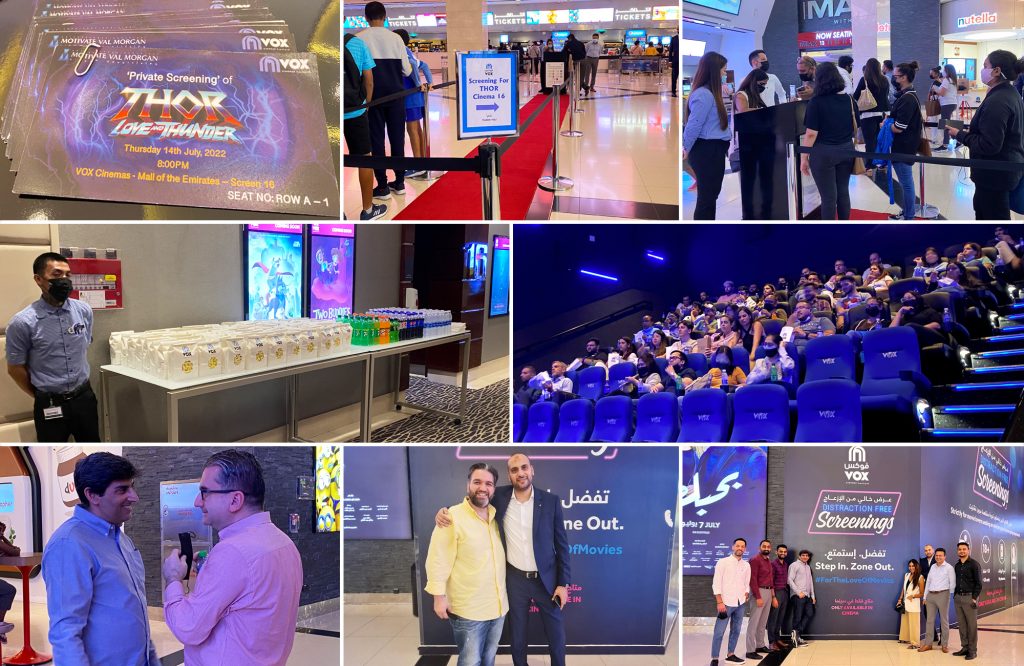 We would like to take this opportunity to sincerely thank VOX Cinemas for helping us organize and execute this screening – making it a memorable one!
Finally, a huge thank you out to our invitees who attended, thus contributing to its immense success.
Stay tuned for more updates on future 'Private Screenings' by Motivate Val Morgan.