UAE Wins 22 Lions at the 2022 Cannes Lions Festival
United Arab Emirates wins 2 Grand Prix, 2 Gold, 13 Silver and 5 Bronze Lions at the 2022 Cannes Lions Festival of Creativity.
Cannes Lions – the largest gathering in the creative marketing community, has announced all the winners of its 69th Festival awards, and UAE, once again, has emerged victorious at the event which took place between 20 – 24 June in Cannes, France.
United Arab Emirates won 22 Lions  – 2 Grand Prix, 2 Gold, 13 Silver and 5 Bronze, across multiple categories, including first time wins in the category of Entertainment for Sport and Social & Influencer. The UAE also secured 61 shortlists at this year's Festival.
This year's winning agencies/clients from the UAE include Havas Middle East, Impact BBDO Dubai, Horizon FCB Dubai, TBWA\RAAD Dubai, VMLY&R Commerce MENA, Keko Dubai and UAE Government Media Office: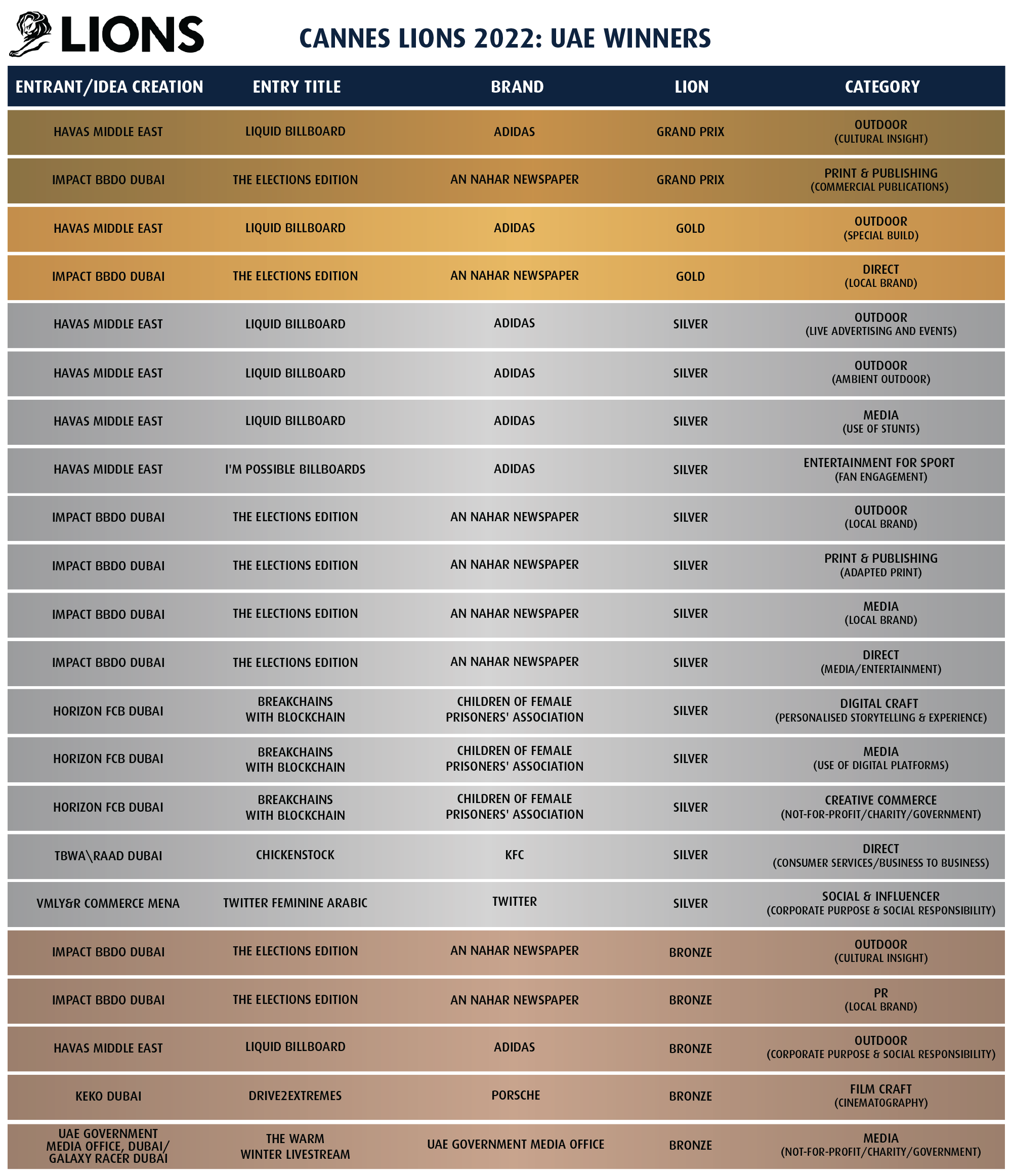 Simon Cook, CEO, LIONS, commented: "Cannes Lions is a global platform, and it's been an incredible week, as the global creative community reunited in Cannes once again. Our community came together from across the globe, and from every corner of the industry, to drive progress through creativity, for business, the planet, and society at large. I would like to congratulate everyone who entered, who made the shortlists and who won a Lion to set the benchmark for creative excellence on the global stage."
2022 also witnessed 13 professionals from the creative marketing/communication community represent the United Arab Emirates at the Cannes Lions Festival as awarding and shortlisting jury members: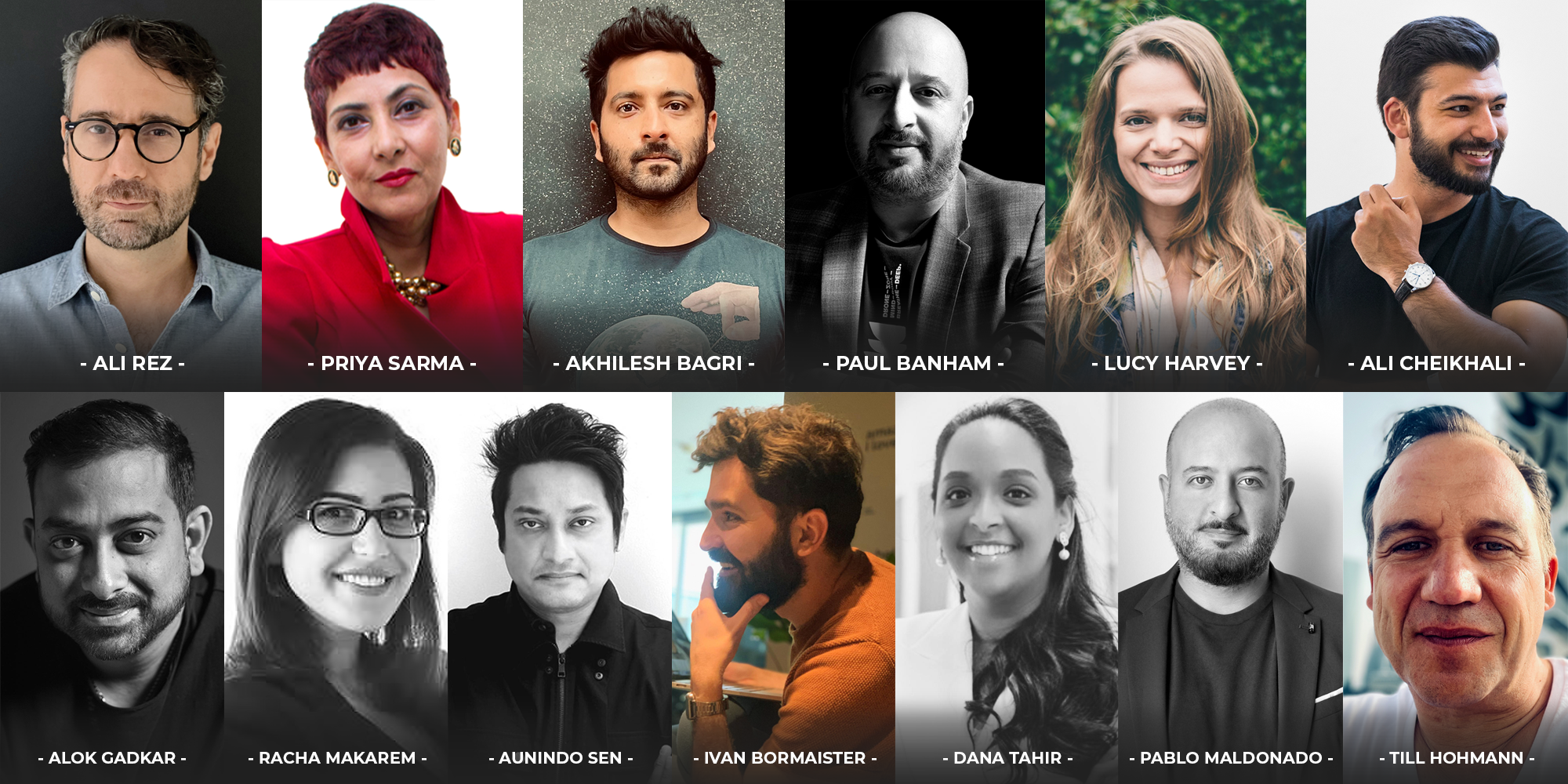 Ali Rez (Regional Executive Creative Director – Impact BBDO Dubai), Priya Sarma (Head of Corporate Affairs & Sustainability – Unilever), Akhilesh Bagri (Chief Creative Officer – Serviceplan Middle East), Paul Banham (Regional Executive Creative Director – MullenLowe MENA), Lucy Harvey (Managing Director Middle East, Turkey, India & Africa – Hill+Knowlton Strategies Middle East) and Ali Cheikhali (Creative Strategy Lead, Creative Works MENA/TR/SSA – Google) were part of the awarding jury across Print & Publishing, Sustainable Development Goals, Brand Experience & Activation, Industry Craft, PR and Creative Commerce respectively. Shortlisting jury members included Alok Gadkar (Executive Creative Director & Managing Director – Group Partnership), Racha Makarem (Chief Executive Officer MENA – Starcom MENA), Aunindo Sen (Executive Creative Director – FP7 McCann), Ivan Bormaister (Associate Creative Director – M&C Saatchi UAE), Dana Tahir (General Manager – Red Havas ME), Pablo Maldonado (Executive Creative Director – Grey Dubai) and Till Hohmann (Chief Creative Officer MENA – Memac Ogilvy) across Health & Wellness, Media, Direct, Film, PR, Design and Outdoor respectively.
Representing the UAE at this year's International Young Lions Digital Competition (for young creative below the age of 30 years in the digital category) and the Roger Hatchuel Academy (a mentorship programme for university students in the field of creative communications), were Rebecca Menezes and Eduardo Cesar Guimarães from Saatchi & Saatchi MEA, and Fatma Al Suwaidi from American University in Dubai.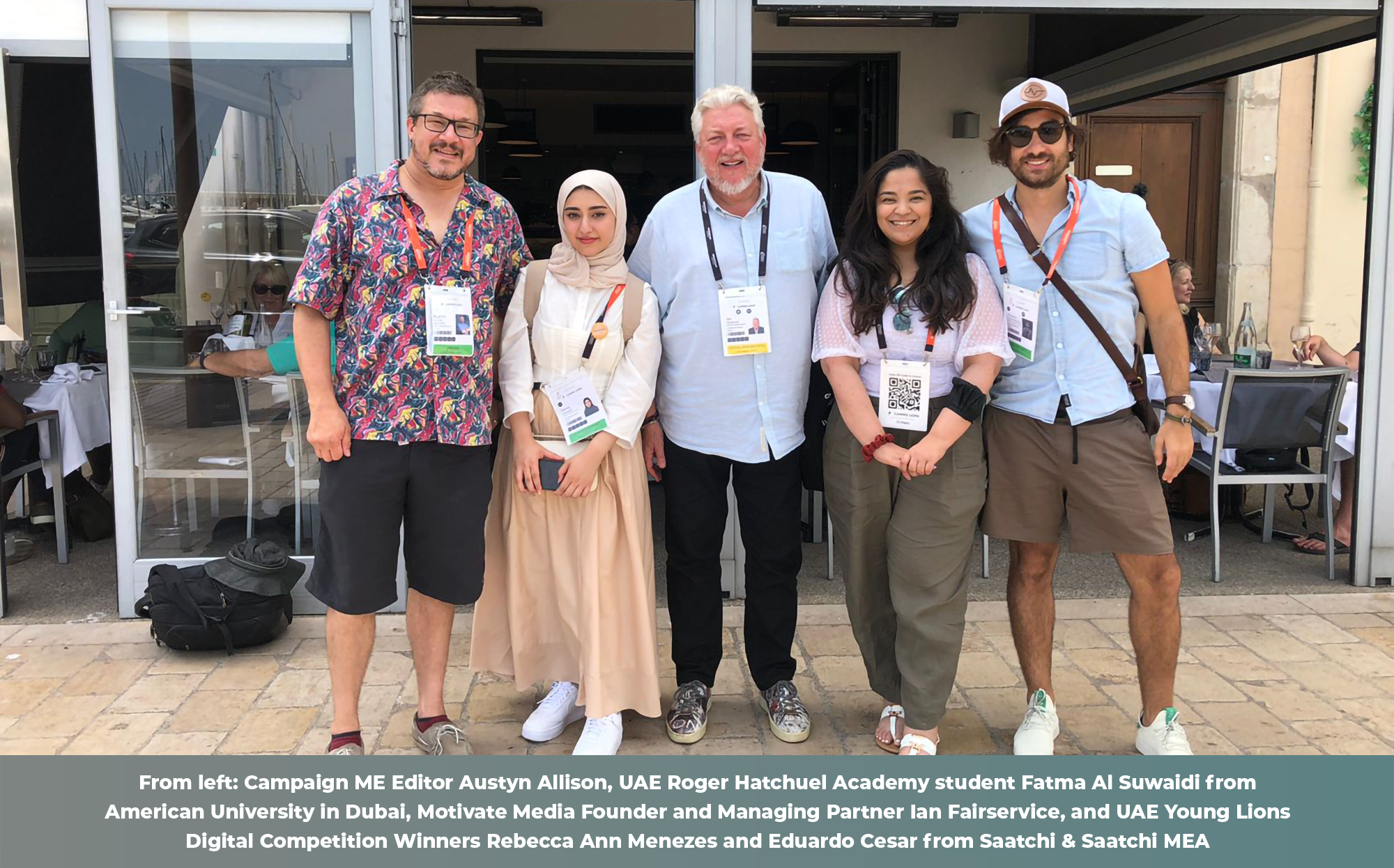 As the official representatives of the Cannes Lions International Festival of Creativity in the UAE, Motivate Media Group and Motivate Val Morgan warmly congratulates all Lion winners from the UAE, and the jury members and young talent who represented the country at this year's Festival.
Source: Cannes Lions 'The Work'
Cannes Lions 2022 Awarding Jury from the UAE Revealed
Ali Rez, Priya Sarma, Akhilesh Bagri, Paul Banham, Lucy Harvey and Ali Cheikhali from the UAE to join Cannes Lions 2022 awarding jury member line-up.
The Cannes Lions International Festival of Creativity returns in 2022 as a live event, and will provide an annual forum for the global industry to address the most pressing issues that they and the world are facing today.
As the official representatives of the Cannes Lions International Festival of Creativity in the UAE, Motivate Media Group and Motivate Val Morgan are pleased to announce the line-up of awarding jury members from the UAE who will come together in Cannes to complete the final stage of judging and awarding of Lions.
Print & Publishing Lions
Ali Rez
Regional Executive Creative Director
Impact BBDO Group MENAP
Ranked amongst the Top 10 ECDs in the world on the World Creative Rankings and named Creative of the Year twice by Campaign magazine, Ali Rez is one of the most successful creative leaders in EMEA. Rez's work has been instrumental in Impact BBDO Dubai being named the No.2 Creative Agency In The World in 2021 on the WARC report, and has brought tremendous positive impact to business and social causes alike — he currently leads creative output for the IMPACT BBDO Group across the Middle East, North Africa and Pakistan region.
Rez has won more than 600 international accolades in his career spanning four continents over 20 years, which include several Cannes Lions, Clios, D&AD, Effies, and a United Nations Peace Medal – awards which have led him to be ranked No.1 ECD in MENA and APAC in 2021 on a number of creative rankings.
Moving from California, Rez currently lives in Dubai, where he is an avid mountain biker. Besides lecturing at Oxford University and St.Martin's College, Rez has exhibited at Tate UK, spoken at Tedx, captained a cricket county team, and — being a firm believer that curiosity leads to creativity — has traveled to 133 countries.
Sustainable Development Goals Lions

Priya Sarma
Head of Corporate Affairs & Sustainability
Unilever
Priya joined Unilever in February 2008 as the Corporate Communication Manager for Middle East and North Africa (MENA) and is based in Jebel Ali, Dubai which is the regional Unilever headquarter. In January 2012 she was assigned the additional responsibility for Employee Engagement across the countries of MENA, Turkey, Russia, Ukraine and Belarus. In 2019 she was promoted as Sr. Sustainability Head for MENA, Russia, Ukraine, Belarus & Turkey and in 2021 the additional remit of MENA External Affairs was added to her portfolio.
Prior to joining Unilever, Priya worked in global advertising agencies including FCB Ulka, India, Equity Advertising (an affiliate of Grey Communication) Egypt, and Lowe Look (an affiliate of Lowe Worldwide), Egypt.
In 2016, she led the formation of the Advertising Business Group (ABG) and has been its Board Member since 2016. The ABG is GCC's largest advertising and marketing self-regulatory body with over 60 members who account for over 70% of the MENA's advertising spend.
Since 2018 she has been representing the Multinational Companies Business Group in the FCSA led Private Sector Advisory Council on the SDG's. In Nov 2020, Priya led the launch of the UAE Chapter of the Unstereotype Alliance (UA) in partnership with UN Women. The UA is a thought and action platform that seeks to eradicate harmful gender-based stereotypes in media and advertising. For this, she was recognised by Campaign Magazine as a 'Marketing Game Changer 2020'.
Brand Experience & Activation Lions

Akhilesh Bagri
Chief Creative Officer
Serviceplan Middle East
Akhilesh started his journey in advertising in Mumbai at a malleable age of 17, before which he was a full-time teenager. A copywriter by trait he has worked at various acronymed and unacronymed agencies such as DDB, BBDO, JWT, McCann and Leo Burnett.
Flashback, 2007: Akhilesh wins an all-expenses trip to Cannes as a student to be part of the Roger Hatchuel Academy. Still wet behind the ears he has no idea what to expect from the week. His mind is blown.
Present Day, 2022 : Now a multiple-award winning creative and CCO of Dubai Lynx Independent Agency of the Year (how about that plug) Akhilesh gets invited to an all-expenses paid trip to Cannes, this time as a jury member. He still has no idea what to expect from the week. His mind is prepared to be blown.
Industry Craft Lions

Paul Banham
Regional Executive Creative Director
MullenLowe MENA
Paul has been the ECD of seven world-class agencies over the last 20 years. In that time, he's helped to steer the way to 22 'Agency of the Year' titles. His work has collected more than 700 awards for creativity and effectiveness. And he's ranked in the world's top fifty ECDs four times – 2008 #17th, 2014 #27th, 2016 #9th, 2021 #36th.
He's judged at D&AD, One Show, Campaign BIG, NYF, IAB, Caples, Immortals, Lories, TIKTOK and many other global shows, and he has spoken on a variety of subjects at the likes of Cannes and Lynx. Paul's work/opinions have also been published in many advertising books/annuals and editorials in the Guardian and The Wall Street Journal.
After moving from London to Dubai in 2012, he helped steer FP7 McCann to the enviable position of No.1 – 'The World's Most Effective Agency' (Effie's). Currently, he's working to lift MullenLowe MENA to equally lofty heights – In 2021 alone, they collected 130+ global Awards – and three 'Agency of the Year' titles, including the Campaign Tech's  'Global Agency of the Year' and New York Festival's 'Regional Agency of the Year' 2021. Out of the top 200 agencies on the Drum Report, MullenLowe ranked 17th in 2021. They were the AME Awards' 2nd Most Awarded Agency Globally in 2021 and the Caples Awards' 5th  Most Awarded Agency Globally.
PR Lions

Lucy Harvey
Managing Director, Middle East, Turkey, India + Africa
Hill+Knowlton Strategies Middle East
Lucy has over two decades of experience in the communications industry. She has worked with some of the world's most recognisable brands and is currently supporting the growth of the creative firepower of H+K through the development of its award-winning Studio and Innovation + Creative hub in the Middle East, Turkey, India, and Africa.
Now living in Dubai with her family, Lucy has developed and led memorable campaigns, and delivered professional trainings to leaders across the region's C-suite. Lucy's resume includes consumer launches, impactful government communications for national and global initiatives, and effective internal campaigns. She champions the intersection of technical innovation and creativity, something the team at H+K are working on; but is most impressed by insightful ideas that are brought to life with simplicity, beauty and clarity. A big believer in giving back, Lucy is known in the industry as an ardent champion of nurturing young talent.
Currently listed in the PRWeek Middle East Power Book, she has been actively involved with Dubai Lynx as a coach and mentor in the See It Be it programme for young female talent, and is a regular judge and speaker for awards, seminars, and workshops.
Originally from the UK, Lucy previously worked for Freud Communications and in video production at The Press Association.
Creative Commerce Lions
Ali Cheikhali
Creative Strategy Lead – Creative Works MENA/TR/SSA
Google
Ali is an award-winning Creative Strategy Lead who works with brands and agencies across MENA, Turkey and SSA on maximizing their creative impact to solve critical business problems. In his role, he pushes the boundaries of Google's tools and platforms to drive innovative work at the intersection of data, technology, and creativity. Before joining Google from the agency world, Ali was one of the most awarded creative strategists in MENA. The Drum's 'Big Won Rankings' ranked him among the Top 20 Planners Worldwide in 2018 and the B&W Report named him MENA's Planner of the Year in 2017.
Today, Ali enjoys being on the judging side of top award shows such as Cannes Lions, Dubai Lynx, WARC and New York Festivals in addition to teaching his Design Thinking & Product Creation course at Miami Ad School. Outside of work, and when he's not agonizing over his favorite football team's performances, he spends most of his time as a self-proclaimed food and filmmaking critic.
The initial stages of judging will take place remotely, with a cohort of Shortlist jury from the UAE to be announced over the week ahead.
On the judging at the Cannes Lions 2022 Festival, Philip Thomas, Chairman, LIONS, said, "The return of the physical Festival to Cannes in June allows us once again to bring the juries together in person to define the benchmark of creativity."
The Cannes Lions Festival will take place between 20-24 June, and will be accessible to everyone, and delegate registration is now open. If anyone is unable to travel for any reason, LIONS Members get exclusive digital access to Cannes Lions – plus a series of other benefits, throughout the year.
More information on this year's Cannes Lions jury can be found at canneslions.com/jury.