META Cinema Forum 2022 Underlines Growing Opportunities and Challenges in the Region
The fifth edition of the hugely successful META Cinema Forum was held between 25-29th October 2022 at the Atlantis the Palm Island, with renewed optimism following the opening of several large-format cinema screens a few months after the industry began operating at full capacity.
As many as 56 exhibition stands displayed the latest products, services, technology from a select group of industry suppliers, technology providers and industry stakeholders at the convention.
Over 500 delegates, visitors, buyers, sellers, and other industry stakeholders attended the event, which also addressed the shortage of feature films, documentary films, and other film genres in the region.
More than 44 industry officials and experts shared their perspectives on the current market situation, challenges, and solutions through speeches, presentations, training, and workshops etc.
Industry leaders and officials who attended the META Cinema Forum included Toby Tennant, Senior Vice-President for EMEA Theatrical Distribution, Warner Bros. Pictures International; Tonis Kiis, Senior Vice President for International Distribution at Warner Bros. Pictures; Paul Higginson, Executive Vice-President, EMEA of Universal Pictures International; Toni El Massih, Managing Director – Cinemas, VOX Cinemas; Andrew Such, CEO of AMC Cinemas; John Schreiner, Senior Vice President for Theatrical Development in EMEA, at IMAX Corporation and Zaur Darabadeh, Chairman of the Board of CinemaPlus, among other global leaders.
The forum witnessed powerful presentations from Saudi Arabia, Asia and Africa regions, the future of the large-format cinema halls as well as the prospects of the streaming services, technology disruptions and other subjects. Experts also addressed the demand-supply mismatch in film contents and theatre facilities across the Middle East and Africa.
Apart from the Middle East and African countries, cinema industry stakeholders from Turkey, Asia and CIS countries also joined the META Cinema Forum, making it a truly global cinema industry convention.

Leila Masinaei, Managing Partner, Great Mind Events Management –organizer of the META Cinema Forum, said: "META Cinema Forum has successfully repositioned the region's cinema industry in the global map, so much so that large-scale investment has widened the theatre facilities across the region. The industry is currently gearing up to increase the supply of good quality contents and regional blockbusters that will pull more viewers to the cinema halls."
"META Cinema Forum has now become a global industry convention for which international cinema industry suppliers, technology providers and other industry stakeholders prepare and launch their latest innovations. As a result, we can see a number of global cinema industry suppliers have lined up new products and services for the industry," she added.
The two-day mega cinema industry conference was followed by a three-day META Film Fest, which kicked off with the screening of three short films from the UAE: Deadline, Children of All and IDI, and screened over 70 shortlisted full feature films, documentaries, and short films from Iran, Jordan, Sweden, Korea, Egypt. The main attraction of the festival was the gala premiere of Emily by director Frances O'Conner.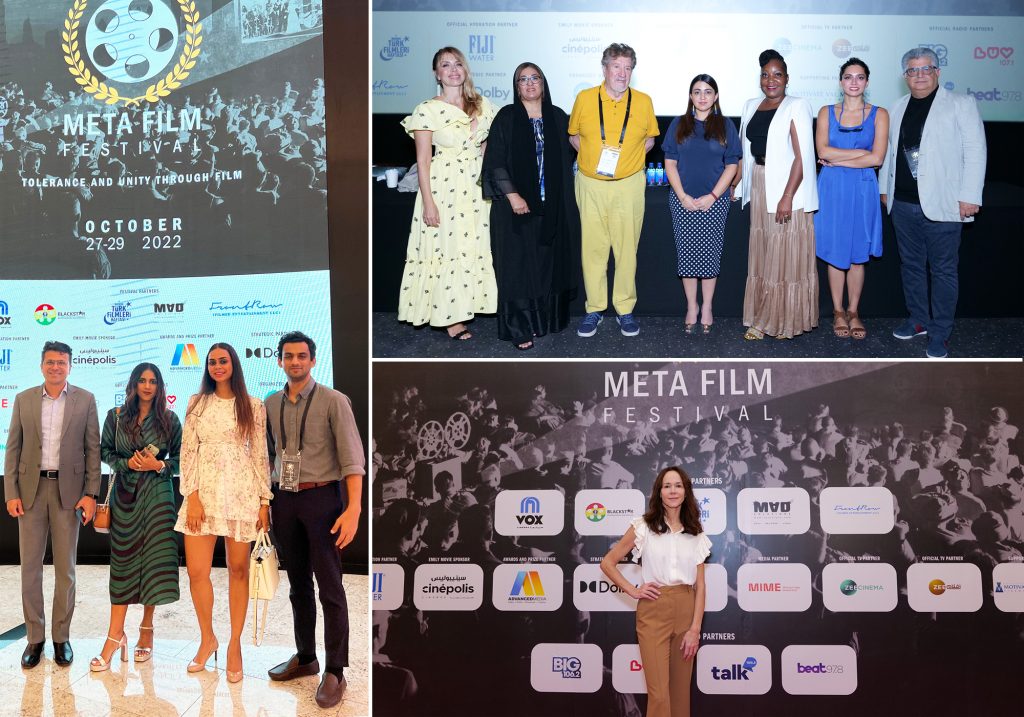 The film festival also attracted several international and regional celebrities including Cris Mejia, Nayla Al Khwaja, Emirati film director, Maria Bello, and Casey Shannon, Shalila Samavati, Pegah Ahangarani and Neslihan Yeldan among many others.
Motivate Val Morgan was one of the media partners for the META Cinema Forum and a supporting partner for Meta Film Fest 2022.
Source: META Cinema Forum Press Release