BMW | Integrated Cinema Campaign | 2023
Abu Dhabi Motors LLC, an authorized dealer of luxury car brands, recently launched an integrated cinema campaign for BMW across select cinema locations in Abu Dhabi, UAE.
On Screen Campaign
Following one of the biggest blockbusters of 2023, Mission Impossible – Dead Reckoning Part One, the 60-second ad showcases BMW's latest line-up of cars and emphasising the brand's innovative 'Forwardism' concept that seeks to find joy in tomorrow through the fusion of art, technology, and luxury, engineered to delight and excite.
Off Screen Campaign
Dedicated promoters engaged with cinemagoers at strategically positioned kiosks in the foyer area of the cinemas over the weekend of 14th to 16th July 2023. Cinemagoers had the opportunity to scan a QR code, fill out an online form, and receive a coupon offering free popcorn and drinks.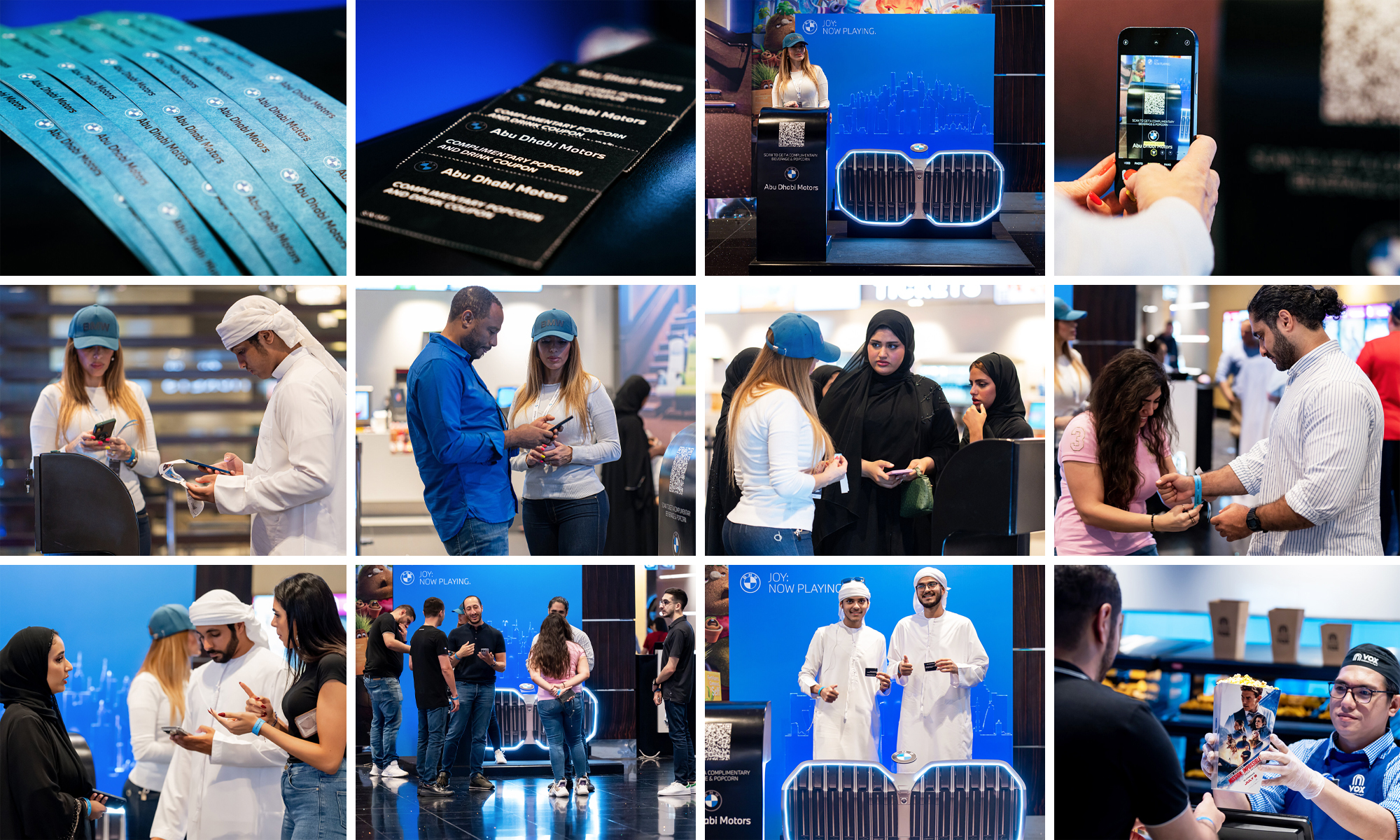 During a screening of Mission Impossible – Dead Reckoning Part One at a selected cinema on Friday, July 14th, 2023, five vouchers were discreetly placed under the seats. These vouchers offered the chance to redeem a BMW goodie bag and participate in a test drive. A promoter engaged with the cinemagoers, encouraging them to check under their seats to see if they were the fortunate winners.

Enhance your brand's exposure through an integrated cinema campaign, leveraging creative and exciting off-screen promotional opportunities, complemented by an impactful ad on the big screen.
Contact us for similar advertising opportunities across our cinema circuit in the GCC, Egypt and Lebanon.
Mission: Impossible – Dead Reckoning Part One | Cinema Campaigns | 2023
Mission: Impossible – Dead Reckoning Part One is the latest thrilling installment in the iconic Mission: Impossible franchise, with the daring Tom Cruise leading the charge. Anticipation for the film's release has been high among both devoted fans and esteemed critics, and it has already proven to be a resounding box office success.
In its opening week, the movie achieved remarkable milestones, grossing an impressive US$80M domestically within its 5-day opening and amassing a staggering total of US$235M worldwide. This success underlines the enduring appeal of renowned franchises like Mission: Impossible in the region, making them prime opportunities for prominent brands to engage in cinema advertising.
Leading automotive manufacturer BMW, ectronics giant Samsung and luxury clothing and accessories brand Carter & White, among others, seized this golden opportunity to captivate cinema audiences alongside this year's most highly anticipated action-packed cinematic experience.
Here are the cinema campaigns booked to follow or coincide with Mission: Impossible – Dead Reckoning Part One:
Gazebo Restaurant
Country: UAE
Campaign type: Follow the movie
Expo City Dubai
Country: UAE
Campaign type: On screen 13-26 July 2023
Carter & White
Country: UAE
Campaign type: Follow the movie
Jeep Grand Wagoneer
Country: UAE and KSA
Campaign type: On screen 13 July -09 August 2023
BMW
Country: UAE
Campaign type: Follow the movie
On screen campaign and Off Screen campaign – Refer to the article: BMW | Integrated Cinema Campaign | 2023
Ford Middle East
Country: UAE
Campaign type: Follow the movie
Asyad Express – Ship Your Cart
Country: Oman
Campaign type: On screen 13 July -09 August 2023
Etihad Airways
Country: UAE
Campaign type: Follow the movie
American University of Kuwait
Country: Kuwait
Campaign type: On screen 07 July -20 August 2023
Samsung Flip
Country: UAE
Campaign type: Follow the movie
Suzuki Grand Vitara
Country: UAE
Campaign type: Follow the movie
Massadr
Country: KSA
Campaign type: Follow the movie
Think cinema for 'attention-grabbing' advertising!
Check out the list of upcoming blockbusters in Q3 2023 and contact us for cinema advertising opportunities across the GCC, Egypt and Lebanon.
Stellar Trailers and Commercials from Super Bowl 2022
The Super Bowl is a high-stakes game, and the ads and trailers aired during the event, in addition to the half-time performance, is as exciting as the game itself. With millions tuning in every year, the Super Bowl has become a prime advertising opportunity for big- companies, and studios hoping to whip up excitement for their upcoming blockbuster releases.
From the trailers of Doctor Strange and the Multiverse of Madness and Jurassic World Dominion, to ads from brands such as BMW and Booking.com, here's what wowed the viewers and fans at Super Bowl LVI:
Trailers:
Ambulance
In this breakneck thriller from director-producer Michael Bay, decorated veteran Will Sharp desperate for money to cover his wife's medical bills, asks for help from the one person he knows he shouldn't—his adoptive brother Danny – a charismatic career criminal, Danny instead offers him a score: the biggest bank heist in Los Angeles history.
Release Date: 07 April  2022
Starring: Yahya Abdul-Mateen II, Jake Gyllenhaal, Eiza González
Sonic the Hedgehog 2
When Dr. Robotnik comes back, this time with a new partner, Knuckles, in search for an emerald that has the power to both build and destroy civilizations. Sonic teams up with his own sidekick, Tails, and together they embark on a journey to find the emerald before it falls into the wrong hands.
Release Date: 07 April  2022
Starring: Ben Schwart, Idris Elba, Jim Carrey
Doctor Strange in the Multiverse of Madness
Since he tampered with a forbidden spell (No Way Home) that opened the door to the multiverse, Dr.Strange has been unhinging the reality –which leads to an important question from Wanda. Why is he considered a hero when he does it, but she a villain? Get ready to experience 'a new dimension of Strange'. Probably the much awaited trailer of the Super Bowl.
Release Date: 05 May 2022
Starring: Benedict Cumberbatch, Elizabeth Olsen, Rachel McAdams
Jurassic World Dominion
Even though the plot in this third installment from the franchise is kept under wraps, one thing is sure: Jurassic Park/World fans will be thrilled to see Chris Pratt, Bryce Dallas Howard, and the original Jurassic Park trio all together in one movie!
Release Date: 10 June 2022
Starring: Chris Pratt, Bryce Dallas Howard, Laura Dern
Nope
Oscar winner Jordan Peele disrupted and redefined modern horror with Get Out (2017) and then Us (2019). Now, he reimagines the summer movie with a new pop nightmare: the expansive horror epic, Nope.
Release Date: 21 July 2022
Starring: Keke Palmer, Barbie Ferreira, Daniel Kaluuya
See the full line-up of blockbusters releasing in 2022 in our Sizzle Reel.
Commercials:
Porsche/Top Gun: Maverick

Porsche is bringing the speed in Top Gun: Maverick. Playing on the original movie's "I feel the need for speed" quote, the trailer showcases snippets of the movie in-between promotional footage of some of Porsche's cars.
BMW
Zeus (Arnold Schwarzenegger) is underwhelmed by all earthly electric things and becomes a shell of his former self. But right when we think all hope is lost, his wife, Hera (Salma Hayek), introduces him to the all-electric BMW iX and helps mighty Zeus reclaim his spark.
Squarespace
Zendaya plays the role of Sally, who is looking to grow her seashell business, so she creates a store on Squarespace, which helps her become a seaside sensation.
Booking.com
In this 'Big Game' ad, Idris Elba takes you on a special journey into the heart and soul of Booking.com. In a way that only he could pull off. While staying on-script – mostly.
Lay's
Seth Rogan and Paul Rudd remember some beautiful moments together that all revolve around Lay's Potato Chips. Stay tuned until the end.
Verizon
We have officially entered the era of Cable Guy nostalgia. Jim Carrey reprises his role from the movie only to learn that cable is a thing of the past.
Kia
Every dog deserves to find their forever home. Even Robo Dog, who risks it all in Kia's 'Big Game' ad to live fully charged with the all-electric Kia EV6. Kia's Robo Dog is probably the ad that made the viewers tear up as they feel affectionate towards the #Robodog.
Amazon
What if Alexa could read your mind? That's the issue plaguing real-world couple Scarlett Johansson and Colin Jost in this ad for Amazon's home-based helper.
Flamin' Hot Doritos and Cheetos
A group of animals are in the forest beatboxing the song "Push It" by Salt-N-Pepa, with a bunch of Flamin' Hot chips nearby. What more could you want?
Nissan
The ad introduces Nissan's brand-new range of 2023 high-tech models – Nissan Z and the all-electric Nissan Ariya. Eugene Levy stars as a high-octane pedal-to-the-metal action star, along with Brie Larson, Dave Bautista, and Danai Gurira.
Chevrolet
Continuing the all-electric vehicle trend of the evening, Chevrolet channeled 'The Sopranos' for a commercial starring Jamie-Lynn Sigler set to the show's iconic theme.
Watch all the Super Bowl 2022 commercials here.
Source: Gamespot