Cinema Remains a Strong Ticket in an Uncertain World
No matter how crazy and hectic the world might seem to be, the sanctity of cinema always provides a refuge – which advertisers can capitalize on.
Whether you choose to chill out and enjoy a comedy, immerse yourself in a drama or sit at the edge of your seat while watching an action movie, cinema remains the most popular leisure activity of all time. It is a medium guaranteed to help you break free from daily activities, pass time and forget everything for a couple of hours.
Nothing beats the giant screen, larger than life sound experience and high level of quality viewing that cinema offers!
But what does this mean for advertisers?
In a nutshell, cinema content has been strong – to date, offering pleasant surprises (blockbusters) at regular intervals and has always drawn in large audiences – in turn affording advertisers the opportunity of strategically targeting a diversified audience.
Here's a breakdown of some of the most successful movies from this year:
After Star Wars: The Force Awakens (screened for 17 weeks in the UAE with an approximate 390K admissions), which ran into the first couple of weeks of 2016, The Revenant became the big hit as the opening movie of 2016 (screened for 15 weeks in the UAE with an approximate 218K admissions). Then came Deadpool (screened for 10 weeks in the UAE with an approximate 329K admissions), which set the bar for the rest of the year's superhero films. It is also worth mentioning that February 2016 was the 'Biggest February of all time' (in terms of admissions and Box Office earnings) in the UAE.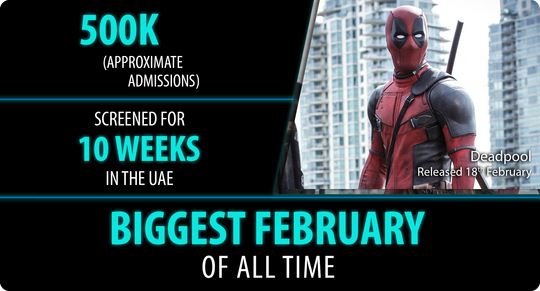 The much-vaunted DC superhero showdown Batman V Superman: Dawn of Justice (screened for 9 weeks in the UAE with an approximate 540K admissions) followed in March, and Marvel's Captain America: Civil War (screened for 12 weeks int the UAE with an approximate 500K admissions) in May. However, it was the family movie The Jungle Book (released 14th April and still screening at selected cinemas in the UAE) that swooped in and comfortably outperformed the superhero movies (raking a hefty +690K in admissions to date).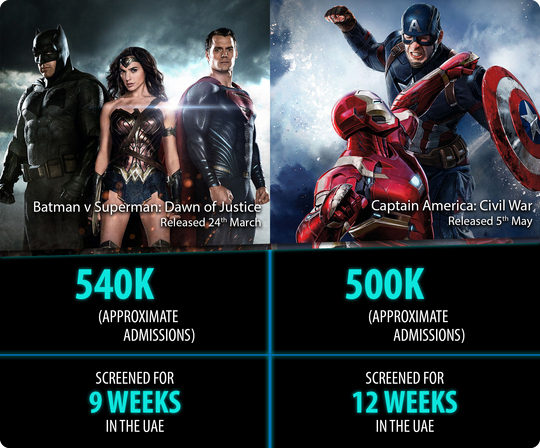 Other family movies have also had an exceptionally strong year, such as Zootropolis (screened for 12 weeks in the UAE with an approximate +180K admissions) and Finding Dory – which is the 'highest grossing animated debut' (globally) of all time and the 'second-largest June opening' (globally) of all time.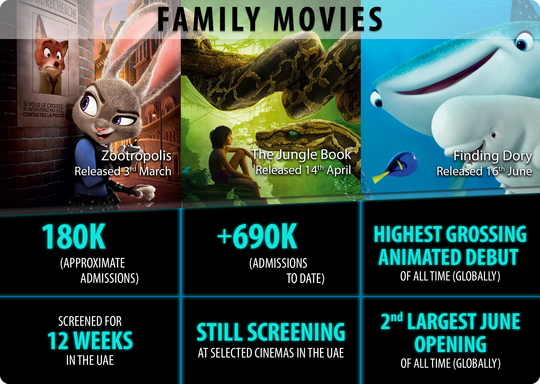 For the month of August, family movies such as Ice Age: Collision Course (which released 2 weeks ago in the UAE) and The BFG (which released last week) are predicted to do approximately +250K admissions each.
Next up are DC's supervillains – the Suicide Squad (which released 2 weeks ago in the UAE). Apart from having 'three of the best trailers', the movie has beaten Marvel's 2014 hit Guardians of the Galaxy' US opening – despite a few negative reviews. It also scored highly in the UAE with 123,492 admissions in the first three days of release. And, there's no denying that Margot Robbie as Harley Quinn looks to be one of the best pieces of casting of any of the summer blockbusters. Rumour has it that Warner Bros. and DC might break out Margot Robbie's character to star in her own movie!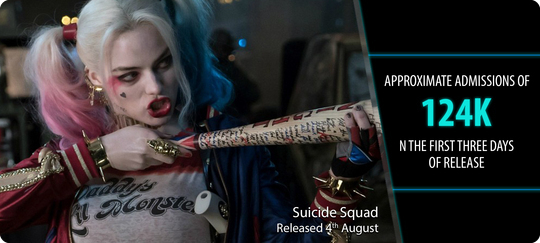 After giving us a taste of patriotism at the start of the year with Airlift (which was filmed in the UAE – Ras Al Khaimah), action star Akshay Kumar hit the big screen last week with his latest Bollywood crime/drama Rustom – predicted to be yet another Bollywood chart topper.
And there's still a great line up of movie scheduled for release over the months ahead….
September is usually a quiet month of the year for cinema, but is definitely not the case this year round. This September sees Renée Zellweger returning with her female-centric comedy Bridget Jones's Baby, the star-studded Magnificent Seven (featuring Denzel Washington and Chris Pratt) take on the 1960's classic Western, the untold personal story of Edward Snowden – former Central Intelligence Agency employee and contractor of the US Government who exposed shocking illegal surveillance activities by the NSA, and family movie Miss Peregrine's Home For Peculiar Children – inspired by the book from debut novelist Ransom Riggs which was a remarkable success.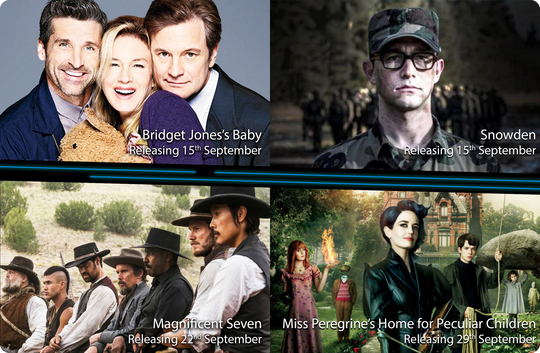 October will witness the return of Hollywood's famous Toms'. Tom Hanks returns as Harvard symbologist Rober Langdon in Inferno – the follow up to 2006's The Da Vinci Code and 2009's Angels & Demons by author Dan Brown. Tom Cruise also returns to the big screen with Jack Reacher: Never Go Back. The prequel ran for a total of 11 weeks in the UAE with an approximate admission of +200k in 2012.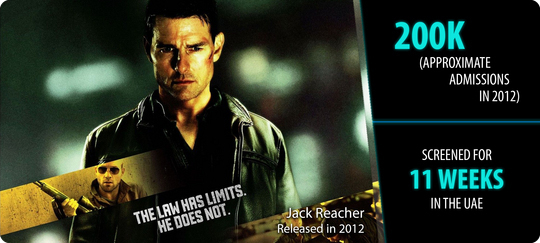 November conceivably features two of the most intriguing titles of the year – Marvel's Doctor Strange and J.K Rowling's latest from the wizarding world Fantastic Beasts and Where to Find Them. While the trailer for the first is mesmerizing and mind-bending, the latter is magical and fascinating. Both seem like an absolute treat. As per MVM analysis, previous Marvel movies have run for approximately 11 weeks in the UAE with an average audience admission of approximately +350K, while Harry Potter movies have run for approximately 10 weeks in the UAE with an average audience admission figure of 250K.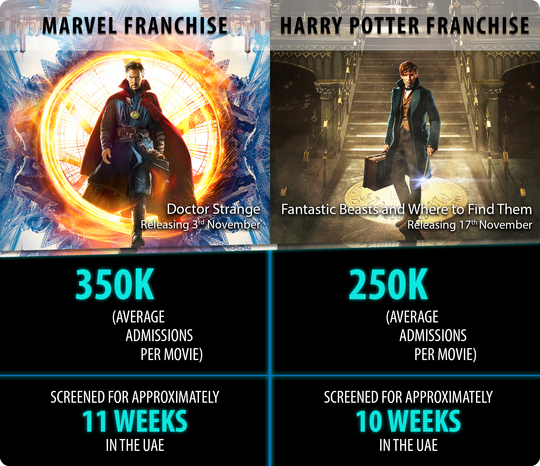 Christmas is always one of the busiest times of the year for cinema, but this one could well be the busiest for a while. Star Wars dominated last Christmas, and it is most likely to dominate this Christmas as well with the release of Rogue One featuring Felicity Jones. Additionally, Disney releases the charming Polynesian princess kids movie Moana, while Chris Pratt and Jennifer Lawrence joins forces in Passengers – a blockbuster sci-fi film. And to end the year on a high note is Assassin's Creed – a ridiculously successful gaming franchise that is now taking a shot at being a ridiculously successful film franchise. Featuring Michael Fassbender, Michael Kenneth Williams, Marion Cotillard and Jeremy Irons, the movie hits multiplexes in the UAE in the last week of December and is guaranteed to attract both ACTION and GAMING buffs.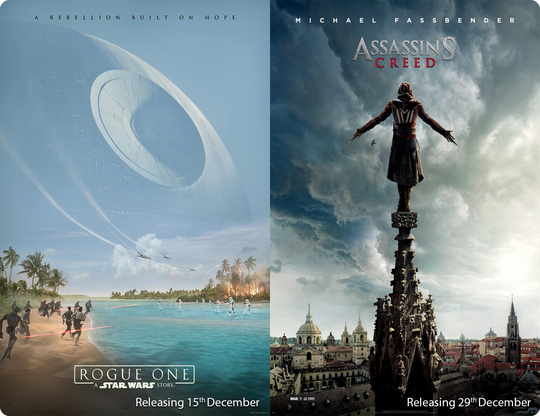 The second half of the year is very much one to look forward to!
And with cinema being an all-encompassing experience in a captive environment and the most effective medium to reach and engage a premium audience, it remains a strong ticket in an uncertain world – presenting advertisers with a platform for ultimate and memorable storytelling.
Interested in exploring the opportunities of cinema advertising? Contact a member of our sales team to align your brand with upcoming blockbusters releasing over the months ahead.
Sources: The Huffington Post, The National, Gulf News and MVM Analysis