2023 Cannes Lions Jury Members from the UAE
The 70th edition of the Cannes Lions Festival will witness the largest cohort of jurors from the UAE to judge at a singular festival.
Leading voices in their fields — and proven experts when it comes to creative excellence in action – meet the esteemed panel of jury members from the United Arab Emirates, tasked with benchmarking creative work at the 70th edition of the prestigious Cannes Lions International Festival of Creativity.
The 70th edition of Cannes Lions will witness the largest delegation of jurors from the UAE to judge at a Lions Festival, Impact BBDO's Ali Rez serving as the first Jury President from the MENA region, and Google's Sandro Gelashvili as an awarding jury member for the Entertainment Lions for Gaming category, which will be awarded for the first time in 2023.
Commenting on this year's Cannes Lions Jury line-up, Simon Cook – CEO of LIONS, said: "Our Jurors have a huge responsibility – giving up their time, energy, and expertise to set the benchmark for creative excellence as part of the 70th edition of the Lions. We are excited to see the body of Lion winning work that will set the industry standard for the next 70 years."
In reference to the Cannes Lions jury panel from the UAE, Ian Fairservice – Managing Partner of Motivate Media Group, said, "We are thrilled to have such a diverse and talented group of experts representing the UAE as part of this year's Cannes Lions jury panel. The 70th edition of the festival signifies a series of milestones for the UAE, including this year witnessing the largest cohort of jurors to judge at a singular festival, and the notable appointment of Ali Rez from Impact BBDO Dubai as the inaugural Jury President from MENA. All eighteen jury members from the UAE reflect the country's unwavering commitment to maintaining the highest standards of excellence and innovation in advertising, marketing, and communications, and we are confident that their extensive knowledge and insights will significantly contribute to setting new benchmarks for the global industry."
See the full list of Presidents, Awarding and Shortlisting at canneslions.com/awards/jury
Further information on this year's Festival and the Lions Awards can be found at canneslions.com
Motivate Media Group and Motivate Val Morgan are the official representatives of the Cannes Lions International Festival of Creativity in the UAE.
Source: Cannes Lions
UAE Wins 22 Lions at the 2022 Cannes Lions Festival
United Arab Emirates wins 2 Grand Prix, 2 Gold, 13 Silver and 5 Bronze Lions at the 2022 Cannes Lions Festival of Creativity.
Cannes Lions – the largest gathering in the creative marketing community, has announced all the winners of its 69th Festival awards, and UAE, once again, has emerged victorious at the event which took place between 20 – 24 June in Cannes, France.
United Arab Emirates won 22 Lions  – 2 Grand Prix, 2 Gold, 13 Silver and 5 Bronze, across multiple categories, including first time wins in the category of Entertainment for Sport and Social & Influencer. The UAE also secured 61 shortlists at this year's Festival.
This year's winning agencies/clients from the UAE include Havas Middle East, Impact BBDO Dubai, Horizon FCB Dubai, TBWA\RAAD Dubai, VMLY&R Commerce MENA, Keko Dubai and UAE Government Media Office: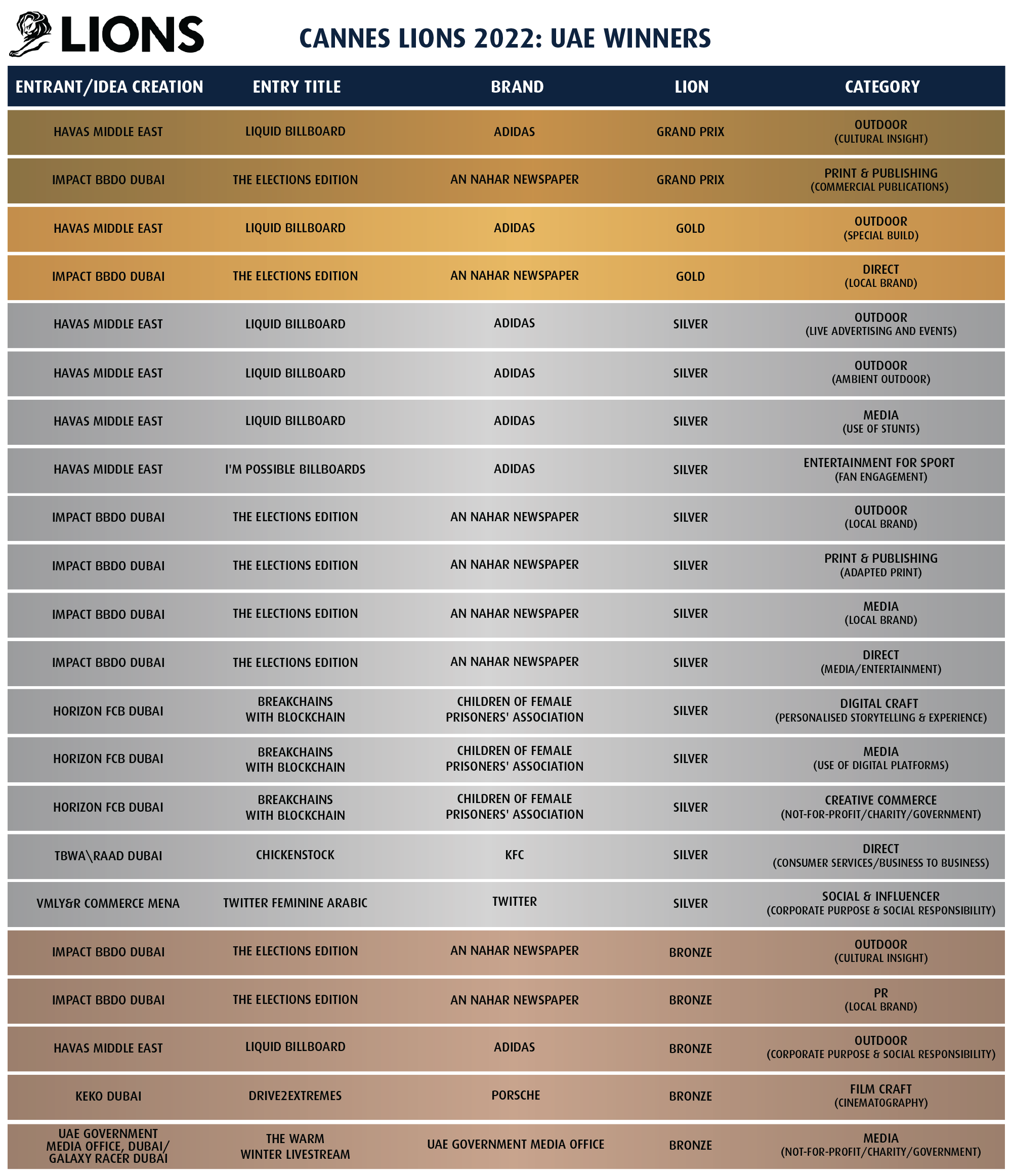 Simon Cook, CEO, LIONS, commented: "Cannes Lions is a global platform, and it's been an incredible week, as the global creative community reunited in Cannes once again. Our community came together from across the globe, and from every corner of the industry, to drive progress through creativity, for business, the planet, and society at large. I would like to congratulate everyone who entered, who made the shortlists and who won a Lion to set the benchmark for creative excellence on the global stage."
2022 also witnessed 13 professionals from the creative marketing/communication community represent the United Arab Emirates at the Cannes Lions Festival as awarding and shortlisting jury members: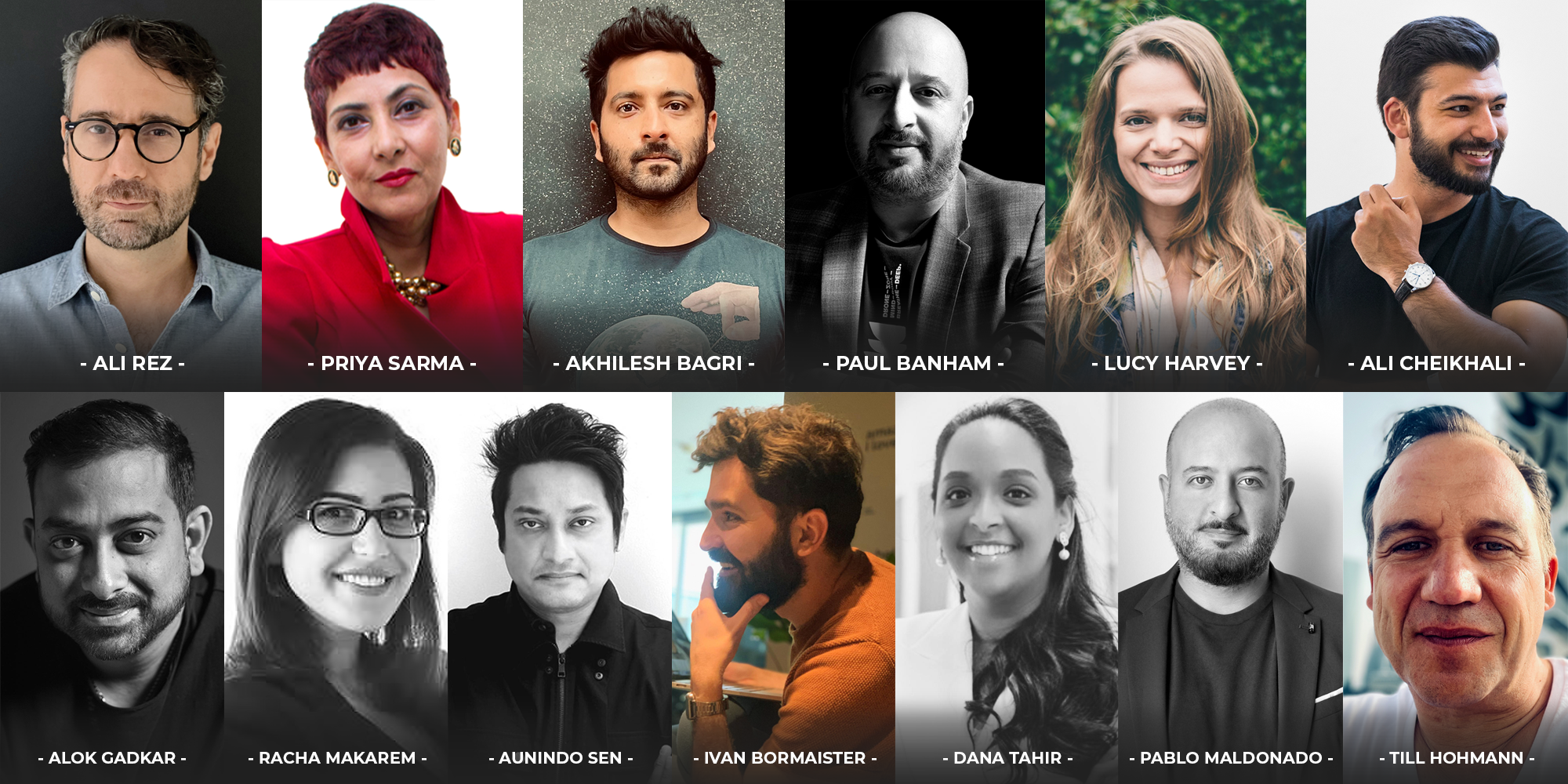 Ali Rez (Regional Executive Creative Director – Impact BBDO Dubai), Priya Sarma (Head of Corporate Affairs & Sustainability – Unilever), Akhilesh Bagri (Chief Creative Officer – Serviceplan Middle East), Paul Banham (Regional Executive Creative Director – MullenLowe MENA), Lucy Harvey (Managing Director Middle East, Turkey, India & Africa – Hill+Knowlton Strategies Middle East) and Ali Cheikhali (Creative Strategy Lead, Creative Works MENA/TR/SSA – Google) were part of the awarding jury across Print & Publishing, Sustainable Development Goals, Brand Experience & Activation, Industry Craft, PR and Creative Commerce respectively. Shortlisting jury members included Alok Gadkar (Executive Creative Director & Managing Director – Group Partnership), Racha Makarem (Chief Executive Officer MENA – Starcom MENA), Aunindo Sen (Executive Creative Director – FP7 McCann), Ivan Bormaister (Associate Creative Director – M&C Saatchi UAE), Dana Tahir (General Manager – Red Havas ME), Pablo Maldonado (Executive Creative Director – Grey Dubai) and Till Hohmann (Chief Creative Officer MENA – Memac Ogilvy) across Health & Wellness, Media, Direct, Film, PR, Design and Outdoor respectively.
Representing the UAE at this year's International Young Lions Digital Competition (for young creative below the age of 30 years in the digital category) and the Roger Hatchuel Academy (a mentorship programme for university students in the field of creative communications), were Rebecca Menezes and Eduardo Cesar Guimarães from Saatchi & Saatchi MEA, and Fatma Al Suwaidi from American University in Dubai.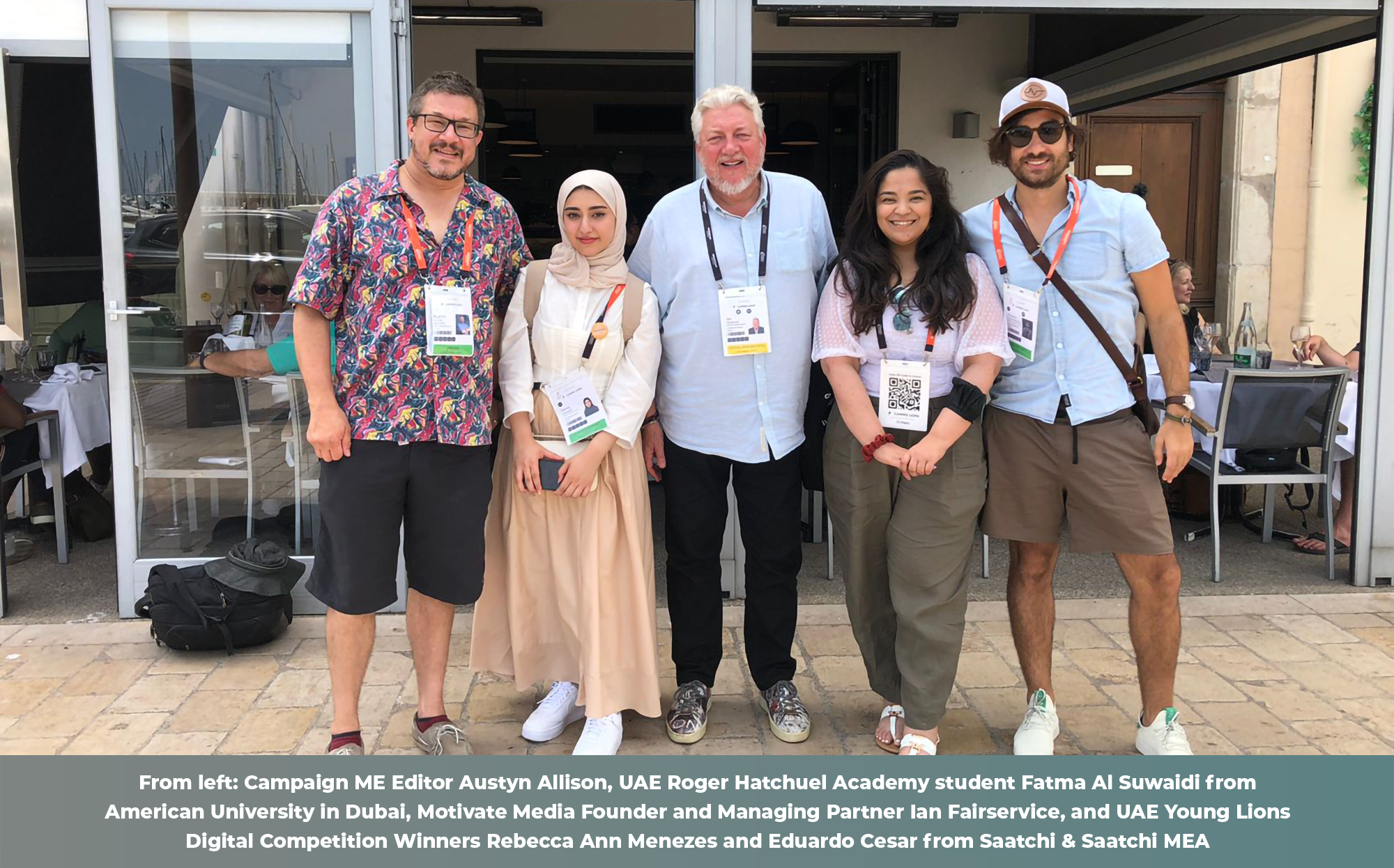 As the official representatives of the Cannes Lions International Festival of Creativity in the UAE, Motivate Media Group and Motivate Val Morgan warmly congratulates all Lion winners from the UAE, and the jury members and young talent who represented the country at this year's Festival.
Source: Cannes Lions 'The Work'
Meet the Cannes Lions 2022 Shortlisting Jury from the UAE
Alok Gadkar, Racha Makarem, Aunindo Sen, Ivan Bormaister, Dana Tahir, Pablo Maldonado and Till Hohmann from the UAE to join Cannes Lions 2022 shortlisting jury line-up
As the official representatives of the Cannes Lions International Festival of Creativity, Motivate Media Group and Motivate Val Morgan are pleased to announce the line-up of shortlisting jury members from the UAE who will complete the initial stage of judging for this year's Cannes Lions awards.
Health and Wellness Lions

Alok Gadkar
Executive Creative Director & Managing Director
Group Partnership
Born Sagittarius, 1977. Dribbles the ball at Don Bosco High School. Clicks the shutter & acquires BFA from Sir J. J. Institute of Applied Art. Wins state & art school awards. Hopps, skips & jumps as Art Director from Mudra Communications to Leo Burnett to Enterprise Nexus. Works hard on brands like Times of India, Killer Jeans, McDonald's, The Economic times & more.
Represents Lowe from Asia as one of the youngest creatives at Cannes Lions on invitation by Adrian Holmes. Drops into Dubai on the way back. Falls in love with the hottest melting pot of culture. Moves to Dubai. Joins Partnership in 2003. Named Campaign Magazine's young creative to watch in the region. Quits Partnership in 2007. Joins Lowe MENA. Moves back after 9 months.
Creates Iconic Splash Calendar in 2011. Continues to be Iconic every year. Wins first One Show Silver Pencil for Khaild Javed, a humble cobbler in Bur Dubai. Wins first Gold & Silver Cannes Lion for Aster Clinics & the UAE in Health.
Starts judging at Cannes Lions in 2018. Continues jury journey at Clio Health, LIA, Adstars, AME Awards, The Global Awards, New York Festivals & KYIV Festival. Keeps winning. Amassing over 200 awards at Cannes Lions, Dubai Lynx, One Show, D&AD, & more. Named among region's Top 10 ECDs multiple times. Creates first-ever global campaign on invitation by SA Federation for Mental Health in 2018. Speaks on the global stage at Cannes Lions, Dubai Lynx, Mena Cristal. Mentors students at GEMS International School, FAD Fashion Institute & Middle Sex University.
Continues the show as MD & ECD.
Media Lions

Racha Makarem
Chief Executive Officer MENA
Starcom MENA
Racha is responsible for driving business outcomes by putting forward solutions that accelerate growth for partners as they navigate through an increasingly complex & uncertain ecosystem.  Passionate about building brands, Racha strongly believes that key to any business or marketing transformation starts with investing behind the human capital & the right partnerships. In her role, she continues to focus on building diverse capabilities to solve for & unlock growth opportunities for clients across the region. What excites her about her role is that she gets to work with world class talent to accelerate growth for some of the most exciting global & regional brands/partners. Her experience spans across tourism, tech, luxury, automotive, government, CPG, payment solutions, entertainment & commerce to name a few.
Throughout her career Racha has worked closely with industry bodies to enhance & set measurement guidelines and principles. She is an elected board member in the IAB MENA & an active member in the D&I committee dedicated to positively influence corporate leaders & policy makers to value diversity & inclusion as a key currency for the growth of the digital economy. She has actively worked & collaborated with industry leaders to technically consult on ways of advancing audience measurement across MENA.
Previously to leading Starcom, Racha spent 15 years overseeing the A&I (Analytics & Insights) practice at Publicis Media. Her last assignment as a practice lead was to merge the DTI (data, tech & innovation) practice with A&I to create the Data Science Practice for the Groupe.
Racha is a mother of two and enjoys building puzzles & Lego with her kids, in addition to reading, meditating & spending quality time with her family, friends & dog.
Direct Lions
Aunindo Sen
Senior Creative Director
Leo Burnett MEA
Aunindo is Senior Creative Director at Leo Burnett, Dubai. With a career of 14 years, Aunindo started his career at JWT Mumbai, on Cadbury's and various other brands. Spending the last 12 years in the MENA Region, he has previously worked at FP7/Mccann and Impact BBDO where he has been Creative Director on Nestle CPW, Snickers, Coca-Cola, Pepsico, Dove, JIF, Omo and Dettol among other brands, on both regional and global campaigns.
Along the way, he has been recognized with nearly a century of awards at Cannes, One Show, Clio, London International, Cresta, Epica, Dubai Lynx, Effies, Loeries and the Cristals.
He was recently ranked as the No.32 Copywriter in the world in the Big Won Report for advertising.
Film Lions
Ivan Bormaister
Associate Creative Director
M&C Saatchi UAE
Ivan is a Senior Creative from São Paulo with 12+ years of experience, now living in Dubai .
His work has been honored at Cannes Lions, The One Show, D&AD, LIA, Dubai Lynx, New York Festivals, Loeries and AdStars, among others. He also served as a jury member in Ad festivals and had his work published on Adweek, AdAge, Campaign and Lurzer's Archive.
After traveling with indie bands photographing concerts, he started studying design and advertising. He did some graffiti and illustrations for brands such as Nike, which invited him to work on projects for the 2014 FIFA World Cup and 2016 Rio Olympics.
He worked at creative agencies in Brazil as an Art Director, the last of which was DM9DDB. In 2017, accepted an invitation to move to the Middle East to work at Saatchi & Saatchi Dubai, later VMLY&R, the 2020 Middle East and Africa's Cannes Lions Agency of the Decade. Having achieved success on his projects, Ivan was recruited to be part of the M&C Saatchi Group, the world's largest independent communications network.
PR Lions
Dana Tahir
General Manager
Red Havas ME 
With over 14 years of experience in the PR & Communications industry, Dana has been a pillar at Havas PR Middle East, where her role has spanned across all aspects of the agency's growth, strategic counsel, team management and overall operations. Recognized for brand building, consultancy, and crisis management, know-how, and do-how, Dana has successfully led the agency's post-digital transformation in recent years, allowing Havas PR to expand its footprint and diversify its portfolio across industries and disciplines.
Aligning with the global strategic direction of the Group. The new agency vision embraces the micro networks merged media strategic model which integrates earned, social, and experiential capabilities with content at the heart.
Prior to joining Havas PR, Dana worked at Leo Burnett, directly handling the Procter & Gamble portfolio. Dana has also recently joined Middle East Public Relations Association as a strategy board member.
Design Lions
Pablo Maldonado
Executive Creative Director
Grey Dubai
Pablo is Executive Creative Director at GREY Dubai but has also been named among the Top 10 Creative Directors in Argentina for the last 4 years by Lürzer's Archive.
Over the past 17 years he has been one of the most effective and awarded Argentinean creatives in different markets such as Argentina, Mexico, US Hispanic, and now in the UAE.
His key role in Unilever's 'Degree Inclusive' project, the world's first deodorant designed for people with upper limb and visual disabilities, earned the Wunderman Thompson network its first Cannes Lions Grand Prix in 2020/21, and the first Grand Prix for Innovation in the history of Argentina.
Prior to this, he helped LatinWorks rank #9 in all of USA on Ad Age's Agency A-List, and DDB as the #1 Mexican agency in the Gunn Report 2012, and #2 in 2011.
A standout in most young creative competitions, Pablo has not only been awarded 1 Grand Prix at Cannes, but 6 other Grand Prix's and nearly 400 awards (32 Golds) from some of the most prestigious festivals in the world, including Cannes, Clio, One Show, D&AD, LIA, Epica, and Effie, among others.
At the last Cannes Lions, he helped Wunderman Thompson become the Most Innovative Network of the Year and the LIA's 2021 Regional Agency of the Year in South America.
He is a regular member of Global Creative Councils and has chaired and judged several industry shows, such as the One Show, New York Festivals, The Drum, Cresta, and many others.
Outdoor Lions
Till Hohmann
Chief Creative Officer MENA
Memac Ogilvy
Since late 2021, Till leads Memac Ogilvy as Chief Creative Officer across 14 offices in the diverse MENA region based out of Dubai.
A role all about accelerating the network's ability to deliver connected solutions, smart experiences, creative concepts, and borderless creativity for some of the world's most exciting brands. This demands a decidedly media-neutral and channel-agnostic approach as well as a focus on work that has an impact.
It's this approach and focus that he has built his 20+ year multinational career on. He has lead units, offices, countries, and regions at famous creative independent agencies as well as powerful global networks – out of Germany, the UAE and Singapore. His work for brands such as BMW, Mercedes-Benz, GSK, The Economist, ACDelco, Unilever and many more has won 450+ industry awards across all disciplines at all major industry competitions. He has also been a member as well as jury president at many iconic festivals.
Interestingly, one of his achievements includes leading the regional Memac Ogilvy network to claim the Dubai Lynx Agency of the Year 2010 title, while based in Dubai for the first time, years ago (2007-2010).
Shortlist jurors will judge remotely online in advance of the festival and will receive full complimentary jury registration to this year's Cannes Lions International Festival of Creativity from 20-24 June in Cannes, France.
This year's Festival will also witnesses the highest ever representation of both awarding and shortlisting jurors from the UAE across 12 categories – Print & Publishing, Sustainable Development Goals, Brand Experience & Activation, Industry Craft, PR, Creative Commerce, Health and Wellness, Media, Direct, Film, Design and Outdoor.
The Cannes Lions Festival will be accessible to everyone, and delegate registration is now open. If anyone is unable to travel for any reason, LIONS Members get exclusive digital access to Cannes Lions – plus a series of other benefits, throughout the year.