GCC Cinema Industry Continues to Grow
Globally there are more than 150,000 operational cinema screens and the GCC accounts for 1,300 of them. Research by PwC estimates that more than 1,000 cinema screens are expected to launch over the next three to five years, and the total number of cinema screens are expected to increase by 38.4 percent in the MENA region.
Another study by PwC indicated that the box office revenue in the MENA region exceeded $500 million, which accounted for approximately 1.25 percent of the global box office revenue (US$39.92 billion) in 2017 – up three percent from 2016. With a growing population across the GCC and an increasing level of investment by both regional and international cinema exhibitors, the cinema industry is set to thrive over the years ahead.
The deregulation of Saudi Arabia's film industry in 2018 has opened up a billion-dollar market for cinema exhibitors and film distributors. The undoing of this law will also present movie distributors with a tremendous opportunity – to exhibit in an additional market which happens to be the largest of all GCC countries, and allow brands to add cinema – a new, effective and unrivalled platform, to its media mix for greater reach.
According to Cameron Mitchell, CEO of Majid Al Futtaim Cinemas, VOX Cinemas – which presently operates 355 cinema screens, will invest Dh2 billion and add 600 cinema screens in Saudi Arabia.
"All eyes in the industry are on Saudi Arabia right now," he said. "We will invest $100 million in a year to open 100 cinema screens – part of the Dh2 billion plan to open 600 cinema screens in Saudi Arabia in the next three to five years. Overall, we will operate around 1,200 cinema screens across the region in five years' time. With the Saudi market opening, we see a lot of opportunities in the region's cinema and entertainment industry."
With Arabic being the predominant language amongst Saudi nationals, local filmmakers and content writers – with the help of other creative talent across the region, will also be encouraged to produce more Arabic movies.
Not only is cinema an ideal environment – distraction and disruption free, to watch new movie releases, but it's also a place where movie-lovers frequent when wanting to experience unique concepts and technology on offer – 3D, 4DX and Dolby Atmos to name a few. Cinemas across the region also offer luxury experiences – which include a selection of fine food and drinks, for movie lovers with higher spending power.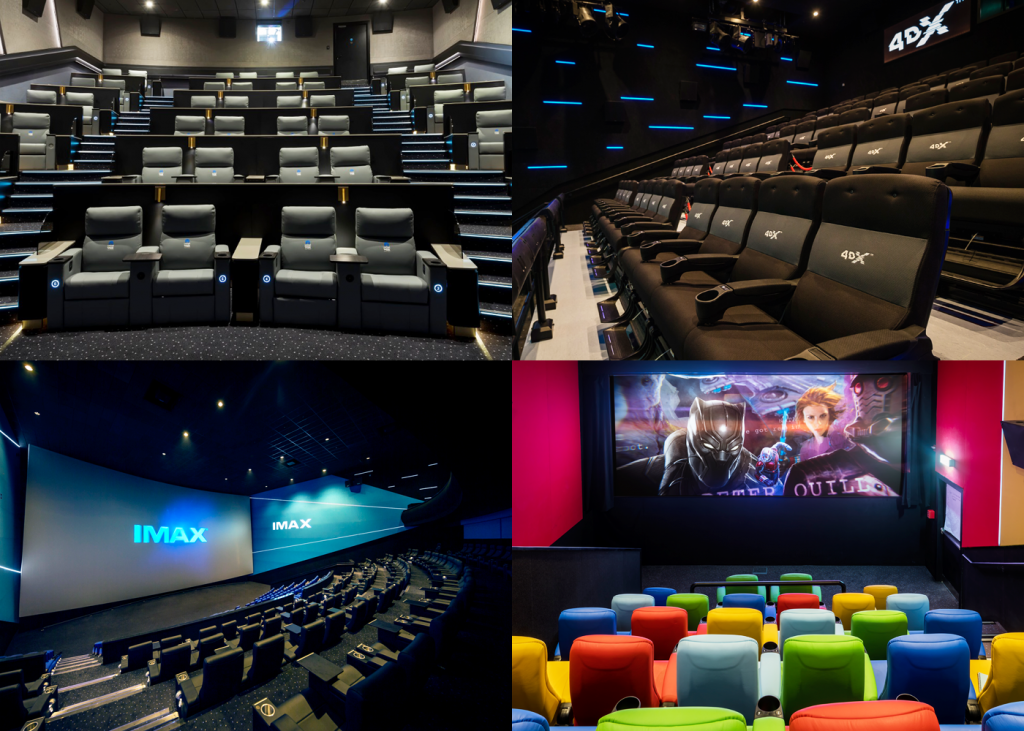 Going to the cinema has now become a popular pastime across the GCC, with cinemagoers also watching more than one movie per week, which can be attributed to the promotions by both banks and telecom providers across the region – similar to that of 'Buy one, get one free' with HSBC, '50% off on Saturdays' by Visa in Bahrain and 'du Tuesday' in the UAE. With audiences now being able to watch the latest movie releases in an affordable, comfortable, luxurious and memorable way, cinema admissions across the region can expect to witness steady growth over the years ahead.
Despite the proliferation of movie streaming platforms and the abandonment of cable, population trends indicate that cinema is still the preferred platform to watch new movie releases – premium first run content. Aside from being one of the fastest growing regions in the world, it is also one of the youngest, with over 50% of the region's population under the age of 25 years. The younger generation tends to spend more on watching movies at the cinema, and in years to come, it will be this segment of GCC 's population that will drive the region's cinema industry to new heights, allowing it to capture a larger share of the global box office.
With a mega line-up of blockbuster releases – such as Captain Marvel, Avengers: Endgame, Lion King, X-Men, Fast and the Furious, Toy Story 4 andStar Wars (to name a few), 2019 is predicted to be another record-breaking year – most likely attracting larger audiences between the ages of 16-34 years.
Motivate Val Morgan offers advertisers a regional cinema circuit – spanning across UAE, Lebanon, Oman, Egypt, Qatar, Bahrain, Saudi Arabia and Kuwait, and has the expertise to strategically plan a marketing campaign to engage cinemagoers at every stage of the cinema experience.
Find out more on our offerings – onscreen, offscreen and cinevations, and contact us to bring your brand to life on the big screen.
Source:Arab Health  and Khaleej Times